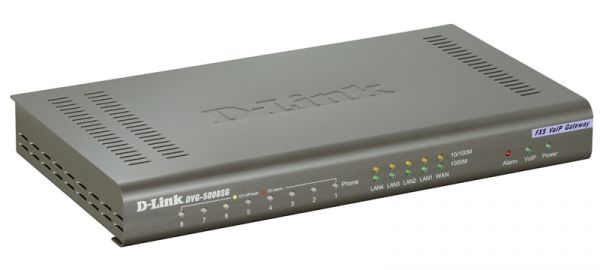 Description
Meant to convert voice traffic into data packets for transmission over the Internet, DVG-5008SG combines the industry's latest Voice over the IP network technology with advanced communication features, and is fully compatible with SIP Internet phone services. Designed as a cost-efficient device, the gateway provides convenience and great savings for companies needing to place frequent long-distance and international business calls.
Cost Saving and Investment Protection
The DVG-5008SG FXS VoIP Gateway provides an easy an affordable upgrade path to an Internet telephony solution while allowing users to retain their existing telephone and fax equipment. This protects and extends users' past investments in telephones, conference speakerphones and fax machines, as well as controlling their migration to VoIP with a very affordable an incremental investment.
High Fidelity Voice Quality
Crystal clear voice and reliable phone/fax communication through implementation of internationally recognized standards such as G.722, G.711 IBLC and others for voice and data networking. It incorporates Quality of Service (QoS) functions to ensure that voice received through the Internet is the same as or even surpasses that received on the ordinary phone.
Convenient Call Features
The DVG-5008SG FXS VoIP Gateway supports extensive call features, allowing the service providers to offer standard functions such as call waiting, do not disturb, speed dialing and three-way calling and many others to their subscribers. There are also many SIP specific call management features that are included such as support for outbound proxies, SIP registration fail over, dial plan support and group hunting. Configuration of individual phone connection is easy using the multi-language Interactive Voice Response (IVR) or the web-based user interface.
More Telecommunications Connections to Stay Connected
The DVG-5008S FXS VoIP Gateway provides eight FXS ports for simultaneous Internet phone connections. Plug in regular phone sets to these ports, and they instantly become Internet telephones. For businesses with frequent needs for long-distance and international phone calls, this gateway provides great cost savings and convenience, while keeping configuration and maintenance to a minimum.
Blazing Fast Gigabit Connections with Shared Broadband Internet
Improve office connectivity with the convenient built-in router function to permit office users to share a broadband Internet line. With four integrated Gigabit Ethernet ports, office computers can readily connect to each other and use the built-in NAT/DHCP server functions for automatic Internet access. Gigabit Ethernet allows for faster filesharing and data access from network resources.
General features
Physical interfaces
• WAN: 1 10/100/1000 Mbps Ethernet port
• LAN: 4 10/100/1000 Mbps Ethernet ports
• Phone ports: 8 FXS (RJ-11) ports
The software features
Voice Features
• G.722, G.711 a/u-law, G.723.1, G.726, G.729A B, GSM 6.10 Full Rate, iLBC13.3 kbps
• DTMF Detection and Generation
• Silence Detection and Suppression
• Comfort Noise Generation (CNG)
• Voice Activity Detection (VAD)
• Echo cancellation (G.165/G.168)
• Adaptive (dynamic) jitter buffer
• Call progress tone generation
• Automatic or programmable gain control
• Built-in local frequency converter
• ITU-T V.152 support
Phone features
• In-Band DTMF, Out-of-Band DTMF Relay (RFC2833 and SIP INFO)
• DTMF/PULSE dial support
• Caller ID Detection/Generation:
- DTMF
- FSK-Bellcore Type 1 and 2
- FSK-ETSI Type 1 and 2
- FSK-NTT
- FSK: caller's name, number, date and time, vMWI
• FXS metering pulse:
- Polarity Reversal
- 12 kHz calling tone
- 16 kHz calling tone
• Polarity Reversal Generation (FXS)
• T.30 FAX Bypass, T.38 Real Time FAX Relay
• Modem over IP Up to V.34
• ROH Tone (Receiver Off-Hook Tone @ 480 Hz)
• Loop Current Suppression
• FXS Line test and diagnostics with visual alarm indication
• Incoming calls:
- Loopback-codec
- Loopback-analogue
- SLIC DC power voltage
- Tip / Ring DC feed
- Ringer
• Outgoing calls (GR909 standard):
- REN
- Phone Line Disconnected
- Hazardous and foreign DC Voltage
- Hazardous and foreign AC Voltage
- Wire a/b short-circuit
Supported SIP methods
• ACK
• BYE
• CANCEL
• INFO
• INVITE
• MESSAGE
• NOTIFY
• OPTIONS
• PING
• PRACK
• PUBLISH
• REFER
• REGISTER
SIP calls
• Peer-to-Peer call
• Call Hold/Retrieve
• Call Waiting
• Call Pick Up
• Call Park / Retrieve (SIP Server Required)
• Call Forward -unconditional, busy, no answer
• Call Transfer -attended, unattended
• Do Not Disturb
• Speed Dialing
• Repeat Dialing
• Three-way Calling
• MWI (RFC-3842)
• Hot Line and Warm Line
SIP Call Management
• Support Outbound Proxy
• Register up to three SIP servers
• SIP Registration Failover Mechanism
• Group Hunting
• Privacy Mechanism / Private Extensions to SIP
• Session Timers (Update / Re-invite)
• DNS SRV Support
• Call Types: Voice / Modem / FAX
• Call Routing by Prefix Number
• User Programmable Dial Plan Support
• CDR Client
• Manual Peer Table (for P2P calls)
• E.164 Numbering, ENUM support
SIP Account Management
• By port registration
• By device registration (share account)
• Mixed mode (Hunt number for inbound, by port number for outbound)
• Invite with Challenge
• Register by SIP Server IP Address or Domain Name
• Support RFC3986 SIP URI format
IP Network Specifications
• IPv4, IPv6 support
• WAN: Static IP, PPPoE, DHCP, PPTP
• Network protocol support: IP, TCP, UDP, TFTP, FTP, RTP, RTCP, ARP, RARP, ICMP, NTP, SNTP, SNMP v1/v2/v3, HTTP, HTTPS, DNS, DNS SRV, Telnet, DHCP-server, DHCP-client, STUN-client, UPnP, IGMP snooping, IGMP proxy
• QoS support:
- WAN: DiffServ, IP Precedence, priority queues, Rate Control, 802.1Q (VLAN Tagging), 802.1p (Priority Tag)
- LAN: Rate Limit
• DDNS support
- Dyndns.org, TZO and Peanut Hull
Network Security
• VPN PPTP client
• DIGEST authentication
• MD5 Encryption
• Protection against DoS attacks
Management
• Web based configuration
• Auto-provisioning (HTTP / HTTPS)
• Telnet
• IVR
• Software upgrade via FTP / TFTP / HTTP
• Backup and restore settings
• The Reset button to reset to default settings
• TR-069/104 (optional)
• SNMP V3 / V2c / V1
SIP, Voice and FAX Related Standards
• RFC1889 RTP: A Transport Protocol for Real-Time Applications
• RFC2543 SIP: Session Initiation Protocol
• RFC2833 RTP Payload for DTMF Digits, Telephony Tones and Telephony Signals
• RFC2880 Internet Fax T.30 Feature Mapping
• RFC2976 The SIP INFO Method
• RFC3261 SIP: Session Initiation Protocol
• RFC3262 Reliability of Provisional Responses in Session Initiation Protocol (SIP)
• RFC3263 Session Initiation Protocol (SIP): Locating SIP Servers
• RFC3264 An Offer / Answer Model with Session Description Protocol (SDP)
• RFC3265 Session Initiation Protocol (SIP)-Specific Event Notification
• RFC3311 The Session Initiation Protocol (SIP) UPDATE Method
• RFC3323 A Privacy Mechanism for the Session Initiation Protocol (SIP)
• RFC3325 Private Extensions to the SessionInitiation Protocol (SIP) for Asserted Identity within Trusted Networks
• RFC3362 Real-time Facsimile (T.38) -image/t38 MIME Sub-type Registration
• RFC3515 The Session Initiation Protocol (SIP) Refer Method
• RFC3550 RTP: A Transport Protocol for Real-Time Applications. July 2003
• RFC3665 Session Initiation Protocol (SIP) Basic Call Flow Examples
• RFC3824 Using E.164 numbers with the Session Initiation Protocol (SIP)
• RFC3841 Caller Preferences for the Session Initiation Protocol (SIP)
• RFC3842 A Message Summary and Message Waiting Indication Event Package for the Session Initiation Protocol (SIP)
• RFC3891 The Session Initiation Protocol (SIP) "Replaces" Header
• RFC3892 The Session Initiation Protocol (SIP) Referred-By Mechanism
• RFC3960 Early Media and Ringing Tone Generation in the Session Initiation Protocol (SIP)
• RFC3986 Uniform Resource Identifier (URI): Generic Syntax
• RFC4028 Session Timers in the Session Initiation Protocol (SIP)
• Draft-ietf-sipping-service-examples-08 for call features
Network Related Standards
• RFC318 Telnet Protocols
• RFC791 Internet Protocol
• RFC792 Internet Control Message Protocol
• RFC793 Transmission Control Protocol
• RFC768 User Datagram Protocol
• RFC826 Ethernet Address Resolution Protocol
• RFC959 File Transfer Protocol
• RFC1034 Domain Names-concepts and facilities
• RFC1035 Domain Names-implementation and specification
• RFC1058 Routing Information Protocol
• RFC1157 Simple Network Management Protocol (SNMP)
• RFC1305 Network Time Protocol (NTP)
• RFC1321 The MD5 Message-Digest Algorithm
• RFC1349 Type of Service in the Internet Protocol Suite
• RFC1350 The TFTP Protocol (Revision 2)
• RFC1661 The Point-to-Point Protocol (PPP)
• RFC1738 Uniform Resource Locators (URL)
• RFC2854 The 'text / html' Media Type
• RFC2131 Dynamic Host Configuration Protocol
• RFC2136 Dynamic Updates in the Domain Name System (DNS UPDATE)
• RFC2327 SDP: Session Description Protocol
• RFC2474 Definition of the Differentiated Services Field (DS Field)
• RFC2516 A Method for Transmitting PPP Over Ethernet
• RFC2616 Hypertext Transfer Protocol -HTTP/1.1
• RFC2617 HTTP Authentication: Basic and Digest Access Authentication
• RFC2637 Point-to-Point Tunneling Protocol
• RFC2766 Network Address Translation-Protocol Translation (NAT-PT)
• FC2782 A DNS RR for Specifying the location of Sevices (DNS SRV)
• RFC2818 HTTP Over TLS (HTTPS)
• RFC2916 E.164 Number and DNS
• RFC3022 Traditional IP Network Address Translator
• RFC3489 STUN-Simple Traversal of User Datagram Protocol (UDP) Through Network Address Translators (NATs)
Physical Parameters
Dimensions
• 28.7 x 16 x 3.6 cm
Weight
• 1300 g
Power
• Input: 100 to 240 VAC, 50/60 Hz
• Output: 12 V DC, 2 A
Temperature
• Operating: -10° to 45°C
• Storage: -25° to 75°C
Humidity
• Operating: 0% to 90% (non-condensing)
• Storage: 0% to 95% (non-condensing)
Certifications
• EMI Certifications: FCC part15 B, CE class B
• Safety Certifications: CE/LVD
Order info
DVG-5008SG FXS VoIP Gateway