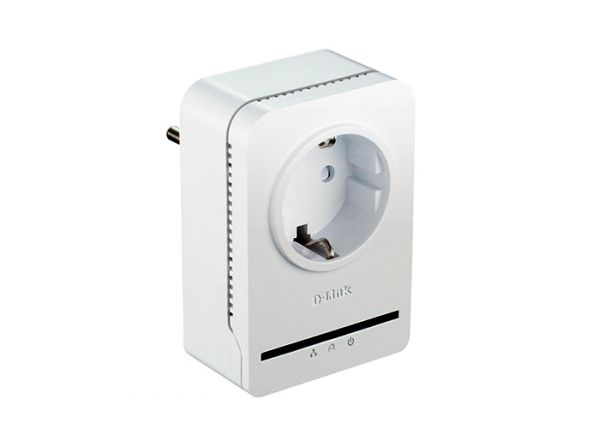 Description
The DHP-308AV PowerLine AV 500 Mini Adapter is compliant with the HomePlug AV standard and uses your home's existing electrical wiring to create a network or extend your existing network*. It turns any power outlet into a network connection to access digital media devices, game consoles, print servers, computers, and network storage devices throughout your home. Share the Internet connection in your study with a game console in your lounge room, or connect two PCs in different rooms, all without the need for additional network cabling. 
Convenient Setup and Secure Operation
The PowerLine AV 500 Mini Adapter plugs directly into a power outlet, and does not require any additional cables, which means that any power outlet in your home can be turned into a network connection instantly. Extend your home network by connecting multiple devices in the farthest corners of your home. Share the Internet connection from your study with the media center in your living room, or connect computers in different rooms to share files, all without installing new cabling. For convenient setup, an encryption key can be quickly configured with the push of a button. The adapter implements 128-bit AES data encryption to protect the network from unauthorized wire-tapping and keeping your network activity safe from intruders. 
PowerLine AV 500 for Bandwidth-Intensive Applications
The DHP-308AV features PowerLine AV 500, enabling it to deliver data at speeds higher than regular PowerLine AV products**. This rapid transmission speed makes it ideal for bandwidth-intensive applications, which guarantees smooth HD video streaming, VoIP calls, and lag-free online gaming experiences. Create a network capable of Internet surfing, media streaming, and file sharing, all using your home's existing electrical wiring.
Quality of Service (QoS)
A QoS engine will analyze and separate the traffic of the DHP-308AV into multiple data streams. This allows for smooth streaming of Internet Protocol Television (IPTV), HD video, and lag-free online gaming because the most demanding data streams are automatically given priority. 
DHP-309AV PowerLine AV 500 Mini Starter Kit
The DHP-308AV is also available in a starter kit that provides a complete PowerLine solution. The DHP-309AV PowerLine AV 500 Mini Starter Kit features two DHP-308AV adapters, give you everything you need to create and start using a PowerLine network in your home right away.
General features
PowerLine Interface 
• Power plug (country-dependent)
Ethernet Interface 
• Fast Ethernet Port 
• RJ-45 Connector
Standards 
• IEEE 802.3
• IEEE 802.3u
• HomePlug AV
• IEEE 1901
Security 
• 128-bit AES Data Encryption
LEDs 
• Power
• Ethernet
• PowerLine
Powerline Modulation Scheme 
• OFDM Symbol Modulation
Powerline Frequency Band 
• 2 MHz to 28 MHz
Data Rate 
• 10/100 Mbps (autonegotiation)
Maximum Nodes 
• 6 (recommended)***
Order info
DHP-P308AV/B1 PowerLine AV 500 Mini Adapter