DWL-6700AP
Proje
Dual Band Outdoor Wireless Unified Access Point
Nereden Alınır
Tanımlama
Outdoor Wireless Dual Band unified access point D-Link DWL-6700AP is designed for use in enterprise networks that require data transfer for small and medium distances.
2 bandwidth

5 GHz WDS-organization of the compounds, 2.4 GHz to create a wireless local area network

Modern wireless standard 802.11n

High-speed connections - up to 300 Mbit / s

Ability to use outdoors

Wide operating temperature range - from -30 ° C to 50 ° C

Protected housing

Plastic housing with a protection class of dust and moisture IP55

The maximum effective installation

Signal level Wi-Fi, which allows to choose the optimal location for the access point

Centralized management

Working in a controlled access point with wireless switches and controllers D-Link
Flexible access to a wireless network
The access point supports MIMO 2x2 and is equipped with two built-in directional antennas with a gain of 8 dBi for 5 GHz frequency band and two omnidirectional antennas with a gain of 3 dBi for 2.4 GHz. This solution enables stable operation of WDS-connections on medium distances in the 5 GHz band and thus arrange local access to a wireless network in the 2.4GHz band.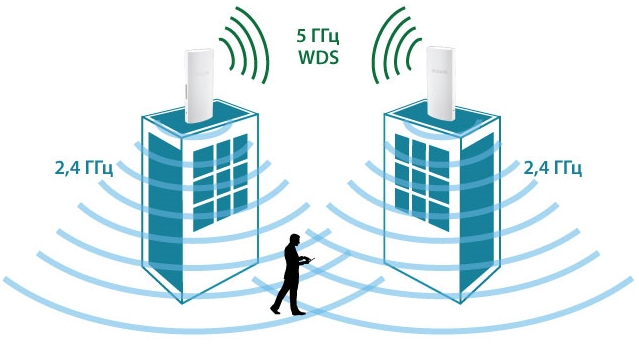 Centralized management of the wireless network
When working with the unified switches or controllers D-Link Access Point DWL-6700AP supports centralized management that makes it easy to configure and manage a large number of APs. After the discovery of the switch or access point controller, the administrator can specify a single configuration for all of TD immediately instead configure each AP individually. In addition to that provided centralized management of radio frequency resources and security settings, which in turn allows the administrator to pre-identify potential weaknesses and vulnerabilities in the network.
LED signal strength Wi-Fi and a remote reset button
This access point is equipped with an indicator signal Wi-Fi, which allows to monitor the signal WDS-connections for the 5 GHz frequency range. Thus, the administrator can easily determine the optimum location of the AT required to obtain the maximum signal when receiving from the AT on the opposite side, even if two access points are located at a distance of 2 km from each other. In addition to the main button reset to factory settings, located directly on the access point to the factory settings can be performed remotely using a special button on PoE-injector supplied with the AP.
Quality of Service
DWL-6700AP supports 802.1p Quality of Service (QoS) to increase throughput and productivity when transferring delay-sensitive traffic, for example, VoIP and video streaming. Since DWL-6700AP supports WMM, in the case of a high network load will primarily handle the traffic with the highest priority. In addition, the access point DWL-6700AP supports load balancing. If multiple TD-enabled load balancing are in close proximity to each other, the TD, whose resources are fully utilized, will reject new connection requests. Instead, the connection request will be accepted by the neighboring access point. Thus, by using this feature, the load on the access points will be distributed evenly.
Genel Özellikler
Fiziksel Özellikler
Hardware
Interfaces

• IEEE 802.11a / b / g / n

• Two LAN ports 10 / 100Base-TX featuring PoE (PoE supply to the LAN1 or LAN2, proprietary implementation of PoE, does not meet the standard 802.3af / at)

• Console port with RJ-45

Indicators

• Condition

• LAN1

• LAN2

• The signal strength Wi-Fi (5 GHz)

• 2.4 GHz

Buttons
• Reset to the factory settings
Antenna

• 5GHz: Two built-in directional antenna with a gain of 8 dBi

• 2,4 GHz: Two built-in omni-directional antenna with a gain of 3 dBi

Scheme MIMO
• 2x2
Housing
• Plastic (protection class IP55)
The parameters of the wireless module
Standards
• IEEE 802.11a / b / g / n
Frequency Range

• 802.11b / g / n: from 2.4 GHz to 2.4835 GHz

• 802.11a / n: from 5.15 GHz to 5.825 GHz

Wireless Security

• Up to 8 SSID, SSID to a range of 4

• 802.1Q VLAN

• WPA-Personal / Enterprise

• WPA2-Personal / Enterprise

• AES and TKIP

• Filtering by MAC-address-

Wireless speed

• IEEE 802.11a: 6, 9, 12, 18, 24, 36, 48 and 54 Mbit / s

• IEEE 802.11b: 1, 2, 5.5 and 11 Mbit / s

• IEEE 802.11g: 6, 9, 12, 18, 24, 36, 48 and 54 Mbit / s

• IEEE 802.11n 1:

MCS
GI = 800ns
GI = 400ns
20 MHz
40 MHz
20MHz
40 MHz
0
6.5
13.5
7.2
15
1
13
27
14.4
thirty
2
19.5
40.5
21.7
45
3
26
54
28.9
60
4
39
81
43.3
90
5
52
108
57.8
120
6
58.5
121.5
65
135
7
65
135
72.2
150
8
13
27
14.444
thirty
9
26
54
28.889
60
10
39
81
43.333
90
eleven
52
108
57.778
120
12
78
162
86.667
180
13
104
216
115.556
240
14
117
243
130
170
15
130
270
144.444
300

Unit: Mbit / s

Transmitter output power

The maximum transmit power will vary according to the rules of radio frequency regulation in your country.

• IEEE 802.11a:

20 dBm at 6 ~ 18 Mbit / s

19 dBm at 24 Mbit / s

18 dBm at 36 Mbit / s

17 dBm at 48 Mbit / s

15 dBm at 54 Mbit / s

• IEEE 802.11b:

20 dBm at 1 Mbit / s

19 dBm at 2 Mbit / s

17 dBm at 5.5 and 11 Mbit / s

• IEEE 802.11g:

20 dBm at 6 ~ 18 Mbit / s

19 dBm at 24 Mbit / s

18 dBm at 36 Mbit / s

17 dBm at 48 Mbit / s

15 dBm at 54 Mbit / s

• IEEE 802.11n:

2.4 GHz / HT-20:

20 dBm at MCS0-MCS3, MCS8-MCS11

19 dBm at MCS4, MCS12

18 dBm at MCS5, MCS13

17 dBm at MCS6, MCS14

16 dBm at MCS7, MCS15

2.4 GHz / HT-40:

19 dBm at MCS0-MCS3, MCS8-MCS11

17 dBm at MCS4, MCS12

16 dBm at MCS5, MCS13

14 dBm at MCS6-MCS7, MCS14-MCS15

5GHz / HT-20:

11 ± 2 dBm at MCS0-MCS3, MCS8-MCS11

10 ± 2 dBm at MCS4-MCS5, MCS12-MCS-13

9 ± 2 dBm at MCS6-MCS7, MCS14-MCS15

5GHz / HT-40:

11 ± 2 dBm at MCS0-MCS3, MCS8-MCS11

10 ± 2 dBm at MCS4-MCS5, MCS12-MCS-13

9 ± 2 dBm at MCS6-MCS7, MCS14-MCS15

Receiver Sensitivity

• IEEE 802.11a:

-85 DBm at 6 Mbit / s

-84 DBm at 9 and 12 Mbit / s

-82 DBm at 18 Mbit / s

-78 DBm at 24 Mbits / s

-73 DBm at 36 Mbit / s

-70 DBm at 48 Mbit / s

-68 DBm at 54 Mbit / s

• IEEE 802.11b:

-89 DBm at 1 and 2 Mbit / s

-84 DBm at 5.5 and 11 Mbit / s

• IEEE 802.11g:

-85 DBm at 6 Mbit / s

-84 DBm at 9 and 12 Mbit / s

-82 DBm at 18 Mbit / s

-78 DBm at 24 Mbits / s

-73 DBm at 36 Mbit / s

-70 DBm at 48 Mbit / s

-68 DBm at 54 Mbit / s

• IEEE 802.11n:

2.4 GHz / HT-20:

-82 DBm at MCS0 / 8

-79 DBm at MCS1 / 9

-77 DBm at MCS2 / 10

-74 DBm at MCS3 / 11

-70 DBm at MCS4 / 12

-66 DBm at MCS5 / 13

-65 DBm at MCS6 / 14

-64 DBm at MCS7 / 15

2.4 GHz / HT-40:

-79 DBm at MCS0 / 8

-76 DBm at MCS1 / 9

-74 DBm at MCS2 / 10

-71 DBm at MCS3 / 11

-67 DBm at MCS4 / 12

-63 DBm at MCS5 / 13

-62 DBm at MCS6 / 14

-61 DBm at MCS7 / 15

5GHz / HT-20:

-82 ± 2 dBm at MCS0 / 8

-79 ± 2 dBm at MCS1 / 9

-77 ± 2 dBm at MCS2 / 10

-74 ± 2 dBm at MCS3 / 11

-70 ± 2 dBm at MCS4 / 12

-66 ± 2 dBm at MCS5 / 13

-65 ± 2 dBm at MCS6 / 14

-64 ± 2 dBm at MCS7 / 15

5GHz / HT-40:

-79 ± 2 dBm at MCS0 / 8

-76 ± 2 dBm at MCS1 / 9

-74 ± 2 dBm at MCS2 / 10

-71 ± 2 dBm at MCS3 / 11

-67 ± 2 dBm at MCS4 / 12

-64 ± 2 dBm at MCS5 / 13

-63 ± 2 dBm at MCS6 / 14

-62 ± 2 dBm at MCS7 / 15

Functionality
Network Management

• Web-interface (HTTP / HTTPS)

• Command Line Interface (only available when you connect through the console port is an RJ-45)

Modes of operation

• Access point

• WDS

Supported Features

• Quality of Service (QoS)

• WMM

Standards

• IEEE 802.3i

• IEEE 802.3u

• IEEE 802.3x

Physical parameters
The weight
• 495 g
Sizes
• 280 x 115 x 50 mm
terms of Use
Food

• PoE (PoE supply to the LAN1 or LAN2, proprietary implementation of PoE, does not meet the standard 802.3af / at)

• Power adapter (PoE-injector), output: 24 V DC, 1 A

Max Power Consumption
• 8 W (when using PoE-injector, included in the package)
ESD protection
• Up to 6 kW
Temperature

• Working: -30 ° to 50 ° C

• Storage: -30 ° to 65 ° C

Humidity

• Operating: 10% to 90% non-condensing

• Storage: 5% to 95% non-condensing

Contents of delivery

• Wireless Access Point DWL-6700AP

• Ethernet-Cable

• Power adapter (PoE-injector)

• A set of ground wire and screw

• Clamps for cable (2 pcs.)

• Power cable

• Warranty Card

• Installation CD

Other
Certifications

• CE

• EN 301 893 V1.7.1 (2012-06) (DFS / TPC)

• EN 300 328 V1.8.1 (2012-06)

• FCC

• IC

• cUL

• LVD

• C-Tick

• NCC

• Wi-Fi

• TELEC
1 Maximum wireless signal rate derived from the specifications of the standard IEEE 802.11n. The data rate can vary significantly from the speed of the wireless connection. The conditions under which the network operates, as well as environmental factors, including volume of network traffic, building materials and construction, and network overhead, lower actual data throughput rate.