DCS-2230
EOL EOS
Network 802.11n wireless two-megapixel IP-camera «Cube» with support for Full HD and H.264
Nereden Alınır
Tanımlama
Round the clock surveillance
Network Camera «Cube» with support for Full HD DCS-2210/2230 - stop solution for video surveillance at home and small office use in low light conditions. Thanks to high-resolution two-megapixel sensor and built-in IR illumination, can be observed in the room, even in complete darkness. DCS-2210/2230 also has a built-in ICR-filter, which makes the camera suitable for day and for night use. Moreover, DCS-2210/2230 is a turnkey solution with built-in CPU and web-server that transmits high quality video images for security and surveillance. DCS-2210 supports Power over Ethernet (PoE), so that the camera can be placed in areas where power outlets are not available. DCS-2230 with 802.11n can be placed anywhere within the wireless network. DCS-2210/2230 also offers easy installation, intuitive web-based interface supports remote control and motion detection features for a complete and cost-effective solutions to ensure security at home and in the office.
802.11n wireless connectivity
DCS-2230 supports wireless interface 802.11n, providing quick and easy integration into an existing network. Wireless N technology allows for streaming high-quality video to remote sites or mobile devices. Site Survey feature also allows you to easily view and connect to nearby wireless networks. DCS-2103/2130 camera is equipped with an Ethernet port for connecting to a standard wired networks.
Functions ePTZ
EPTZ functions to select the desired area to view in an enlarged scale by clicking an icon in the video browser. Thanks to ePTZ megapixel camera with a resolution delivers sharp images and surveillance of large areas with little effort. No moving parts means the operational reliability of the camera.
Easy setup and easy to use
The network camera supports Plug-n-Play, which allows computers running on Windows XP/Vista/7 to automatically recognize the camera and add it to the network. Sign up with one of the free servers DDNS, you can set the camera domain name (for example, mycamera.dlinkddns.com). This will allow the use of remote access to the camera without knowing its IP-address.Software D-ViewCam D-Link allows you to view up to 32 cameras on a single computer screen. Users can set up an automatic notification by e-mail to be instantly informed of unusual activities.
Genel Özellikler
Fiziksel Özellikler
Camera
Key Features
• 1/2.7-dyuymovy megapixel progressive CMOS-sensor
• Distance of IR illumination: 5 m
• Minimum illumination: 0 lux with IR LED
• Built-in ICR-filter
• Built-in PIR (Passive Infrared) sensor
• Built-in microphone and speaker
• 10x digital zoom
• Fixed focal length: 4.37 mm
• Aperture F2.0
• Viewing angle:
- Horizontal 67.4 °
- Vertical 40.8 °
- Diagonal 75 °
Functional video
• Adjust the size, quality, frame rate and bit rate image
• The timings and paste text
• Windows to configure motion detection
• 3 customizable private mask
• Configurable shutter speed, brightness, saturation, contrast and sharpness
Video Compression
• Video compression formats H.264/MPEG4/MJPEG
• JPEG for still images
Video Resolution
• 16:9 - 1920x1080 (up to 15 frames per second), 1280x720, 800 x 450, 640 x 360, 480 x 270, 320 x 176, 176 x 144 at 30 frames per second
• 4:3 - 1440h1080 (up to 15 frames per second), 1280 x 960, 1024x768, 800 x 600, 640 x 480, 320 x 240, 176 x 144 at 30 frames per second
Audio Support
G.726
Device Interfaces
• Ethernet 10/100 BASE-TX (with PoE for DCS-2210)
• Wireless Interface 802.11n (only DCS-2230)
• 1 DI / 1 DO
• Slot for Micro SD-Card
Network Protocols
IPv4, TCP / IP, UDP, ICMP, DHCP Client, NTP Client (D-Link), DNS Client, DDNS Client (D-Link), SMTP Client, FTP Client, HTTP / HTTPS, Samba Client, PPPoE, UPnP Port Forwarding , RTP / RTSP / RTCP, IP filtering, 3GPP, IGMP, ONVIF
Safety
• Security administrator account and user groups
• Password authentication
System control
System requirements for the web-based interface
• Operating System: Microsoft Windows 7/Vista/XP/2000
• Browser: Internet Explorer, Firefox, Netscape, Opera
Event Management
• Motion detection
• PIR-sensor for motion detection
• Event notification and downloading snapshots / video clips via HTTP, SMPT or FTP
• Support for multiple servers, HTTP, SMPT and FTP
• Multiple event notifications
• Several ways to create backups
Remote management
• Setting up a web-browser
• Obtaining snapshots / video and save to your local hard drive or NAS via web-browser
Support for mobile phones
Windows 7/Vista/XP, Pocket PC or a mobile phone that supports 3GPP
System requirements for the D-ViewCam ™
• Operating System: Microsoft Windows 7/Vista/XP
• Browser: Internet Explorer 6 or higher
• Protocol: TCP / IP
Features available in the D-ViewCam ™
• Remote management / control of up to 32 cameras
• View images from 32 cameras on one screen
• Supports all management functions through a web-based interface
• Recording Option detected image or manually

Fiziksel Özellikler
Power Input
5 VDC 1.2 A, 50/60 Hz
Max. power consumption
4 W
Operating temperature
From 0 to 40 ° C
Storage temperature
-20 To 70 ° C
Humidity
From 20% to 80% (non-condensing)
Measurements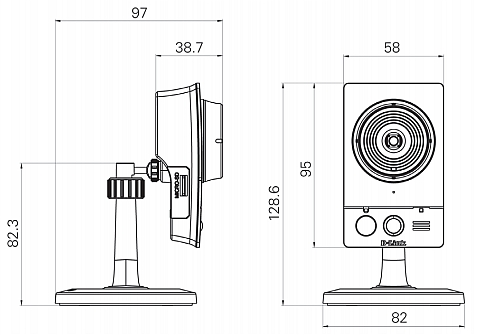 Weight
75 grams
Certifications
CE, CE LVD, FCC (Class B), C-Tick