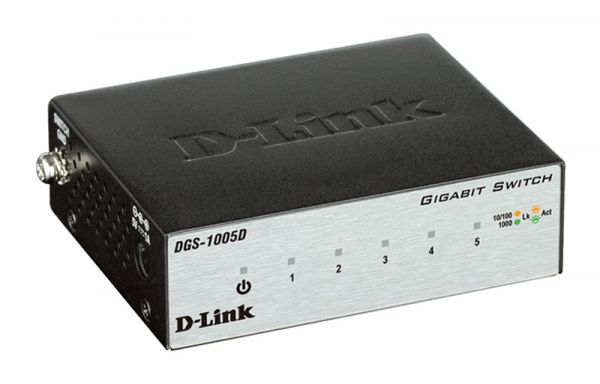 DGS-1005D/H2
EOL EOS
5 port 10/100/1000 Base-T ve güç tasarrufu fonksiyonlu Yönetilemeyen Layer 2 Gigabit Anahtar
Nereden Alınır
Tanımlama
Gigabit speed data network
Gigabit Switch 5-port D-Link DGS-1005D provides data transfer and work online gaming at speeds up to 2000 Mbit / s. Indicators of two colors for each port to help you easily determine the status of the connection. DGS-1005D supports QoS, ensuring prioritization of delay-sensitive traffic and important for efficient transmission of multimedia data in real-time, high quality VoIP calls and online gaming.
Implementing technology D-Link Green
Switch DGS-1005D which supports plug-and-play is a device that uses D-Link Green, providing energy savings, reduced heat emission and a longer product life without sacrificing performance or functionality. The switch supports JavaScript IEEE 802.3az Energy-Efficient Ethernet (EEE), by which it is determined when the connected computer is turned off or when there is no Ethernet-traffic on and off power to the inactive ports, which saves a significant amount of energy. Also, the switch capable of adjusting the power consumption by determining the length of the cable connected to the port. Both of these features work together to automatically save energy.
Caring for the environment
5-Port Gigabit Switch DGS-1005D is designed to meet the requirements of environmental protection, in accordance with EnergyStar Level V and regulations, CEC and MEPS, requiring the use of power adapters that reduce power consumption. The switch also RoHS compliant restricting the use of hazardous substances and uses recyclable packaging that greatly reduces the amount of waste in accordance with Directive WEEE.
Genel Özellikler
Fiziksel Özellikler
Common
• Built-in D-Link Green
• Inexpensive Gigabit solution for home networks and SOHO
• 5 x 10/100/1000 Mbit / s Gigabit
• Switching Matrix: 10 Gbit / s
• Auto MDI / MDIX on all ports
• Switching Method: Store-and-forward
• Ethernet / Fast Ethernet: Full duplex / half duplex
• IEEE 802.3x Flow Control
• Jumbo-frames 9216 bytes
• Supports IEEE 802.1p QoS (4 queues, Strict Mode)
• Supports Cable Diagnostics
• Compliance with the RoHS Directive
• The Plug-and-play
• passive cooling system
Standards
• IEEE 802.3 10BASE-T Ethernet (twisted-pair copper)
• IEEE 802.3u 100BASE-TX Fast Ethernet (twisted-pair copper)
• IEEE 802.3ab 1000BASE-TX Gigabit Ethernet (twisted-pair copper)
• IEEE 802.3az Energy-Efficient Ethernet (EEE)
• ANSI / IEEE 802.3 NWay speed detection and mode of operation
• Flow control IEEE 802.3h
• IEEE 802.1p QoS
Protocol
CSMA / CD
Data transfer rate
• Ethernet:
• 10 Mbit / s (half duplex)
• 20 Mbit / s (full duplex)
• Fast Ethernet:
• 100 Mbit / s (half duplex)
• 200 Mbit / s (full duplex)
• Gigabit Ethernet:
• 2000 Mbit / s (full duplex)
Topology
Star
Network Cables
• 10BASE-T:
• UTP Cat. 3/4/5/5e (100m max.)
• EIA/TIA-586 100-ohm STP (100m max.)
• 100BASE-TX, 1000BASE-T:
• UTP Cat. 5/5e (100m max.)
• EIA/TIA-586 100-ohm STP (100m max.)
Interfaces transmission medium
Automatic detection of MDI / MDIX on all ports
Indicators
• Per Port: Link / Activity / Speed
• On the device: Power
Switching Method
Store-and-Forward
MAC-address table
2K entries per device
Study MAC-address
Automatic Update
Speed ​​Packet Filtering / Forwarding
• Ethernet: 14,880 packets per second. the port
• Fast Ethernet: 148,800 packets per second. the port
• Gigabit Ethernet: 1488000 package sec. the port
Packet Buffer
128 Kbyte device

Physical parameters
Power Input
5V/1A DC external power adapter
Power consumption
• Power on. (Standby):
• Power Input: 0.45 W DC 1.4 W AC
• Max.:
• Power Input: 2.37 W DC 3.9 W AC
Heat release
• Power on. (Standby): 2,728 BTU / h
• Max.: 13,30 BTU / h
MTBF
1261786 hours
Temperature
• Operating: 0 ° to 50 ° C
• Storage: -10 ° to 70 ° C
Humidity
• Operating: 10% to 90%
• Storage: 5% to 90%
Certificates
• FCC Class B
• ICES-003 Class B
• CE Class B
• C-Tick Class B
• VCCI Class B
• cUL
• LVD
• CB