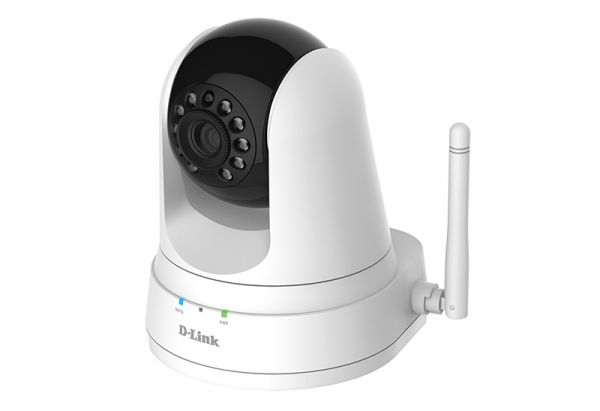 DCS-5000L
EOL EOS
מצלמת מעקב אלחוטית בתקן 802.11n עם מנוע, צילום לילי ותמיכה ב - mydlink
היכן לקנות
תאור
Network Camera DCS-5000L supports a wide range of functions for effective day and night surveillance in a home or small office. Pan and tilt mechanism provides coverage of a large area surveillance, and built-in infrared light allows you to round the clock surveillance regardless of lighting conditions. Wireless connectivity eliminates the need for network cables, which provides a simple and flexible installation.

Clock video surveillance
DCS-5000L is a standalone device that does not require any special hardware or software and can work even without a computer. A notification is sent to the snapshots and video clips via e-mail when motion is detected using a camera DCS-5000L and Internet connection. You can set the area for motion detection and monitor, for example, the entrance to the premises or restricted traffic zone. DCS-5000L allows video surveillance at night thanks to infrared illumination with a range of up to 8 m, which provides round the clock surveillance for your home or small office.

Permanent remote access to video using the mydlink cloud service
Support Camera DCS-5000L service mydlink ™ makes monitoring your home or office more easily, conveniently, and allows you to stay connected regardless of their location. To view video from a camera, you can use the Web-site mydlink, as well as additional applications mydlink mobile devices with iOS and Android. Applications mydlink allow the user that uses Wi-Fi, 3G or 4G connection to quickly and easily view the video from the camera.

Functional PTZ
With features pan / tilt camera DCS-5000L provides an overview of a large area from different angles, and 4x digital zoom allows you to bring the area of ​​interest for more information.

Long range wireless network with 802.11n standard
Through wireless connection 802.11n, which provides reliable, high-speed data transfer and high range of the wireless network, the camera DCS-5000L can be placed anywhere in the home or small office. You can set the camera anywhere within range of your existing wireless network without network cables and move it to reflect changes in the requirements for the surveillance system.
מאפיינים כללים
Interfaces
• Port 10 / 100BASE-TX

Indicators
• Power / Connection
• WPS

Buttons
• Reset button
• WPS Button

Power connector
• Micro-USB connector for power supply (DC)

Main characteristics
• 1/5 inch VGA CMOS-sensor with progressive scan
• Focal length: 2.2 mm
• Aperture: F2.4
• Viewing angles:
- 57 ° (horizontal)
- 42 ° (vertical)
- 68 ° (diagonal)
• 4x digital zoom
• Minimum illumination: 0 lux with infrared illumination
• Built-in ICR-filter
• The distance of IR illumination: 8m
• Waiting time: from 1/15 to 1/15000 with
• Built-in microphone
• The rotation angle, from -170 ° to + 170 °
• Tilt: -25 ° to + 95 °
• The speed of rotation of 16 ° per second
• Setting step:
- Rotate: 1 ° / 2 ° / 3 ° / 4 ° / 5 ° (default) / 10 ° / 15 ° / 20 ° / 25 ° / 30 ° per-click
- Slope: 1 ° / 2 ° / 3 ° / 4 ° / 5 ° (default) / 10 ° / 15 ° / 20 ° / 25 ° / 30 ° CPC

Features Image
• Adjust image size and quality, frame rate and data rate
• Time stamp and text insertion
• Customizable windows for motion detection
• Adjust the brightness, color saturation, contrast,
• Flip and mirror image
• Pre / post-entry
• Control 3A:

- AGC (Auto Gain Control) (Automatic Gain Control)
- AWB (Auto White Balance) (Auto white balance adjustment)
- AES (Auto Electronic Shutter) (Automatic control of the electronic shutter)

Video Compression
• MJPEG
• Compression in JPEG format for still pictures

Video Resolution
• 640 x 480 resolution and 15 frames / s; Of 320 x 240, 160 x 112 and 30 frames / s
• The quality of JPEG: very low, low, medium, high, very high

Audio
• PCM

Network Protocols
• IPv4
• ARP
• TCP
• UDP
• ICMP
• DHCP-Client
• NTP-client
• DNS-client
• DDNS-client
• SMTP-client
• FTP-client
• HTTP-server
• PPPoE
• UPnP port forwarding
• LLTD

Security
• Password authentication
• HTTP authentication

Wireless Module
• 802.11n / g / b
• Minutes of encryption WEP / WPA-PSK / WPA2

Event management
• Event notification and upload still images / video clips via e-mail or FTP
• Motion detection

Remote control
• Interface settings available through the Web-browser

Manage mobile devices
• Application mydlink Lite / mydlink + for iOS and Android mobile devices

Additional software D-ViewCam ™
• Remote management / control of up to 32 cameras
• Viewing images on a single screen: Up to 32 cameras
• Supports all management functions available through the Web-based interface
• Record Options for triggering the sensor, scheduled or manually

System requirements for Web-based interface
• Operating System: Microsoft Windows 8/7 / Vista, Mac OS X
• Web-Browser: Internet Explorer 7 or higher, Firefox, Chrome, Safari

System requirements for D-ViewCam ™
• Operating System: Microsoft Windows 8/7 / Vista
• Web-Browser: Internet Explorer 7 or higher
• Protocol: Standard TCP / IP
נתונים פיזיים
Weight
• Device: 292.8 g
• Stand: 60.8 g

Sizes
• 55 x 43,1 x 95 mm (camera only)
• 58 x 101,4 x 128,8 mm (Including bracket)

Power
• Power adapter
• Output: 5V DC 1.5A

Power consumption
• 4,8 W

Temperature
• Working from 00 to 400 ° C
• Storage: from -250 to 700 C

Humidity
• Operating: 20% to 85% (non-condensing)
• Storage: 5% to 95% (non-condensing)

Certifications
• CE
• CE LVD
• FCC
• C-Tick