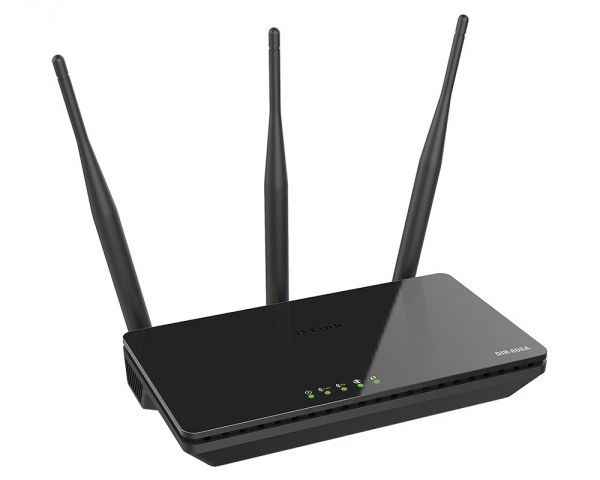 Tanımlama
Compliance with standards and IEEE802.11a/b/g/n IEEE802.11as, 5 GHz
Router DIR-806A supports 1T1R for 5 GHz and 2.4 GHz 2T2R to and complies with IEEE802.11a/b/g/n, and supports IEEE802.11as at a frequency of 5 GHz. IEEE802.11as standard is backward compatible with the 11n, therefore the interaction with other devices not have problems.

Increased speed wireless connectivity, extended range
Equipped with a high-performance power amplifier, the router DIR-806A increases the range of your wireless network and provides coverage in areas with weak signal reception or a complete absence. You can use a wireless device anywhere in the house or apartment.

Simultaneous dual-band
Router DIR-806A supports the work simultaneously in two frequency bands, 2.4 GHz and 5 GHz. Acting as a bridge between the wired Ethernet and the 2.4GHz IEEE802.11b/g/n, 5GHz IEEE802.11a / n wireless network LAN, the router will allow your wireless devices to connect to any sites, both wired and wireless.
Genel Özellikler
Fiziksel Özellikler
Router Features
• NAT / NAPT IP Sharing
• PPPoE / PPTP / Static IP/DHCP/L2TP for WAN-connection
• Automatic assignment of IP-addresses of DHCP-server
• DMZ / Virtual Server / Port Forwarding
• Special Applications (Port Trigger)
• DDNS (DynDNS, TZO)
• VPN Pass Through (IPSec/L2TP/PPTP)
• Anti-DoS Firewall
• Filtering by IP / MAC / URL-addresses
• QoS
• Setting up a Web-based interface
• Software upgrade

Features wireless network
• Compliant with IEEE 802.11a/b/g/n and IEEE 802.11ac draft
• Simultaneous operation in the frequency range of 2.4 GHz and 5 GHz
• Support 2T2R MIMO technology in the 2.4 GHz frequency range, significantly increasing the performance and range
• Supports 64/128-bit WEP, WPA and WPA2, and IEEE 802.1x authentication
• High speed data transmission and reception - up to 433 Mbit / s in the IEEE 802.11ac (5 GHz 80 MHz) and 300 Mbit / s in b / g / n (2,4 GHz)
• WPS for easy connection to a wireless network

Flash memory
• 4 MB SPI Flash

RAM
• 64 MB of DDR2 RAM

WAN port
• Port 10/100 Mbit / s (with support for automatic detection of MDI / MDI-X)

LAN Ports
• 4-port 10/100 Mbit / s (with support for automatic detection of MDI / MDI-X)

MIMO technology
• 5 GHz: 1T1R; 2,4 GHz: 2T2R MIMO

USB interface
• 1 Micro USB (for charging)

Antenna
• 2 fixed dual-band dipole antenna with a gain of 5 dBi

Transmitter power
2.4GHz
• 802.11b (11 Mbit / s): 16 ± 1,5 dBm
• 802.11g (54 Mbit / s): 15 ± 1,5 dBm
• 802.11n (20 MHz, MCS23): 14 ± 1,5 dBm
• 802.11n (40 MHz, MCS23): 14 ± 1,5 dBm
5 GHz
• 802.11a (54 Mbit / s): 14 ± 1,5 dBm
• 802.11n (20 MHz, MCS23): 13 ± 1,5 dBm
• 802.11n (40 MHz, MCS23): 13 ± 1,5 dBm
• 802.11n (80 MHz, VHTMCS9): 11 ± 1,5 dBm

Receiver Sensitivity
2.4GHz
• 802.11b (11 Mbit / s): -81 ± 2 dBm
• 802.11g (54 Mbit / s): -68 ± 2 dBm
• 802.11n (20 MHz, MCS23): -65 ± 2 dBm
• 802.11n (40MHz, MCS23): -64 ± 2 dBm
5 GHz
• 802.11a (54 Mbit / s): -77 ± 2 dBm
• 802.11n (20 MHz, MCS23): -74 ± 2 dBm
• 802.11n (40 MHz, MCS23): -63 ± 2 dBm
• 802.11n (80 MHz, VHTMCS9): -53 ± 2 dBm
Power adapter
• 5 V, 1.2 A

Measurements
• 30 x 104 x 75 mm (excluding antennas)

Temperature
• Operating: 0 ° to 40 ° C
• Storage: -20 ° to 60 ° C

Humidity
• Operating: 10% to 90% (non-condensing)
• Storage: max. 95% (non-condensing)