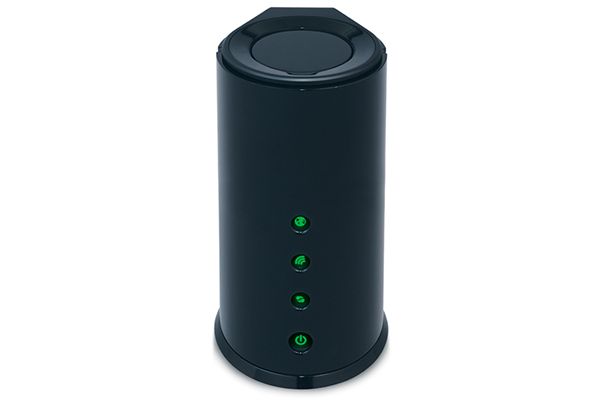 DIR-645
EOL EOS
802.11n Wireless Whole Home Router with 4-Port Switch and the port USB, up to 300 Mbit / s
Nereden Alınır
Tanımlama
High-speed, reliable connection with other devices
Router D-Link Whole Home provides a secure and high-speed connectivity to wired and wireless devices. The 802.11n standard and unique technology D-Link Smart Beam provide access to the Internet at home or in the office. The router also features a 4-port Gigabit LAN with QoS; just connect wired devices to the ports in order of importance, and the router will automatically configure QoS. It provides a clear picture when watching streaming video on your PC or game console, and view Web-pages or downloading files to your PC without delay. You can also connect a USB-printer or network storage and gain share them via the function SharePort D-Link.
Using a unique smart antenna D-Link, DIR-645 router automatically adjusts coverage to optimize the connection each authorized wireless client. This extends the range of network coverage and minimize interference, provides high-speed connections, and even save power by adjusting the amount of power used for wireless connections.
Double the wireless coverage
Compared with the standard antenna multiple antennas Router DIR-645 provides double the wireless coverage and eliminate "dead zones". Connect the device at a distance and enjoy a stable network connection - inside, outside, around, and even on different floors of the house.
WPA/WPA2 encryption protocols prevent unauthorized access to the network. You can also customize the guest areas to provide limited network access to individual wireless devices, and create a schedule, it allows you to turn the wireless network, if you are away from your home or office.
Genel Özellikler
Fiziksel Özellikler
Standards
• IEEE 802.11n
• IEEE 802.11g
• IEEE 802.11b
• IEEE 802.3
• IEEE 802.3u
• IEEE 802.3ab
WAN connection types
• Dynamic IP
• Static IP
• PPPoE
• PPTP
• L2TP
Device Interfaces
• 802.11n/g/b Wireless LAN
• 4-port LAN 10/100/1000BASE-T Gigabit
• 1 port WAN 10/100/1000BASE-T Gigabit
• 1 USB 2.0 port
Antenna Type
Internal Smart Antenna technology SmartBeam
Safety
• WPA and WPA2 (Wi-Fi Protected Access)
• 64/128-bit WEP-encryption
QoS
Port-based QoS
Data rate
• IEEE 802.11b: 11, 5.5, 2 and 1 Mbit / s
• IEEE 802.11g: 6, 9, 12, 18, 24, 36, 48, 54 Mbit / s
• IEEE 802.11n to 2.4 GHz from 6.5 to 300 Mbit / s
The output power of the transmitter
• IEEE 802.11b:
+20 DBm (+ /-2dB) at 11, 5.5, 2 and 1 Mbit / s at room temperature of 25 º C
• IEEE 802.11g:
+17 DBm (+ /-2dB) at 54, 48, 36, 24 Mbit / s at room temperature of 25 º C
+18 DBm (+ /-2dB) at 18, 12, 9, 6 Mbit / s at room temperature of 25 º C
• IEEE 802.11n for the 2.4 GHz band:
HT20
18dBm (+ /-2dB) at MCS0 ~ MCS3 and MCS8 ~ MCS11 at room temperature of 25 º C
17dBm (+ /-2dB) at MCS4 ~ MCS7 and MCS12 ~ MCS15 at room temperature of 25 º C
HT40
17dBm (+ /-2dB) at MCS0 ~ MCS13 and MCS8 ~ MCS11 at room temperature of 25 º C
16dBm (+ /-2dB) at MCS4 ~ MCS7 and MCS12 ~ MCS15 at room temperature of 25 º C
Receiver Sensitivity
• IEEE 802.11b:
when PER = 8% for the packet size of 1000 bytes at room temperature
-76 DBm at 11 Mbit / s
-76 DBm at 5.5 Mbit / s
-80 DBm at 2 Mbit / s
-80 DBm at 1 Mbit / s
• IEEE 802.11g:
when PER = 10% at room temperature
-65 DBm at 54 Mbit / s
-66 DBm at 48 Mbit / s
-70 DBm at 36 Mbit / s
-74 DBm at 24 Mbit / s
-77 DBm at 18 Mbit / s
-79 DBm at 12 Mbit / s
-81 DBm at 9 Mbits / s
-82 DBm at 6 Mbit / s
• IEEE 802.11n for the 2.4 GHz band:
when PER = 10% for a packet size of 1000 bytes at room temperature of 25 º C
HT20 (MHz)
-82 DBm at MCS0 / 8
-79 DBm at MCS1 / 9
-77 DBm at MCS2/10
-74 DBm at MCS3/11
-70 DBm at MCS4/12
-66 DBm at MCS5/13
-65 DBm at MCS6/14
-64 DBm at MCS7/15
• HT40 (MHz)
-79 DBm at MCS0 / 8
-76 DBm at MCS1 / 9
-74 DBm at MCS2/10
-71 DBm at MCS3/11
-67 DBm at MCS4/12
-63 DBm at MCS5/13
-62 DBm at MCS6/14
-61 DBm at MCS7/15
Device control
• The Wizard Wireless Network
• Web-based management interface Internet Explorer v6 or higher, Firefox 2.0 or later or other Java-enabled browser
Support for SharePort ™
Shared access to the multifunction printer or USB-USB-attached storage device
Indicators
• Internet
• Wireless
• WPS
• Power

Fiziksel Özellikler
Operating temperature
From 0 º to 40 º C
Storage temperature
From -20 º to 65 º C
Operating Humidity
From 10% to 90%, non-condensing
Humidity
From 5% to 95%, non-condensing
Measurements
190 x 117 x 97.3 mm
Weight
341 g
Certifications
• fcc class Statement B
• CE
• IC
• C-Tick
• IPv6 Ready
• Wi-Fi
• WMM
• Compatible with Windows 7