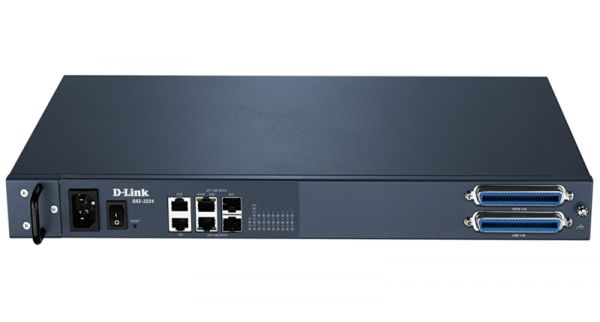 DAS-3224/EA/D1
EOL EOS
24-Port IP DSLAM 2 combo ports 10/100 / 1000Base-T / SFP
Nereden Alınır
Tanımlama
Thanks to a network uplink-interface Gigabit Ethernet (GE), IP DSLAM DAS-3224 / E / C provides a cost-effective solution for direct connection to IP-based networks through the Internet router or switch LAN.
IP DSLAM enables service providers to arrange for subscribers of broadband networks using existing copper telephone lines. Device supports ADSL / ADSL2 / ADSL2 + and advanced IP-services, including QoS, multicast, and subscriber management. These functions help to eliminate overloading the bandwidth and provide noise immunity and efficient transmission of video, voice and data network. Triple Play technology allows simultaneous transmission of content, bandwidth intensive: voice, video and data - in a single infrastructure. The device series DAS-3224 / E / C supports uplink-channel aggregation (association of uplink-channel GE into one logical interface). In addition, thanks to options Daisy Chaining, all connected devices can use the same uplink-channel GE.
DAS-3224 / E / C support limiting and filtering MAC addresses using a MAC-level service. The device also supports a one-way Loop Testing (SELT) for determining the state line to connect the modem. Bilateral Loop Testing (DELT) is mainly used to check the line after installing the modem. This function provides troubleshooting on lines with low productivity. Administration and Operations Management (OAM) is performed to ensure control, testing and monitoring. OAM loop-back is used to confirm the integrity of the virtual path or channel between different nodes on the ATM network.
Web-based management interface supports various functions, including monitoring the status in real time. IP DSLAM also allows monitoring and management through the Network Management System Network Management System.
To ensure quality of service (Quality of Service) DAS-3224 / E / C support 8 IEEE 802.1p priority queues, and network architecture DiffServ, which defines a simple mechanism for a structured classification and bandwidth management. DiffServ allows minimum waiting for services sensitive to delays - for example, voice or video, while traffic is not delay-sensitive services, including Web-traffic or file transfer to be transmitted according to the employment of bandwidth. DAS-3224 / E / C also supports packet classification based on MAC / IP-addresses and ports TCP / UDP.
DAS-3224 / E / C IP DSLAM 1,2U made in a metal housing and is designed for table top or rack mounting. The device can be mounted in a 19 "or 23" rack using the mounting kit.
IP DSLAM DAS-3224 / E / C 24 is equipped with ADSL-ports and 2 combo ports (10/100/1000 Base-T or mini-GBIC).
Using uplink-ports can be combined into a stack IP DSLAM device and aggregate multiple connections as a general network connection.
Due to the wide range of functions IP DSLAM, DAS-3224 / E / C are cost-effective and efficient solution for the implementation of broadband access systems of the next generation
Genel Özellikler
Fiziksel Özellikler
Features:
Device Interfaces
+ Connector cable RJ-45 - RS-232 DB type of "mother"
+ Gigabit Ethernet port for external control
Network Uplink-interfaces
+ 2x combo ports: 10/100/1000 Base-T or mini-GBIC
ADSL Standards
+ ANSI T1.413
+ ITU-T G.992.1, (G.dmt) Annex A
+ ITU-T G.992.2, (G.lite) Annex A
+ ITU-T G.992.3 (ADSL2)
+ ITU-T G.992.3 Annex L (RE-DSL)
+ ITU-T G.992.5 (ADSL2 +)
+ ITU-T G.992.5 (Annex M)
Throughput
+ Network uplink-interface - the network uplink-interface: 1Gbit / s per port
+ Network uplink-interface - ADSL-access interface: maksmum 28Mbit / s (Downstream), 2,8Mbit / s (Upstream with AnnexM)
User Interfaces ADSL
+ 24 ports (one connector Line RJ-21, 1 POTS RJ-21 connector on the front panel)
Alarm I / O
+ 4 Input Alarm
+ 1 Output Alarm
ADSL-speed transmission of data
+ Upstream from 32 kbit / s up to 2800 kbit / s in increments of 32 kbit / s
+ Downstream from 64 kbit / s to 28000 Kbit / s in increments of 32 kbit / s
ATM protocol
+ Ethernet over ATM (RFC 1483 bridged)
+ IPoA (RFC 1483 routed)
+ PPPoA (RFC 2364)
+ PPPoE (RFC 2516)
Certifications
+ CE, EN 55022 Class A / CISPR 22, CB Report, IEC60950-1, RoHS Directive
Diagnostic Lights
+ Alarm, power, DSL-status
System control
+ Track the status and emergency situations
- Automatic alarm and reports the status change system
+ Performance Monitoring
- Line speed transmission
- Monitoring bandwidth
- Collection of performance parameters ADSL-line in accordance with the RFC 2662 / RFC 3440
- Supports ICMP ping test
+ Setting
- Add, delete, query and change settings functions
- Setting IGMP snooping
- Configure VLAN
- Setting STP / RSTP
- Manage subscriber line ADSL through configuring Profile
- Updating and downloading software via TFTP
- BOOTP / DHCP-Client
+ Safety
- Ensuring the safety and support of the two levels of privileges to log on
VLAN
+ IEEE 802.1Q VLAN Tagging, VLAN based on ports and GVRP
+ Simultaneous support for VLAN 512
+ IEEE 802.1ad VLAN stacking and VLAN translation
Link Aggregation
+ Static and dynamic 802.3ad Link Aggregation
Quality of service (QoS)
+ IEEE 802.1p (8 priority queues)
+ DiffServ
+ Packet classification based on MAC / IP-address and TCP / UDP port
Multicasting
+ Support for IGMP Snooping on the basis of protocols IGMPv1, IGMPv2 and IGMPv3
+ Up to 256 multicast groups and 256 copies on the device
Broadcast Storm Control +
Bridge mode
4 + K MAC-addresses
Filtration + MAC / IP-addresses and TCP / UDP-ports
+ Support agents DHCP / PPPoE intermediate (relay)
+ Option 82, Circuit ID and Remote ID
+ IPOA-to-IPOE internetworking
+ PPPoA-to-PPPoE internetworking
Diagnosis, OAM, and access control
+ Diagnostic Protocol DELT
+ Limit the number of MAC addresses ADSL-customers
Diagnosis + ICMP Ping
Diagnosis + ATM OAM F5
Network control
+ Command Line Interface CLI via console or Telnet
+ SNMP v1 / v2c
+ Web-Management
+ Set up, troubleshooting, performance, security management
+ Support for NMS
Software
System control
+ Track the status and emergency situations
- Automatic alarm and reports the status change system
+ Performance Monitoring
- Line speed transmission
- Monitoring bandwidth
- Collection of performance parameters ADSL-line in accordance with the RFC 2662 / RFC 3440
- Supports ICMP ping test
+ Setting
- Add, delete, query and change settings functions
- Setting IGMP snooping
- Configure VLAN
- Setting STP / RSTP
- Manage subscriber line ADSL through configuring Profile
- Updating and downloading software via TFTP
- BOOTP / DHCP-Client
+ Safety
- Ensuring the safety and support of the two levels of privileges to log on
VLAN
+ IEEE 802.1Q VLAN Tagging, VLAN based on ports and GVRP
+ Simultaneous support for VLAN 512
+ IEEE 802.1ad VLAN stacking and VLAN translation
Link Aggregation
Static and dynamic 802.3ad Link Aggregation
Quality of service (QoS)
+ IEEE 802.1p (8 priority queues)
+ DiffServ
+ Packet classification based on MAC / IP-address and TCP / UDP port
Multicasting
+ Support for IGMP Snooping on the basis of protocols IGMPv1, IGMPv2 and IGMPv3
+ Up to 256 multicast groups and 256 copies on the device
Broadcast Storm Control +
Bridge mode
4 + K MAC-addresses
Filtration + MAC / IP-addresses and TCP / UDP-ports
+ Support agents DHCP / PPPoE intermediate (relay)
+ Option 82, Circuit ID and Remote ID
+ IPOA-to-IPOE internetworking
+ PPPoA-to-PPPoE internetworking
Diagnosis, OAM, and access control
+ Diagnostic Protocol DELT
+ Limit the number of MAC addresses ADSL-customers
Diagnosis + ICMP Ping
Diagnosis + ATM OAM F5
Network control
+ Command Line Interface CLI via console or Telnet
+ SNMP v1 / v2c
+ Web-Management
+ Set up, troubleshooting, performance, security management
+ Support for NMS
MIB Management
+ RFC 1157 SNMP v1
+ SNMP v2c
+ RFC 1213 MIB-II
+ RFC 1493 Bridge MIB
+ RFC 2233 IF-MIB
+ RFC 2515 ATM MIB
+ RFC 2674 802.1Q MIB
+ RFC 2622 / RFC 3440 ADSL line MIB
+ Enterprise DAS3248 MIB
Nutrition
100-240 VAC, 47-63 Hz
Dimensions
+ 449.58 x 320 x 49,78 mm
Width
+ 19 inch or 23 inch mounting kit ("ears»), 1,2U
Temperature
+ Operating temperature: -40 ° ~ 65 ° C
+ Storage Temperature: -40 ° ~ 70 ° C
Humidity
+ 5% to 95%, non-condensing