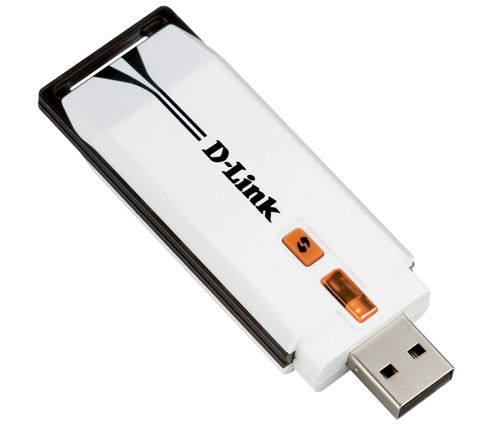 Tanımlama
The D-Link® Xtreme N Dual Band USB Adapter (DWA-160) is the latest addition to the award-winning Xtreme N product family. The DWA-160 is designed for users desiring a reliable wireless connection that can handle High-Defnition (HD) video streams throughout the house. This feature is achieved by using the DWA-160 together with a draft 802.11n dualband router (D-Link DIR-855 or DGL-4500 recommended).

BENEFITS OF DUAL BAND
The Duo technology in the DWA-160 supports selectable dualband (2.4GHz or 5GHz) wireless signals. This allows you to check e-mail and browse the Internet using the 2.4GHz band or stream HD movies and other media on the 5GHz band. The DWA-160 is also backward compatible, which means it can be used in existing 802.11g networks.
MEDIABAND TECHNOLOGY
The DWA-160 utilizes MediaBand™ (5GHz), which is currently the best technology available for wirelessly streaming HD videos across your network. This is achieved by operating in a clear wireless band to avoid interference that may slow down and limit the range of current wireless technologies like 802.11g.
EASY TO SET UP, EASY TO USE
D-Link's Quick Adapter Setup Wizard guides you step-by-step through the installation process. Confgure this USB adapter hassle free without needing outside networking support. The D-Link Wireless Manager is also included with this product to keep track of your most frequently accessed networks so that you can join them quickly and easily. With unmatched wireless performance, reception, and security, the D-Link Xtreme N Dual Band USB Adapter (DWA-160) is the best choice for easily adding or upgrading wireless connectivity to your PC.
Genel Özellikler
STANDARDS
+  IEEE 802.11n (draft 2.0)
+  IEEE 802.11g
+  IEEE802.11a
+  IEEE802.11b

INTERFACE
+  USB 2.0/1.1

FREQUENCY RANGE
+  2.4GHz to 2.472GHz
+  5.15GHz to 5.35GHz
+  5.725GHz to 5.850GHz

SECURITY
+  Wi-Fi Protected Access (WPA™ & WPA2™)
+  802.1x
+  64/128-bit wep

LEDS
+  Link
+  Activity
CERTIFICATIONS
+  FCC Class B
+  IC
+  Wi-Fi
+  Wi-Fi Protected Setup
+  WMM PS
+  CE
+  C-Tick
+  VCCI
+  TETEC
OPERATING TEMPERATURE
0˚ to 40˚C (32˚ to 104˚F)

OPERATING HUMIDITY
10 ~ 90% (Non-condensing)

STORAGE TEMPERATURE
-20˚ to 65˚C (-4˚ to 149˚F)

STORAGE HUMIDITY
5 ~ 95% (Non-condensing)

DIMENSIONS
+  13 (H) x 89 (D) x 28 (W) mm
+  (1.1 x 3.5 x 0.5 inches)

WEIGHT
+ Item: 45.36g (0.1lbs)
+ Packaging: 226.8g (0.5lbs)

OS SUPPORT
+  Windows 98SE, ME, 2000, XP, Vista (32/64 bit)
Fiziksel Özellikler
Sipariş Bilgisi
DWA-160 RangeBooster N DualBand USB 2.0/1.1 adapter is a draft 802.11n