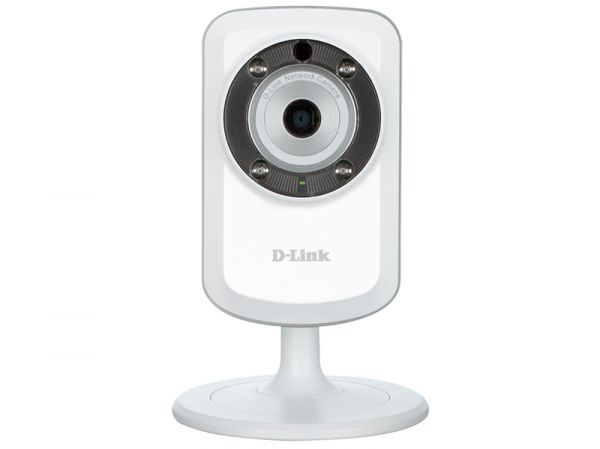 DCS-933L
EOL EOS
802.11n wireless network camera with night mode and support for the H.264 codec
Nereden Alınır
Tanımlama
Wireless 802.11n Network Camera DCS-933L with the possibility of night shooting and support for the H.264 codec is a versatile and unique solution for your small office or home. In contrast to standard Web-camera DCS-933L is a complete system with a built-in CPU and Web-based server that transmits high quality video images.
Round the clock surveillance
DCS-933L is a stand-alone camera that does not require any special hardware or software and can work on their own, even without a computer. Using the Camera DCS-933L and Internet connection lets you send a notification to snapshots or video clips via e-mail when motion or sound. You can set up motion detection area, for example, the entrance to the building, and you can set a threshold sound level above which will be fixed this week. Built-in infrared illumination allows to conduct surveillance at night at a distance of 5 meters.
Multifunctional surveillance system
The supplied software DCS-933L D-ViewCam software allows you to extend the functionality of the camera to create a complete video surveillance system. With the D-ViewCam can centrally manage multiple network cameras (up to 32 cameras and up to 64 users), to record a wide range of functions, including recording triggered sensors on a schedule or manually.
High speed data transmission, a large range of your wireless network
Thanks to the 802.11b/g/n wireless connection and jack Ethernet / Fast Ethernet can be easily integrated into an existing network camera. Repeater mode allows to extend the range of wireless network, which helps to eliminate the low-band signal, and to easily add other wireless devices in the network.
Constant remote access to video using a cloud service mydlink
Support Camera DCS-933L mydlink ™ service makes monitoring your home or office easier, more convenient and allows you to stay connected regardless of their location. Access to the mydlink service is available through the Web-browser, as well as additional mydlink applications for mobile users. Mydlink app allows the user using Wi-Fi, 3G or 4G connection to quickly and easily view the video from the camera.
Genel Özellikler
Fiziksel Özellikler
Hardware profile camera
• 1/5-dyuymovy VGA CMOS-sensor with progressive scan
• Distance of infrared light: 5 m
• Minimum illumination: 0 lux with IR lighting
• Built-in ICR-filter
• 4x digital zoom
• Focal length: 3.15 mm
• Aperture: F2.8
• Viewing angle:
• 45,3 (horizontal)
• 34,5 (vertical)
• 54,9 (measured diagonally)
• Exposure Time: 1/15 to 1/15000 sec.
• Built-in microphone
Image characteristics
• Setting the image size and quality, frame rate and bit rate
• The timings and paste text
• Customizable windows for motion detection
• Adjust brightness, color saturation, contrast
Video Compression
• Compression formats H.264/MJPEG
• JPEG for still images
Video Resolution
640x480, 320x240, 160x112 and 30 frames / s
Audio Compression
Connections
• Port 10/100 BASE-TX Ethernet
• Wireless 802.11n
Network Protocols
• IPv4, ARP, TCP, UDP, ICMP
• DHCP-Client
• NTP-Client (D-Link)
• DNS-client
• DDNS-Client (D-Link)
• SMTP-client
• FTP-client
• HTTP-server
• PPPoE
• UPnP Port Forwarding
• LLTD
Safety
• Password authentication
• Encryption HTTP
System requirements for Web-based interface
• Operating System: Microsoft Windows XP, Vista, 7, 8
• Web-browser: Internet Explorer, Firefox, Chrome, Safari
Event Management
• Motion detection
• Detection of sound level
• Event notification and downloading snapshots / video clips via email or FTP
Remote management
Interface to configure, available through the Web-browser
Support for mobile devices
Mydlink Lite app for iOS and Android
System Requirements D-ViewCam ™
• Operating System: Microsoft Windows 7/Vista/XP
• Web-browser: Internet Explorer 7 or above
• Protocol: Standard TCP / IP
The software features D-ViewCam ™
• Remote management / control of up to 32 cameras
• Viewing images on a single screen: up to 32 cameras
• Supports all management functions available through the Web-based interface
• Optional sensor triggered recording, schedule or manually

Fiziksel Özellikler
Measurements
80 x 115 x 80 mm
Weight
96.2 g
Nutrition
5 VDC 1 A, 50/60 Hz
Power consumption
4 W
Temperature
• Operating: 0 to 40 C
• Storage: -20 to 70 C
Humidity
• Operating: 20% to 80% (non-condensing)
• Storage: 20% to 80% (non-condensing)
Certifications
• CE
• CE LVD
• FCC
• C-Tick