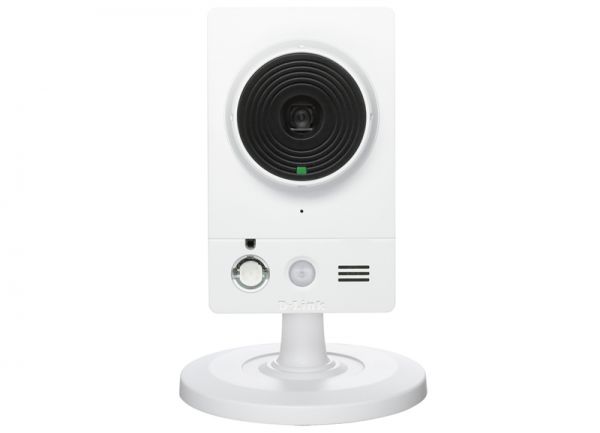 DCS-2210
EOL EOS
Network two-megapixel IP-camera «Cube» with support for Full HD and H.264
Nereden Alınır
Tanımlama
Continuous Monitoring
DCS-2210/2230 cameras - is a versatile solution for small offices and homes in low-light conditions. The camera has a 2 million.pixels for high-resolution sensor and an integrated infrared illuminated so it can carry out surveillance of the premises in total darkness. DCS-2210/2230 also has built-in ICR filter, so they can be used in both diurnal and nocturnal observation. In addition, this camera is a complete system with a built-in CPU and web server that transmits high quality video. DCS-2210 supports PoE power supply, so it can be installed in places where there are no electrical outlets. DCS-2230 supports 802.11n wireless standard, so it can be mounted anywhere within range of your wireless network. Cameras easy to install, they have an intuitive Web user interface that supports remote control and motion detection features. DCS-2210/2230 - is kompeksinis, cost-effective home and office security solution.
ePTZ function
ePTZ function allows you to select the desired tracking / shooting areas to increase the use of the web browser. Because of these features 2 million. pixel resolution camera to deliver sharp color images and can monitor a large area. The fact that the camera has no moving parts, only increases its reliability.
Easy installation and use
DCS-2210/2230 fully compliant with the Universal Plug-n-Play standard that allows a computer with Windows XP/Vista/7 to automatically detect the camera and connect it to your network. Using one of the many free Dynamic DNS services online, the camera can assign an easy to remember domain name (for example, mycamera.dlinkddns.com). In this way, remote access to the camera, even without knowing its IP address. Software D-Link D-ViewCam allows simultaneously on a single computer screen shows 32 cameras view. The camera can be set for automatic e-mail alert about unusual events in the system.
Genel Özellikler
Fiziksel Özellikler
Main characteristics:
1/2.7 inch 2 million. pixel progressive CMOS sensor
Infrared illuminator distance: 5 m
Minimum illumination: 0 lux (with infrared backlighting)
Built-in ICR filter
Built-in PIR (Passive Infrared) sensor
Built-in microphone and speakers
10x digital zoom
Fixed focal length: 4.37 mm
Aperture F2.0
Reviews angles:
Horizontal: 67.4 o
Vertical: 40.8 o
Diagonally: 75 and
Video functional:
Image quality, size, frame frequency and the velocity of
Text and time stamps recording option
Outdoor motion detection to identify
Three personal templates
Setting the shutter speed, brightness, sharpness, contrast, and sharpness
Video Compression:
Image compression of the following formats: H.264/MPEG4/MJPEG
JPEG shots sustapdytiems
H.264/MPEG-4 multicast streaming
Video Image Resolution:
16:9 - 1920x1080 (up to 15 frames / s), 1280x720, 800 х 450, 640 х 360 х 480 270 320 176 х 176 х 144 at 30 frames / s
4:3 - 1440x1080 (up to 15 frames / s), 1280x960, 1024 x 768, 800 x 600, 640 x 480, 320 x 240, 176 x 144 at 30 frames / s
Audio support:
External Interfaces:
1 10/100BASE-TX Ethernet port (model DCS-2210 PoE)
802.11n wireless interface with the user (only model DCS-2230)
1 DI / 1 DO
Micro SD card slot
Network protocols:
IPv4, TCP / IP, UDP, ICMP, DHCP Client, NTP Client (D-Link), DNS Client, DDNS Client (D-Link), SMTP Client, FTP Client, HTTP / HTTPS, Samba Client, PPPoE, UPnP Port Forwarding RTP / RTSP / RTCP, IP filtering, 3GPP, IGMP, ONVIF
Security:
Administrator and user group security event log
Authentication password
Digital encryption for HTTP and RTSP
System Requirements:
Operating system: Windows 7/Vista/XP/2000
Browser: Internet Explorer, Firefox, Netscape, Opera
Event Management:
Motion Detection
PIR sensor motion detection
Notification of events and pictures or video scanning via HTTP, SMTP or FTP
Multiple HTTP, SMTP and FTP servers support
Several reports on events
Several ways to create backup
Remote control:
Setting selection in the Web browser
Ability sustapdytus shots or video clips via a Web browser to save to your hard drive or network repository
PDAs, mobile phones and software support:
Windows 7/Vista/XP, handheld, or mobile phone with 3GPP support
System requirements when you want to use D-ViewCam:
Operating System: Windows 7/Vista/XP
Browser: Internet Explorer 6 or later
Protocol: TCP / IP
D-ViewCam features:
Management / control: up to 32 cameras
Ability to view 32 cameras on a single screen view
In support of management functions through the Web user interface
Ability to capture an image sensor triggered or manually

Physical parameters
Meals:
Incoming: 5 V DC, 1.2 A, 50/60 Hz
Maximum power:
Dimensions (mm):
Size:
Working temperature:
Storage temperature:
Humidity:
20% to 80% without condensation
Certifications:
The FCC Class B
CE
CE LVD
C-Tick