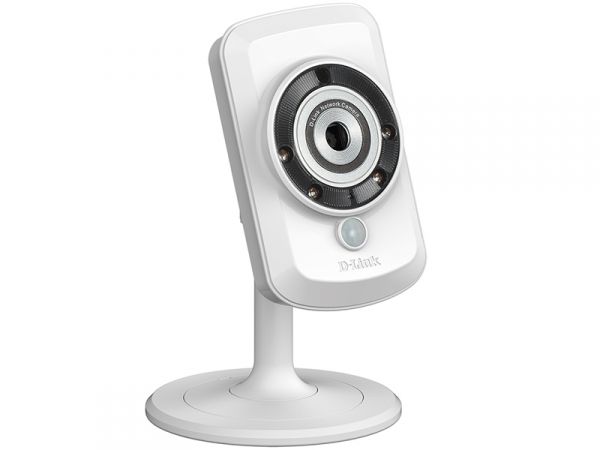 DCS-942L
EOL EOS
802.11n Wireless Camera with IR LED and support for the H.264 video codec and service mydlink
Nereden Alınır
Tanımlama
Surveillance Camera for home and office
DCS-942L - 802.11n Wireless Camera with IR LED is a unique and versatile solution for home and small office. Unlike standard web-camera DCS-942L is a complete system with a built-in CPU and web-server that transmits high quality video surveillance system and security. Easy installation and intuitive web-based interface offer the ability to integrate with Ethernet / Fast Ethernet or wireless network 802.11n. DCS-942L also comes with remote monitoring and motion detection features for a complete and effective home security solution.
Clock surveillance
Built-in DCS-942L infrared light (IR) and ICR-filter allow you to use the camera for different lighting conditions. During the day, the IR filter provides high-quality images and videos. At night IR cut filter is automatically shifted to the side, and is included IR illumination, which allows the camera to record video in low or no light conditions. DCS-942L also has a built-in infrared motion sensor (PIR), it allows you to detect motion at any time of the day.
802.11n wireless connectivity
DCS-942L Wireless interface supports 802.11n, and thus a simple integration into existing network. Site Survey feature also allows you to easily view and connect to nearby wireless networks WPS button allows you to create a secure wireless connection to the router. DCS-942L has an Ethernet port for connection to traditional wired networks.
Mydlink utility for quick and easy access to the video
With the convenient mydlink ™ utility, you can quickly set up the camera DCS-942L, then register it on the web-site mydlink ™.DCS-942L will automatically configure and connect to the service mydlink ™ for easy access to the video. Outside the home or office with video cameras mydlink can be accessed through the iOS app and Android.
Genel Özellikler
Fiziksel Özellikler
System Requirements
• Operating System: Microsoft Windows XP, Vista, Windows 7
• Internet Explorer 6 or higher, Firefox 3.5 or higher, Safari 4 or later
Network Protocols
• IPV4, ARP, TCP, UDP, ICMP
• DHCP-Client
• NTP-Client (D-Link)
• DNS-client
• DDNS-client (DynDNS and D-Link)
• SMTP-client
• FTP-client
• HTTP-server
• PPPoE
• UPnP Port Forwarding
• LLTD
Built-in network interface
• 10/100BASE-TX Fast Ethernet
• 802.11b/g/n WLAN
Wireless Security
Data encryption protocols WEP/WPA/WPA2
The output power of the transmitter
16 dbm for 11b, 12 dbm for 11g, 12 dbm for 11n (typical)
SDRAM memory
128 MB
Flash-Memory
16 MB
Support for video compression algorithms
• H.264
• MJPEG
• JPEG for still shooting
Video Properties
• Adjustable image size and quality
• Time stamp and text
• Rotating and mirroring
Video Resolution
640 x 480, 320 x 240,160 x 120 and 30 frames / s
Lens
Focus: 3.15 mm, F2.8
Sensor
1/5 inch VGA CMOS-sensor
Minimum illumination
1 lux@F2.8 with IR LED
Viewing angles
• Horizontal: 45.3 °
• Vertical: 34.5 °
• Diagonal: 54.9 °
Digital Zoom
Up to 4x
Backlight
Infrared light: lighting range up to 5 meters
3A Control
• Automatic Gain Control (AGC)
• Automatic White Balance (AWB)
• Automatic electronic shutter (AES)

Fiziksel Özellikler
Nutrition
• Input: 100-240 VAC, 50/60 Hz
• Output: 5 VDC, 1.2 A
• External switching power adapter AC / DC
Dimensions (W X D X B)
• With bracket and stand: 65.8 x 65 x 126 mm
• Only Camera: 27.2 x 60 x 96 mm
Weight
76.9 g (without bracket and stand)
The maximum power consumption
5.5 W
Operating temperature
0 ˚ C to 40 ˚ C
Storage temperature
From -20 ˚ C to 70 ˚ C
Humidity
20-80% RH non-condensing
EMISSION (EMI), SAFETY and other certificates
• FCC Class B
• IC
• C-Tick
• CE