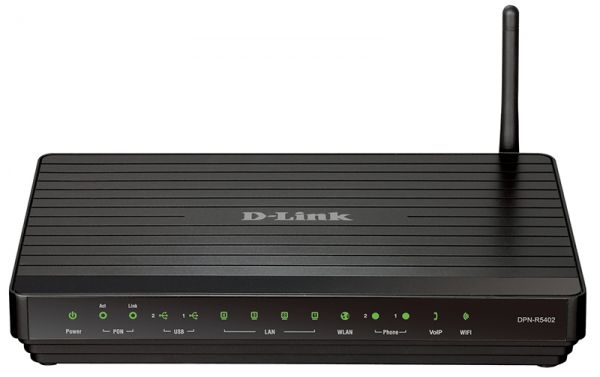 DPN-R5402
EOL EOS
Subscriber unit with 4 x 10/100/1000Base-T, 1-port GPON, 2 FXS ports and Wireless interface with support for 802.11n standard
Nereden Alınır
Tanımlama
Use of new technology GPON
Device DPN-R5402 GPON (Gigabit Passive Optical Network) ONT (Optical Network Terminal) provides a connection on the optical channel to the device class GPON OLT side CO and connection features 802.11n wireless router with Gigabit Ethernet end user. The main advantage of GPON technology is the optimum utilization of bandwidth. This technology is the next step in providing high-speed access to Internet services for homes and businesses. This unit ONT provides a reliable connection with high bandwidth over long distances for users who live or work in remote apartment buildings and business centers.

High Speed ​​Internet Access
DPN-R5402 device allows telecommunications service providers to meet the growing needs of users in the services provided, ensuring the fastest possible through the use of optical fiber. The device supports symmetric mode and provides various options for deploying networks in homes, schools and apartment buildings and business centers.

Everything you need for your home or small business
DPN-R5402 device is an integrated solution network tasks for home or small business. It is equipped with a four-port Gigabit Ethernet, two VoIP FXS ports and supports 802.11n.

Support for voice services
DPN-R5402 device is equipped with two ports FXS, the opportunity to use voice services provider.
Genel Özellikler
Fiziksel Özellikler
Device Interfaces
• IEEE 802.11n wireless LAN
• 2-port FXS analog phone with an RJ-11
• 1 optical port for SC GPON
• 4 ports with automatic identification speed 10/100/1000 Gigabit LAN with RJ-45 connector
• WPS button
• Reset button (return to factory default state)

Wireless network and routing
• Compliant with IEEE 802.11b/802.11g/802.11n 2,4 GHz
• Support for protecting WEP 64/128 bit
• Support for WPA and WPA2 security
• Support for Wi-Fi protected setup (WPS)
• Internal customers WAN (DHCP, Static IP, PPPoE)
• Network Address Translation (NAT)
• Stateful packet inspection (SPI)
• Firewall
• Support for VPN Pass-through (IPSec, PPTP, L2TP)
• DHCP-server, DNS Relay
• Filtering by IP / MAC-addresses, DMZ
• IGMP, Multicast, VLAN

GPON specifications
• Compliance with ITU-T 984.x
• 1 x SC, which can be connected to the fiber optic cable from the CO
• Cable: single-mode fiber optic cable
• Support OMCI (ONT Management control interface) for remote control
• The maximum capacity for the upstream (ONT-> OLT): 1,25 Gbit / s
• The maximum capacity for the downstream (OLT-> ONT): 2,4 Gb / s
• Output power of an optical receiver: 0.5 5dBm
• Receiver sensitivity:-27dBm
• The wavelength of the upstream (ONT-> OLT): 1310
• Wavelength for Downstream (OLT-> ONT): 1490 nm
• AES Encryption
• Supports IGMP v1/v2/v3 Snooping, 128 entries can be enabled / disabled
• Configuring port UNI (speed, duplex mode, pause flow control, on / off, auto)
• The maximum length of frames: 1522 bytes
• Study of MAC-addresses
• Authentication ONT

VOIP function
• 2-port FXS
• SIP (RFC 3261)
• Echo cancellation
• Identification of tones and tone generation
• Call Transfer, Caller ID
• Fax relay
• Voice codecs: G.711 a-law, G.711 u-law, G.723.1 (optional), G.729a / b (optional)

Indicators
• Power
• Link (PON)
• Act (PON)
• LAN (1-4)
• WAN
• Phone (1-2)

Power
• Power Input: 100-240 VAC
• Power output: 12V DC, 1.0A
• External power adapter

Operating temperature
• 0 ˚ to 40 ˚ C

Storage temperature
• From -40 ˚ to 70 ˚ C

Humidity
• 5% to 95% (non-condensing)

Certificates
• FCC Class B
• CE