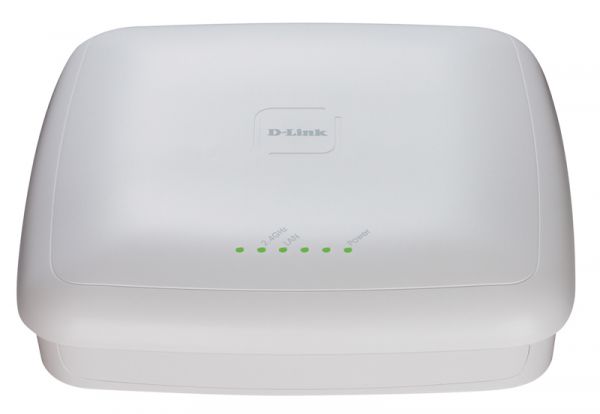 DWL-3600AP
EOL EOS
Unified Wireless 802.11n Access Point with support for PoE, up to 300 Mbit / s
Nereden Alınır
Tanımlama
DWL-3600AP - Unified Access Point 802.11n Wi-Fi, designed for deployments in business class. Flexibility in managing and supporting data transfer at high speed, this access point provides easy integration with existing network infrastructure, which can be further expanded. An access point may be made in the housing class Plenum (DWL-3600AP/A1A) or conventional plastic housing (DWL-3600AP/A1A/PC).
High performance
2x2 MIMO technology provides data transfer rates of up to 300 Mbit/s1, using a frequency of 2.4 GHz. Besides, the access point supports RadioProtect, thanks to which all users receive the service with high quality, even if several are connected to the network users using the legacy 802.11b and 802.11g.
Automatic Cluster Configuration
For small businesses that require multiple access points (APs), and that lack of resources, the automatic configuration of the cluster is the ideal solution. When you install a small number of AP DWL-3600AP can be configured to perform automatic cluster.After performing an administrator configure a single access point, the same settings will be applied to other access points.Thus, a cluster can combine up to 16 access points.
Unified management
If you are installing a network using standardized wireless switches can control up to 256 access points DWL-3600AP, so the administrator can increase the range of your wireless network.
Safety
DWL-3600AP supports the latest security standards, including WPA, WPA2, and 802.1X. In addition, DWL-3600AP supports up to 16 virtual access points (VAP), which allows the administrator to assign different access rights to user groups. Through the use of Unified Wireless D-Link switches can increase the level of security. You can easily detect unauthorized network access point, so the administrator will be able to immediately prevent a safety hazard.
Automatic frequency adjustment
When installing multiple access points at a small distance from each other will result in interference. Upon detection of a neighbor access point DWL-3600AP can select a channel without interference. This significantly reduces interference and allows the administrator to set the access point at a short distance from each other. If the neighbor APs operating on the same frequency, DWL-3600AP automatically reduces transmission power. If, for any reason, neighboring APs no longer active on the network, DWL-3600AP increases the transmission power to increase the radius of coverage.
Quality of Service
DWL-3600AP supports WMM, so in case of network congestion, the priority will receive time-sensitive traffic. Furthermore, if multiple access points DWL-3600AP are in close proximity to each other, the access point will reject new connection requests, as all the resources are used. Instead, the connection request will be accepted neighboring access point. By using this function, no access point is not overloaded, while the other neighboring access points are in an idle state.
Genel Özellikler
Fiziksel Özellikler
System
• Wireless Interface: 802.11b/g/n 2,4 GHz 2x2 MIMO
• Interface LAN: 10/100/1000 Gigabit Ethernet
• The console port: RJ-45
• Antenna: Internal Antenna 2
• Antenna Gain: 4,7 dBi
• Power: IEEE 802.3af Power Over Ethernet or external power adapter
Frequency
2.4 GHz - 2.497 GHz
Data rate
• 802.11n:
6.5 Mbit / s - 130 Mbit / s (20 MHz)
6.5 Mbit / s - 300 Mbit / s (40 MHz)
• 802.11g: 54, 48, 36, 24, 18, 12, 9 and 6 Mbit / s
• 802.11b: 11, 5.5, 2 and 1 Mbit / s
The output power of the transmitter
• 802.11b:
21 dBm at 1, 2, 5.5, 11 Mbit / s
• 802.11g:
21 dBm at 6 Mbit / s ~ 24 Mbit / s
19 dBm at 36 Mbit/s18 dBm at 48 Mbit / s
17 dBm at 54 Mbit / s
• 802.11n (2.4 GGts/HT-20)
20 dBm at MCS0 / 8
20 dBm at MCS1 / 9
20 dBm at MCS2/10
20 dBm at MCS3/11
19 dBm at MCS4/12
18 dBm at MCS5/13
17 dBm at MCS6/14
16 dBm at MCS7/15
• 802.11n (2.4 GGts/HT-40)
19 dBm at MCS0 / 8
19 dBm at MCS1 / 9
19 dBm at MCS2/10
19 dBm at MCS3/11
17 dBm at MCS4/12
16 dBm at MCS5/13
14 dBm at MCS6/14
14 dBm at MCS7/15
Receiver Sensitivity
• 802.11b:
-89 DBm at 2 Mbit / s
-84 DBm at 11 Mbit / s
• 802.11g:
-85 DBm at 6 Mbit / s
-84 DBm at 9 Mbits / s
-84 DBm at 12 Mbit / s
-82 DBm at 18 Mbit / s
-78 DBm at 24 Mbit / s
-73 DBm at 36 Mbit / s
-70 DBm at 48 Mbit / s
-68 DBm at 54 Mbit / s
• 802.11n (2,4 GGts/HT-20)
- 82dBm at MCS0 / 8
- 79dBm at MCS1 / 9
- 77dBm at MCS2/10
- 74dBm at MCS3/11
- 70dBm at MCS4/12
- 66dBm at MCS5/13
- 65dBm at MCS6/14
- 64dBm at MCS7/15
• 802.11n (2.4 GGts/HT-40)
-79 DBm at MCS0 / 8
-76 DBm at MCS1 / 9
-74 DBm at MCS2/10
-71 DBm at MCS3/11
-67 DBm at MCS4/12
-63 DBm at MCS5/13
-62 DBm at MCS6/14
-61 DBm at MCS7/15
Safety
• SSID: 16 SSID, isolation station
• Safety:
+ WEP
+ Dynamic WEP
+ WPA Personal / Enterprise
+ WPA2 Personal / Enterprise
• Detection and Prevention:
+ Classification of unauthorized access points and unauthorized
• Authentication:
+ Filtering by MAC-address-
+ 802.1x
System control
• Web-user interface: HTTP / HTTPS
• Command line: SNMP, SSH, Telnet

Fiziksel Özellikler
Nutrition
• Power Adapter: 5 V / 2,5 A
• Power over Ethernet: 48 VDC + / - 10%
Type of housing
Plastic housing or housing class Plenum
Case Size
203 x 203 x 48 mm
Weight
• Standard housing: 550 g
• Body class Plenum: 635 g
Operating temperature
0 ˚ to 50 ˚ C
Operating Humidity
From 10% to 90% non-condensing
Safety
cUL, LVD (EN60950-1), UL2043 (only for the class «plenum»)
Certifications EMI / EMC / RF
FCC Class B, CE Class B, C-tick, IC, VCCI, NCC, TELEC, Wi-Fi ®