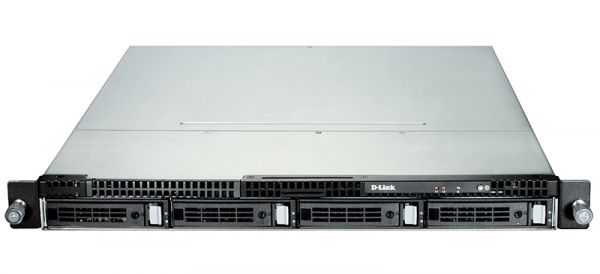 DNS-1560-04
EOL EOS
ShareCenter™ Pro 4-Bay 1U Rackmount Unified Storage
Nereden Alınır
Tanımlama
Small and medium sized businesses face an ever-increasing need for data consolidation and sharing. D-Link's DNS-1560-04 is a unified solution for these growing data storage requirements, and provides a multitude of options for managing and securing important files. The ShareCenter™ Pro 4-Bay 1U Rackmount Unified Storage enables users to safely share and back-up mission critical data. This NAS/iSCSI storage solution includes advanced features such as ZFS file system, thin provisioning, compression, snapshots and replication usually found only in higher-end devices, with no need to purchase additional licenses. The DNS-1560-04 also includes an intuitive user interface to ensure it can be quickly installed, and easily managed, even by users with limited IT experience.
Unified Storage Solution
The DNS-1560-04 is a unified solution that provides iSCSI and NAS functionalities. It boasts strong iSCSI read/write performance with average data throughput higher than many competing products. It also provides versatile RAID support meaning you never run the risk of losing valuable data. It features 4 Serial ATA (SATA) disk drive bays that support hard drives in RAID level 0, 1, 5, 6, 10, or JBOD configurations. DNS-1560-04 supports multiple protocols including SMB, NFS, AFP, FTP, WebDAV as well as iSCSI. This combination delivers storage solutions with great performance, manageability and efficiency
Variety of Backup Options
The DNS-1560-04 offers several backup options which allow administrators and users to control how, when, and where their data is stored. Share files across the network or over the Internet via FTP or access them via the easy-to-use web file manager. Remote back-up enables users to keep a copy of their files on a remote NAS for a disaster recovery solution, providing extra data protection, and volume snapshots can restore a whole volume in a matter of minutes; in contrast to traditional backup schemes that can take hours. Users can also take a volume snapshot, backup to Amazon S3 cloud storage, or remotely back up to a server by using an rsync backup utility.
Efficiency and Redundancy
The DNS-1560-04 features thin provisioning allocating disk storage space in a flexible manner based on the minimum space required. It also addresses the explosion of unstructured data and files, where reads/writes are random, by treating random writes as sequential blocks.
Furthermore, the 4 Serial ATA (SATA) disk drive bays supports RAID level 0, 1, 10, 5, 6 or JBOD configurations. Administrators can quickly deploy a network storage solution using inexpensive SATA disk drives, and depending on storage needs, can add more drives as they go. Additionally, S.M.A.R.T. disk diagnostics help to ensure data integrity.
Energy Efficient
The DNS-1560-04 is 80 PLUS certified. 80 PLUS certification is granted to products that have more than 80% energy efficiency at certain levels of rated load. This enables the DNS-1560-04 to run more efficiently by using less electricity, allowing it to run cooler and with reduced operating costs.
Manageability
The DNS-1560-04 has an intuitive web user interface, which dramatically increases usability for enterprise users, making it easy to setup, configure and manage. It also integrates Windows Active Directory and LDAP for IT administrators to easily manage accounts in enterprise environments.
Genel Özellikler
Fiziksel Özellikler
Features
Storage
4 easy-to-load hard drive bays accept 3.5" or 2.5" SATA drive
Multiple RAID types for a wide range of storage options (JBOD, RAID 0, 1, 5, 6,10)
Amazon S3 cloud replication & disaster recovery
Enterprise Storage Options
Multiple protocols: SMB, NFS, AFP, FTP, WebDAV & iSCSI
ZFS-based file system to offer high reliability
Thin provisioning to enable dynamic capacity allocation
Integrated anti-virus with 3-year McAfee license included
Performance
Faster, more powerful hardware and add-on software features provide a more streamlined
2 X 226W redundant power supply
Green Design
Auto disk spin down
Energy efficient power supply
Technical Specifications
General
Supported Hard Drive Types
Up to 4 SATA II / SATA III HDD or SSD        
Memory
Processor
Fan
Ports
Two 10/100/1000 Gigabit Ethernet ports
VGA port
Two USB 2.0 Host ports
2 x Power
LEDs
Status
Access
GbE Activity
GbE Connection/Speed
Form Factor
Functionality
Disk Management
Multiple hard drive configurations:

Standard
JBOD
RAID 0, 1, 5 , 6, 10

Data Efficiency

Compression
Thin provisioning

Hard drive pooling

Dedicated hot spare disks
Multiple RAID groups support
Auto volume rebuilding
Online pool expansion
Offline pool roaming
Networking
DHCP or static IP address assignment
NTP client
Jumbo frame
Trunking
LACP
VLAN tagging
WINS client
Data Service
SMB v2 for Windows
NFS v3/v4 for Linux & UNIX
AFP v3.3 for Mac OS X
FTP
SFTP
iSCSI target
WebDAV
Data Protection
Snapshot
Clone for volumes & file system
Remote replication
Amazon S3 cloud replication & disaster recovery
ZFS file system
Account Management
User account management
Group account management
Network access management
Microsoft Active Directory
LDAP
Network Management
Event notification
Performance states
System monitoring & Device health status
S.M.A.R.T.
Wake-on-LAN
Backup Management
Scheduled local backups
Scheduled remote backup        
Amazon S3 Cloud backup
Device Management
Browser UI:

Internet Explorer 7 or higher
Mozilla Firefox 3 or higher
Apple Safari 4 or higher

System Setup Wizard (Win / Mac)
System Service Management
 Wake-on-LAN
E-mail notifications
SNMP trap
System log
Performance status
System monitoring & Device health status
S.M.A.R.T.
Power Management
Remote File Sharing
File Sharing
Max. User accounts: 4096 users
Max. Group accounts: 512 groups
Max. shared folders: 256 folders
Max. concurrent Samba connections: 512 connections
Max. concurrent FTP connections: 512 connections
Security
Encrypted Access

HTTPS
FTP with SSL/TLS (Explicit)
SFTP & SSH (Admin)
3-year McAfee anti-virus
CIFS User/Group Access Control for shared folders
Physical
Dimensions
533.4 (L) x 442 (W) x 44 (H) mm (21 x 17.40 x 1.73 inches)
Weight
Power        
Power Consumption
Temperature
Operating: 0 to 40 ˚C (32 to 104 ˚F)
Humidity
Certifications/Standards