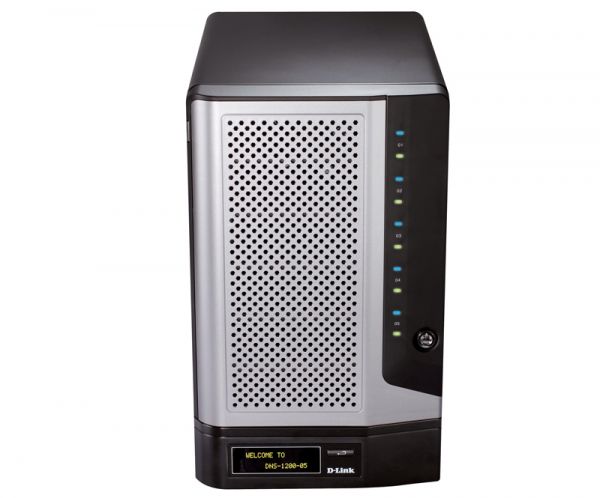 DNS-1200-05
EOL EOS
Network Storage ShareCenter Pro 1200 5-Bay Hard Drive
Nereden Alınır
Tanımlama
Companies of all sizes are constantly faced with the need to protect the information and documents and to have shared access to them. Data Network Storage DNS-1200-05 meets the growing amount of information provided by the storage requirements and offers a variety of additional options to ensure that important documents management and conservation.
NAS file server
Small and medium-sized enterprises NAS file server should be particularly useful. It provides higher performance while working under ISCSI protocol. Using the Web File Manager for users with certain events in the data given access to the network repositories of documents.
The various backup options
DNS-1200-05 has several backup methods, which enable administrators and users to choose data storage solutions, time and location. Shared access to documents over a network or the Internet users can use FTP or Web File Manager. PC client allows users to easily copy the data to the server.
ISCSI IP networks
The iSCSI protocol carries data transfer block level. ISCSI objects appear as local drives on the client computer. The network administrator can choose settings to prepare and reserve copying of the data as if the storage is connected directly. The existing Ethernet technology can significantly reduce the costs associated with the HBA adapters and memory usage volume increase.
Enhanced security features
Event log management functions provide the ability to manage users / groups and also provides read / write access rights.There is a possibility to create users, groups, and iSCSI objects with authentication by password. Moreover, the data protection is guaranteed for a VLAN tag with the AES encryption support mechanism. Secure access to the data storage system to ensure iSCSI uses CHAP (Challenge-Handshake Authentication Protocol).
Shared access to printers and USB devices
USB interface with the customer presence enables to connect the print server to execute UPS tracking or connect other USB devices (hard drives, data drives).
Efficiency - RAID
DNS-1200-05 series network disk arrays can accommodate up to 5 SATA hard drives. Can be used for volume 2 TB hard drives with support for RAID 0, 1, 5, 5 + Spare, 6 or JBOD configurations. With this tool you can quickly create a data storage network using inexpensive SATA hard drives, and if necessary increase the memory by connecting additional drives. SMART disk diagnostics to ensure data integrity.
The lower power consumption of Green Technology
Green Ethernet technology significantly reduces energy consumption. It is able to enforce the determination of the length of the cable, or automatically turning off the power supply of inactive ports. DNS-1200-05 is the perfect solution for small and medium-sized companies that need inexpensive centralized repository with common access and backup capabilities.
Genel Özellikler
Fiziksel Özellikler
Standards:
IEEE 802.3
IEEE 802.3u
IEEE 802.3ab
TCP / IP
CIFS / SMB
iSCSI
NFS
DDNS
NTP
FTP over SSL / TLS, FXP
HTTP / HTTPS
DFS
Jumbo Frames
SNMP
SMTP
Supports the following types of hard drives:
SATA drive (maximum capacity of 2 TB per disk)
Internal 3.5-inch drive
Ports:
2 10/100/1000 Gigabit Ethernet ports
2 USB 2.0 ports
Board
Display:
Disk Management:
Different hard drive configurations: RAID 0/1/10/5/5 + Spare / 6, JBOD, Standard
User / group quota management
SMART / Disc scan
Device Management:
In Internet Explorer 7, Firexof, Chrome
Easy Search program
UPS Monitoring
E-mail messages. post
Power Management
USB Hard Drive
General access to the file:
The maximum amount of user accounts: 4096 (Samba) / 10000 (ADS)
The maximum number of groups: 512 (Samba) / 10000 (ADS)
Maximum total number of folders: 1000
Supported file names in languages:
Samba: Unicode
FTP Client: Unicode, Croatian, Cyrillic (Kyrgyz Republic), Czech, Danish, Dutch, German, English, French, Greek, Hungarian, Italian, Korean, Norwegian, Polish, Portuguese, Romanian, Russian, Simplified Chinese, Slovenian, Spanish, Swedish , tradininė Chinese, Turkish

Physical parameters
Meals:
Internal power supply
200 W
100-240 V AC (auto-switching) / 50-60 Hz
With PFC function (power factor correction)
Power consumption:
Normal mode: 55 W
Sleep mode: 25.2 W
Working temperature:
Storage temperature:
Working humidity:
5% to 90% without condensation
Dimensions:
Size:
Certifications: