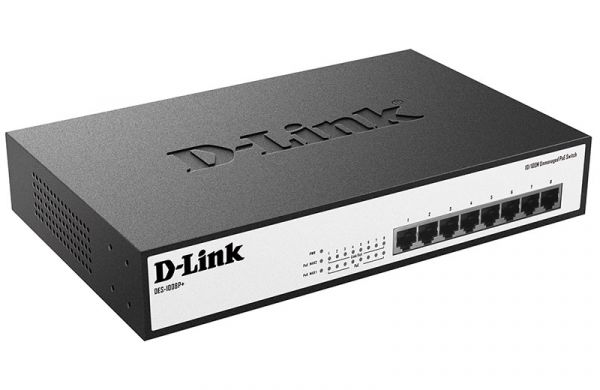 DES-1008P+
EOL EOS
8 Adet 10/100 bağlantı noktası ve PoE+ desteği olan switch
Nereden Alınır
Tanımlama
Overview
The D-Link DES-1008P+ 8-Port 10/100 Unmanaged Desktop or Rackmount PoE+ Switch enables IT managers and Security System Integrators to easily connect and supply power to devices such as IP cameras, IP phones and wireless Access Points (APs), while adding more Ethernet devices like computers, printers, and Network Video Recorders (NVRs) onto a network. Built with demanding applications in mind, this switch supports a generous PoE budget and provides ample PoE power to any device that needs it.
Power over Ethernet

Compliant with IEEE 802.3af and 802.3at, the DES-1008P+ supports up to 30W of power output on any particular port, providing flexibility in power allocation for a variety of powered devices, including new 802.11ac wireless access points that require 802.3at power for full functionality, or outdoor IP cameras with heaters and blowers. The DES-1008P+ supports 140W total PoE power budget – up to 70W on ports 1 through 4, and an additional 70W on ports 5 through 8. Diagnostic LEDs indicate when the PoE budget has been reached.
Easy to Install and Use

The DES-1008P+ requires no configuration or software, making installation simple and hasslefree.  With Auto-MDI/MDI-X support, there is no need for crossover cables when connecting to another switch or to a computer. Additionally, the DES-1008P+ will automatically sense if the connected network devices are running at 10Mbps or 100Mbps and adjust accordingly. The DES-1008P+ also features diagnostic LEDs, which display link status and activity, allowing quick detection and correction of problems on the network. Combining the convenience of PoE, superior performance, and ease of use, this 8-Port PoE switch is the ideal choice for adding PoE devices to any network.
Flexible Operation

The DES-1008P+ can be mounted on a desktop or in a standard 19" rack, making it suitable for a variety of I.T. and Surveillance applications. It has no fans, comes in a rugged metal housing, and utilizes an internal 100 – 240 VAC power supply.
Limited Lifetime Warranty

D-Link offers a Limited Lifetime Warranty on the DES-1008P+ to further its commitment to product quality and long-term customer confidence.
Genel Özellikler
Fiziksel Özellikler
Technical Specifications

General

Standards 
 • IEEE 802.3 10BASE-T Ethernet (twisted-pair copper)
 • ANSI/IEEE 802.3 NWay auto-negotiation
 • IEEE 802.3x flow control
 • IEEE 802.3u 100BASE-TX Fast Ethernet (twisted-pair copper)
Ports 
 • 8 10/100 Mbps PoE ports
Switching Fabric 
 • 1.6 Gbps switching fabric
Data Transfer Rates 
 • Ethernet
    • 10 Mbps (half duplex)
    • 20 Mbps (full duplex)
 • Fast Ethernet
    • 100 Mbps (half duplex)
    • 200 Mbps (full duplex)
Media Interface Exchange 
 • Auto MDI/MDIX adjustment for all ports
Network Cables 
 • 10BASE-T
    • UTP CAT 3/4/5/5e (100 m max.)
    • EIA/TIA-586 100-ohm STP (100 m max.)
 • 100BASE-TX
    • UTP CAT 5/5e (100 m max.)
    • EIA/TIA-568 100-ohm STP (100 m max.)
LED Indicators 
 • Per port:
    • Link/Activity
    • PoE Status
 • Per device:
    • Power
    • PoE Max 1
    • PoE Max 2
Transmission Method 
 • Store-and-forward
MAC Address Table 
 • 2K entries per device
Packet Filtering/Forwarding Rates 
 • Ethernet: 14,880 pps per port 
 • Fast Ethernet: 148,800 pps per port
RAM Buffer 
 • 96 KB per device
Physical & Environmental

Dimensions 
 • 11.02" x 7.05" x 1.75" (280mm x 179mm x 44.5mm)
Heat Dissipation 
 • Standby:
    • 22.67 BTU/h
 • Maximum:
    • 486.7 BTU/h
Power Input 
 • 100 to 240 VAC, 50/60 Hz, Internal Universal Power Supply
Power Consumption 
 • Standby:
    • 6.9W
 • Maximum:
    • 146W
Weight 
 • 3.6 lbs (1.65 Kg)
Temperature 
 • Operating: 32 to 104˚ F (0 to 40˚ C) 
 • Storage: -40 to 158˚ F (-40 to 70˚ C)
Humidity 
 • Operating: 5% to 95% RH non-condensing 
 • Storage: 5% to 95% RH non-condensing
Certifications 
 • FCC Class B
 • CE
 • RoHS
 • cUL
Power over Ethernet
PoE capable ports 
 • Ports 1 - 8
PoE standard 
 • IEEE 802.3af and IEEE 802.3at
PoE power budget 
 • 140W total
    • Ports 1-4: 70W
    • Ports 5-8: 70W
Warranty Information

Warranty 
• Limited Lifetime