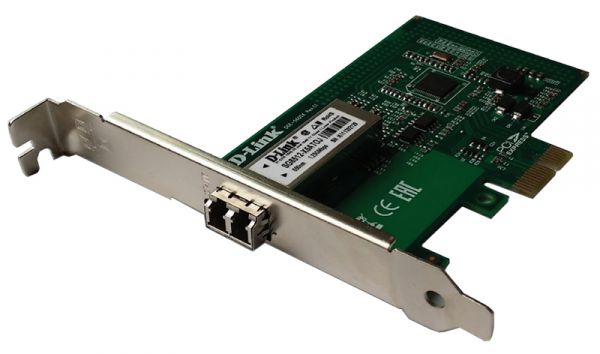 Description
D-Link's DGE-560SX Fiber Gigabit PCI Express Adapter is a high-performance network card that lets businesses take advantage of the PCI Express (PCI-E) slots on their servers to enhance network performance with fiber-optic connectivity. The adapter's dedicated PCI-E input/output (I/O) bandwidth ensures priority performance for Gigabit Ethernet fiber-optic networks without requiring bus sharing for other devices.
Efficient PCI Express Interface
The Fiber Gigabit PCI Express Adapter supports 2 Gbps data addressing to increase higher throughput requirements from the adapter's PC board to the server host. It provides unsurpassed robustness, reliability, and performance, and is the optimum I/O connectivity solution for a wide range of storage server devices. As the successor to the PCI and PCI-X interfaces, the PCI Express bus architecture eliminates many of the inefficiencies of parallel PCI and PCI-X architectures. With lower pin counts and lower power consumption requirements, the DGE-560SXPCI Express host bus adapter also reduces system-level power requirements.
Advanced Functions
The DGE-560SX supports other advanced features, such as Jumbo Frames of up to 9 KB. It supports ACPI (Advanced Configuration and Power Interface) specifications to enable OS-directed configuration and Power Management (OSPM) to enumerate and configure server motherboards. The adapter supports an SNMP agent for management through an SNMP-based platform.
VLAN & QoS Support
The DGE-560SX provides on-board screening of VLAN tagged Ethernet frames compliant with IEEE 802.1Q. This allows the server to operate in a flexible and secure network configuration in a standards-based environment. It supports 802.1p Priority Queues for improved delivery of time-sensitive data like voice and video.
High-Speed Fiber-Optic Connection
Delivering up to 2000 Mbps transmission speeds in full-duplex mode over fiber-optic cable, the DGE-560SX brings ample bandwidth to servers. It reduces the host operating system overhead by offload IP header verification and TCP/UDP checksum for data received, allowing the servers to reserve more computing power for other complicated applications.
General features
Standards
• IEEE 802.3z 1000Base-SX
• 802.3x Flow Control
• PCI-E 2.0 with 5 GHz Signaling
Network Interface Connector
• 850 nm LC fiber-optical connector
Installable PCI Slot
• PCI Express x1/x4/x8/x16
Network Media & Transmission Range
• 62.5/125 micron multi-mode fiber cable: transmission distance of up to 275 m
• 50/125 micron multi-mode fiber cable: transmission distance of up to 550 m
Network Operation Mode
• Full Duplex (2000 Mbps)
Data Transfer Rate
• Gigabit
Supported Functions
• 9 KB Jumbo Frame
• 802.1p Priority Queue QoS
• 802.1Q VLAN security, 64 groups
• ACPI 2.0 Power Management
• SNMP Statistics
• Card Teaming
• Remote Boot
Drivers Supported
• Microsoft Windows 7 32/64bits
• Microsoft Windows Server 2008 32/64bits
• Microsoft Windows Vista 32/64bits
• Microsoft Windows 2003 server 32/64 bits
• Microsoft Windows XP 32/64 bits
• Linux Kernel 2.4.x, 2.6.x
• NDIS2 for DOS
• Netware server 4.x , 5.x , 6.x
• Netware DOS ODI Client
Diagnostic LED
• Link/Activity
Physical Parameters
Dimensions
• 68.5 x 68.9 mm
Power Requirement
• 3.3 V
Temperature
• Operating: 0В° to 50В°C
• Storage: -20В° to 70В°C
Humidity
• 5% to 90% non-condensing
Certifications
• CE
• FCC Class B
• VCCI
• BSMI
• C-Tick
Order info
DGE-560SX Fiber Gigabit PCI Express Adapter