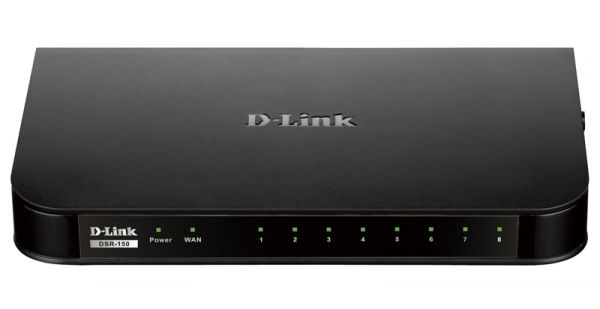 Description
D-Link Unified Services Routers provide secure, high-performance networking solutions to address the growing needs of small and medium businesses. Each router provides optimal network security via features such as Virtual Private Network (VPN) tunnels, IP Security (IPSec), Point-to-Point Tunneling Protocol (PPTP), Layer 2 Tunneling Protocol (L2TP), and Secure Sockets Layer (SSL). These routers also allow you to empower your road warriors with clientless remote access anywhere and anytime using SSL VPN tunnels.
Flexible Deployment Options
The DSR Series supports Third Generation (3G) networks via an extendable USB 3G dongle*. This 3G network capability offers an additional data connection for critical or backup services. For the DSR-150/250** the 3G dongle could be configured as a backup link when the primary WAN link is down or configured as the primary WAN port.
Robust VPN Features
A fully featured virtual private network (VPN) provides your mobile workers and branch offices with a secure link to your network. The DSR-150 and DSR-250 are capable of simultaneously managing 1 or 5 Secure Sockets Layer (SSL) VPN tunnels respectively, empowering your mobile users by providing remote access to a central corporate database. Site-to-site VPN tunnels use IP Security (IPSec) Protocol, Point-to-Point Tunneling Protocol (PPTP), or Layer 2 Tunneling Protocol (L2TP) to facilitate branch office connectivity through encrypted virtual links. The DSR-150 simultaneously supports up to 10 IPSec VPN tunnels plus 10 additional PPTP/L2TP tunnels. The DSR-250 simultaneously supports up to 25 IPSec VPN tunnels, and 25 additional PPTP/L2TP tunnels.
Efficient Green Technology
D-Link Green Wi-Fi and D-Link Green Ethernet features save power and help cut energy usage costs. The D-Link Green WLAN Scheduler shuts down your wireless network automatically according to a schedule you define, allowing you to turn off your wireless network during off-peak hours, saving energy and keeping your network secure. The D-Link Green Ethernet feature can detect if a link is down on a port, and automatically puts that port into a sleep mode that drastically reduces the amount of power used. In addition, compliance with RoHS (Restriction of Hazardous Substances) and WEEE (Waste Electrical and Electronic Equipment) directives make D-Link Green-certified devices an environmentally responsible choice.
General features
Interface
• Ethernet:
• 10/100 Mbps WAN Port
• 8 10/100 Mbps LAN Ports
• USB 2.0 Ports: 1
• Console: 1 RJ-45
System Performance****
• Firewall Throughput***: 45 Mbps
• VPN Throughput*****: 25 Mbps
• Concurrent Sessions: 20.000
• New Sessions (per second): 200
• Firewall Policies: 200
Internet Connection Type
• Static/Dynamic IP
• PPPoE/L2TP/PPTP
• Multiple PPPoE
Firewall System
• Static Route
• Dynamic DNS
• Inter-VLAN Route
• NAT, PAT
• Web Content Filtering: Static URL, Keywords
Networking
• DHCP Server/Client
• DHCP Relay
• IEEE802.1q VLAN
• VLAN (Port-Based)
• IP Multicast: IGMP Proxy
• IPv6
• 3G Redundancy
Virtual Private Network (VPN)
• VPN Tunnels: 21
• IPSec Tunnels: 10
• SSL VPN Tunnels: 1
• PPTP/L2TP Clients: 10
• Encryption Methods: DES, 3DES, AES, Twofish, Blowfish, CAST-128, NULL
• SSL Encryption Methods: RC4-128, 3DES, AES
• IPSec/PPTP/L2TP Server
• IPSec NAT Traversal
• Dead Peer Detection
• IP Encapsulating Security Payload (ESP)
• IP Authentication Header (AH)
• VPN Tunnel Keep Alive
• Hub and Spoke
Bandwidth Management
• Max. Bandwidth Control
• Priority Bandwidth Control:
• Port-Based QoS
• 3 Classes
System Management
• Web-based User Interface: HTTP, HTTPS
• Command Line
• SNMP: v1, v2c, v3
• Power Supply: External Power Supply Unit, DC 12 V/1.5 A
• Max. Power Consumption: 7.44 W/ 10.5 W
• Dimensions (L x W x H): 208 x 118 x 35 mm
• Operation Temperature: 0 to 40°C
• Storage Temperature: -20 to 70°C
• Operation Humidity: 5% to 95% non-condensing
• EMI/EMC: FCC Class B, CE Class B, C-Tick, IC
• Safety: cUL, LVD (EN60950-1)
• MTBF: 240,000 hours
* The following 3G dongles are supported: DWM-152 A1/A2/A3, DWM-156 A1/A2/A3/A5*/A6*, DWM-157*, Huawei E1550, E173, and EC306.* The dongles marked with * will be supported through firmware upgrades.
** Available through firmware upgrade.
*** VPN throughput is measured using UDP traffic with a 1420 byte packet size, adhering to RFC2544.
**** The maximum firewall throughput is based on RFC2544 testing methodologies.
***** Actual performance may vary depending on network conditions and activated services.
Order info
DSR-150 Unified Service Router