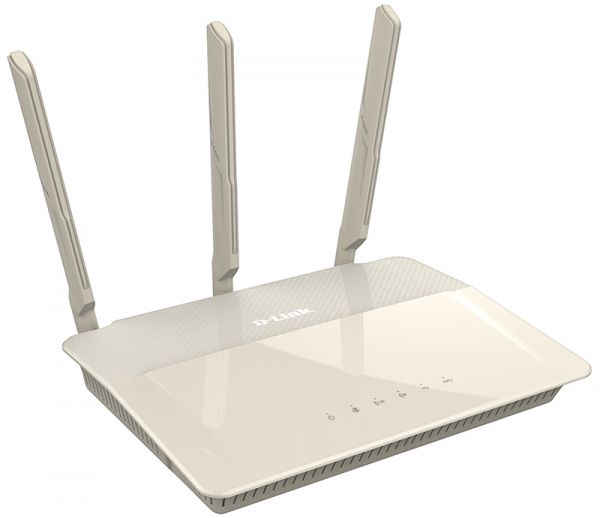 DIR-880L
EOL EOS
Wireless AC1900 Dual Band Gigabit Cloud Router with 2 USB ports
Where to buy
Description
Wireless AC1900 Dual Band Gigabit Cloud Router DIR-880L provides simple connection, management and network monitoring. Using AC SmartBeam technology significantly improves the performance and Quality of Service (QoS) advanced features can effectively allocate bandwidth. Supporting mydlink cloud service and using SharePort application router provides shared access to media content and streaming. With its stylish design, easy use and support of IPv6 DIR-880L router is an ideal solution for working in networks today and in the future.
Fast and reliable networking
Wireless AC1900 Dual Band Gigabit Cloud Router DIR-880L allows you to combine all of the computers and mobile devices in a single home network with broadband Internet access. Using AC SmartBeam technology increases the data transfer speed and increases network coverage. Simultaneous dual band operation allows you to stream HD video, make Internet phone calls, and view Web page without delay. External antenna with high gain improves signal reception, providing a reliable connection anywhere in your home. Gigabit Ethernet ports provide high-speed wired connection of up to 4 computers or other devices.
mydlink service
The router supports mydlink cloud service, which enables remote access, device viewing and control, regardless of your location. With mydlink service you can view information about the users who are connected to the router, change the settings to block certain users from any computer, tablet or smartphone connected to the Internet. In addition, parents can monitor and control the sites that their children attend.
Sharing files with one touch
With the SharePort application, installed on your mobile device, you can quickly access documents, movies, pictures and music on a USB drive connected to the router DIR-880L. You can download your music library on the USB drive and choose to share files from anywhere in the house*. You can also view photos on a TV screen, while the rest of the family are watching movies on their mobile devices. The user can organize media streaming to multiple devices or download them to your device for later playback offline. The intuitive user interface provides quick access to various features and applications stored on your drive.
Reliability and efficiency
The DIR-880L router supports the latest wireless standard 802.11ac, which provides data transfer rates up to 1.9 Gb/s** (1300AC + 600N). In addition, DIR-880L supports 2.4 GHz and 5 GHz simultaneous dual band operation and is equipped with three external antennas. Dual band allows you to browse Web page, chat with friends and check e-mail, using a frequency of 2.4 GHz, while the frequency of 5 GHz can be used for streaming media content, online gaming and Internet calling commit. QoS mechanism allows you to prioritize mission-critical data, such as streaming video and online games; Band steering function provides efficient load balancing between two ranges, and through the use of ether functions fairness (airtime fairness) each wireless client receives the necessary bandwidth.
Easy Installation and Setup
With the QRS (Quick Router Setup) Mobile application, installed on your smartphone or tablet, you can quickly and easily launch and perform remote management of the router. Simply plug the router, open the application and follow few simple steps to connect the device without using a computer. In addition, the security of the network can be configured by the touch of WPS button. If there are devices with mydlink cloud service, you can use the Zero Configuration, which provides automatic setup. Simply connect the device with mydlink cloud service support to DIR-880L, and the router will be automatically added to your account without making any adjustments.
* File sharing is only used on the local network.
** Maximum wireless signal rate derived from the specifications of the standard IEEE 802.11ac (draft). Actual data throughput will vary. The conditions under which the network operates, as well as environmental factors, including volume of network traffic, building materials and construction, and network overhead, lower actual throughput. On the range of the wireless network factors may adversely affect the environment.
General features
Device interfaces
• 802.11 a/b/g/n/ac (draft) Wireless LAN
• 4 LAN 10/100/1000 Mbit/s ports
• 1 WAN 10/100/1000 Mbit/s port
• 2 USB ports (1 USB 3.0 port and 1 USB 2.0 port)
Antenna type
• 3 dual band dipole antennas
Standards
• IEEE 802.11ac (draft)
• IEEE 802.11n
• IEEE 802.11g
• IEEE 802.11b
• IEEE 802.11a
• IEEE 802.3
• IEEE 802.3u
Minimum system requirements
• Windows 8/7/Vista/XP SP3 / Mac OS X 10.4 or above
• Microsoft Internet Explorer 6 or above, Firefox 1.5 or above, or other Java-enabled browser
• Ethernet network interface
• Cable/DSL modem
• ISP services subscription
Wireless speed
• IEEE 802.11a: 6, 9, 12, 18, 24, 36, 48 и 54 Mbit/s
• IEEE 802.11b: 1, 2, 5.5 и 11 Mbit/s
• IEEE 802.11g: 6, 9, 12, 18, 24, 36, 48 и 54 Mbit/s
• IEEE 802.11n (5 GHz): 19.5~450 Mbit/s
• IEEE 802.11ac (5 GHz): 6.5~1300 Mbit/s
Transmitter output power
IEEE 802.11a:
• 20 dBm at 54 Mbit/s
• 21 dBm at 48 Mbit/s
• 22 dBm at 36 Mbit/s
• 23 dBm at 24 Mbit/s
• 23 dBm at 18 Mbit/s
• 23 dBm at 12 Mbit/s
• 23 dBm at 9 Mbit/s
• 23 dBm at 6 Mbit/s
IEEE 802.11b: 23 dBm at 1, 2, 5.5, 11 Mbit/s
IEEE 802.11g:
• 20 dBm at 54 Mbit/s
• 21 dBm at 48 Mbit/s
• 22 dBm at 36 Mbit/s
• 22 dBm at 24 Mbit/s
• 22 dBm at 18 Mbit/s
• 22 dBm at 12 Mbit/s
• 22 dBm at 9 Mbit/s
• 22 dBm at 6 Mbit/s
IEEE 802.11n (5 GHz):
HT20
• 20 dBm at MCS7
• 21 dBm at MCS6
• 22 dBm at MCS5
• 23 dBm at MCS4
• 23 dBm at MCS3
• 23 dBm at MCS2
• 23 dBm at MCS1
• 23 dBm at MCS0
HT40
• 20 dBm at MCS7
• 21 dBm at MCS6
• 22 dBm at MCS5
• 23 dBm at MCS4
• 23 dBm at MCS3
• 23 dBm at MCS2
• 23 dBm at MCS1
• 23 dBm at MCS0
IEEE 802.11n (2.4 GHz):
HT20
• 18 dBm at MCS8
• 19 dBm at MCS7
• 20 dBm at MCS6
• 22 dBm at MCS5
• 22 dBm at MCS4
• 22 dBm at MCS3
• 22 dBm at MCS2
• 22 dBm at MCS1
• 22 dBm at MCS0
HT40
• 18 dBm at MCS9
• 18 dBm at MCS8
• 19 dBm at MCS7
• 20 dBm at MCS6
• 22 dBm at MCS5
• 22 dBm at MCS4
• 22 dBm at MCS3
• 22 dBm at MCS2
• 22 dBm at MCS1
• 22 dBm at MCS0
IEEE 802.11ac (draft) (5 GHz):
VHT20
• 19 dBm at MCS8
• 20 dBm at MCS7
• 21 dBm at MCS6
• 22 dBm at MCS5
• 23 dBm at MCS4
• 23 dBm at MCS3
• 23 dBm at MCS2
• 23 dBm at MCS1
• 23 dBm at MCS0
VHT40
• 18 dBm at MCS9
• 19 dBm at MCS8
• 20 dBm at MCS7
• 21 dBm at MCS6
• 22 dBm at MCS5
• 23 dBm at MCS4
• 23 dBm at MCS3
• 23 dBm at MCS2
• 23 dBm at MCS1
• 23 dBm at MCS0
VHT80
• 18 dBm at MCS9
• 19 dBm at MCS8
• 20 dBm at MCS7
• 21 dBm at MCS6
• 22 dBm at MCS5
• 23 dBm at MCS4
• 23 dBm at MCS3
• 23 dBm at MCS2
• 23 dBm at MCS1
• 23 dBm at MCS0
Receiver sensitivity
• IEEE 802.11a:
–82 dBm at 6 Mbit/s
–81 dBm at 9 Mbit/s
–79 dBm at 12 Mbit/s
–77 dBm at 18 Mbit/s
–74 dBm at 24 Mbit/s
–70 dBm at 36 Mbit/s
–66 dBm at 48 Mbit/s
–65 dBm at 54 Mbit/s
• IEEE 802.11b:
–76 dBm at 11 Mbit/s
–80 dBm at 1, 2, 5.5 Mbit/s
• IEEE 802.11g:
–82 dBm at 6 Mbit/s
–81 dBm at 9 Mbit/s
–79 dBm at 12 Mbit/s
–77 dBm at 18 Mbit/s
–74 dBm at 24 Mbit/s
–70 dBm at 36 Mbit/s
–66 dBm at 48 Mbit/s
–65 dBm at 54 Mbit/s
• IEEE 802.11n (5 GHz):
HT20
-82 dBm at (MCS0/8/16)
-79 dBm at (MCS1/9/17)
-77 dBm at (MCS2/10/18)
-74 dBm at (MCS3/11/19)
-70 dBm at (MCS4/12/20)
-66 dBm at (MCS5/13/21)
-65 dBm at (MCS6/14/22)
-64 dBm at (MCS7/15/23)
HT40
-79 dBm at (MCS0/8/16)
-76 dBm at (MCS1/9/17)
-74 dBm at (MCS2/10/18)
-71 dBm at (MCS3/11/19)
-67 dBm at (MCS4/12/20)
-63 dBm at (MCS5/13/21)
-62 dBm at (MCS6/14/22)
-61 dBm at (MCS7/15/23)
• IEEE 802.11n (2.4 GHz):
HT20
-82 dBm at MCS0
-79 dBm at MCS1
-77 dBm at MCS2
-74 dBm at MCS3
-70 dBm at MCS4
-66 dBm at MCS5
-65 dBm at MCS6
-64 dBm at MCS7
-59 dBm at MCS8
HT40
-79 dBm at MCS0
-76 dBm at MCS1
-74 dBm at MCS2
-71 dBm at MCS3
-67 dBm at MCS4
-63 dBm at MCS5
-62 dBm at MCS6
-61 dBm at MCS7
-56 dBm at MCS8
-54 dBm at MCS9
• IEEE 802.11ac (draft) (5 GHz):
VHT 20
-82 dBm at (MCS0)
-79 dBm at (MCS1)
-77 dBm at (MCS2)
-74 dBm at (MCS3)
-70 dBm at (MCS4)
-66 dBm at (MCS5)
-65 dBm at (MCS6)
-64 dBm at (MCS7)
-59 dBm at (MCS8)
VHT 40
-79 dBm at (MCS0)
-76 dBm at (MCS1)
-74 dBm at (MCS2)
-71 dBm at (MCS3)
-67 dBm at (MCS4)
-63 dBm at (MCS5)
-62 dBm at (MCS6)
-61 dBm at (MCS7)
-56 dBm at (MCS8)
-54 dBm at (MCS9)
VHT 80
-76 dBm at (MCS0)
-73 dBm at (MCS1)
-71 dBm at (MCS2)
-68 dBm at (MCS3)
-64 dBm at (MCS4)
-60 dBm at (MCS5)
-59 dBm at (MCS6)
-58 dBm at (MCS7)
-53 dBm at (MCS8)
-51 dBm at (MCS9)
Advanced features
• Guest Zone
• File access over Internet with SharePort™ application
• Multilingual Web-based Setup Wizard
• Green Ethernet technology
• DLNA media server support
• AC SmartBeam technology
• Bridge mode
• Firewall
• Network Address Translation (NAT)
• Stateful Packet Inspection (SPI)
• VPN passthrough/multi-session PPTP/L2TP/IPSec modes
• QoS advanced features
• VPN server - L2TP over IPSec
mydlink features
• Remote management
• Viewing of current information outbound/inbound conection bandwidth
• Viewing of currently connected clients
• Viewing of browser history for each client
• Blocking/unblocking of network access for a client
• Wireless network management
• Access via Web browser or mobile application for iOS or Android
Mobile application support
• mydlink Lite
• mydlink SharePort
• QRS Mobile v1.5
Wireless security
• WPA и WPA2 (Wi-Fi Protected Access)
• Wi-Fi Protected Setup (WPS) PIN/PBC
Order info
DIR-880L/A1A Wireless AC1900 Dual Band Gigabit Cloud Router with 2 USB ports