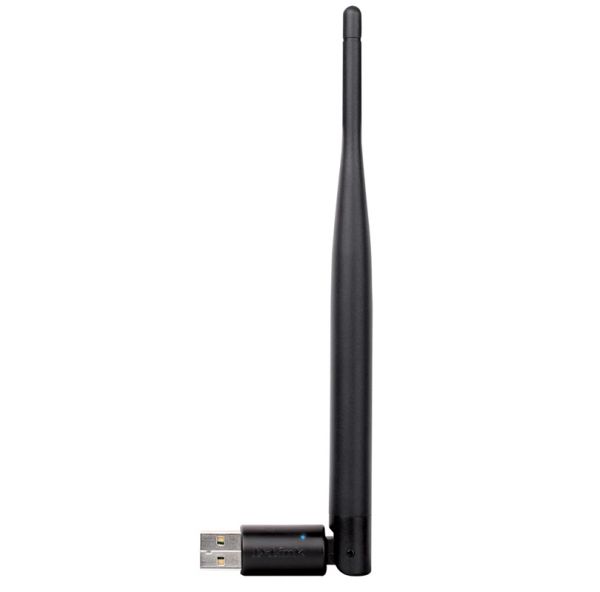 DWA-127
EOL EOS
Wireless N150 High-Gain USB Adapter
Where to buy
Description
High-speed wireless networking
Connect to a high-speed wireless network with the D-Link Wireless N150 High-Gain USB Adapter and enjoy surfing the web, checking e-mail, and chatting with family and friends online. The DWA-127 uses Wireless N150 technology, which offers faster speeds and greater range than 802.11g/b,* providing you with a faster and more reliable wireless connection.
Enhanced wireless range
DWA-127 Wireless N150 High-Gain USB Adapter has a high-gain antenna that provides a boosted signal reception so that you can enjoy wireless coverage over a wider distance than with a regular wireless adapter. The antenna is also rotatable so you can eliminate dead spots by fine-tuning the antenna positioning to get the best available wireless connectivity.
Connect securely to your wireless network
To protect your data and maintain your privacy while surfing the web, the Wireless N150 High-Gain USB Adapter supports WEP, WPA and WPA2 encryption which enable you to connect to and access a secure wireless network. This allows you to securely shop and pay online and check e-mail with confidence.
Easy to install and connect
D-Link's Quick Setup Wizard enables easy setup of your DWA-127 so you can get connected quickly. Wi-Fi Protected Setup (WPS) allows you to set up a secure wireless connection with just the push of a button. This eliminates the need for complicated configuration, thus simplifying setup and saving you time and hassle. The DWA-127 has a USB interface so it can be connected to both a notebook or a desktop computer.
General features
System Requirements
Computer with:
• Windows 7, Vista, or XP SP3
• CD-ROM drive
• 20MB hard disk space
• Available USB port
Standards
• IEEE 802.11n
• IEEE 802.11g
• IEEE 802.11b
• USB 2.0
Frequency band
• 2.4-2.4835GHz 
Antenna
• The omni-directional dipole antenna 3dBi gain
Security
• 64/128-bit WEP data encryption
• Wi-Fi Protected Access (WPA and WPA2)
Wireless speed
• IEEE 802.11b: 11, 5.5, 2 and 1 Mbit/s
• IEEE 802.11g: 6, 9, 12, 18, 24, 36, 48, 54 Mbit/s
• IEEE 802.11 n: 150 Mbit/s
The output power of the transmitter 
• IEEE 802.11b:
  17 dBm (±2dB) at 1, 2, 5.5, 11 Mbit/s
• IEEE 802.11g:
  16~12 dBm at 6 Mbit/s
  15 dBm at 24.36 Mbit/s
  14 dBm at 54.48 Mbit/s
• IEEE 802.11n:
  HT20 
  17 dBm at MCS0/1 
  16 dBm at MCS2/3
  15 dBm at MCS4/5
  14 dBm at MCS6/7 
  HT40 
  17dBm at MCS0/1 
  16 dBm at MCS2/3
  15 dBm at MCS4/5
  14 dBm at MCS6/7
Receiver sensitivity
• IEEE 802.11b:
  17 dBm at 1, 2, 5.5, 11 Mbit/s
• IEEE 802.11g:
  -86 dBm at 6 Mbit/s 
  -85 dBm at 9 Mbits/s
  -84 dBm at 12 Mbit/s 
  -84 dBm at 18 Mbit/s
  -80 dBm at 24 Mbit/s
  -77 dBm at 36 Mbit/s
  -74 dBm at 48 Mbit/s
  -68 dBm at 54 Mbit/s
• IEEE 802.11n:
  HT20 
  -86 dBm at MCS0 
  -84 dBm at MCS1 
  -82 dBm at MCS2 
  -79 dBm at MCS3 
  -76 dBm at MCS4 
  -74 dBm at MCS5 
  -72 dBm at MCS6 
  -68 dBm at MCS7 
  HT40
  -83 dBm at MCS0 
  -81 dBm at MCS1 
  -79 dBm at MCS2 
  -77 dBm at MCS3 
  -74 dBm at MCS4 
  -70 dBm at MCS5 
  -68 dBm at MCS6 
  -62 dBm at MCS7 
Order info
DWA-127  Wireless N150 High-Gain USB Adapter