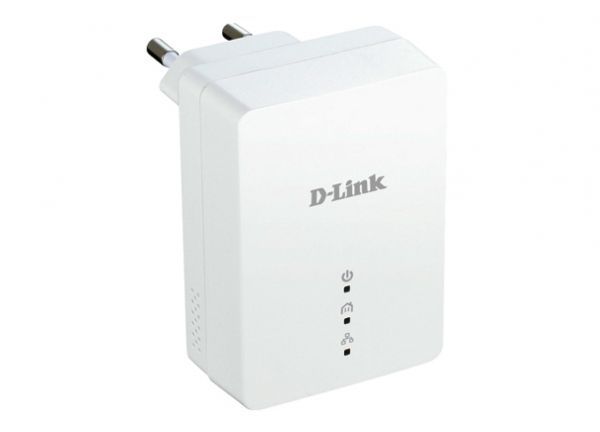 Description
The DHP-208AV PowerLine AV Mini Adapter is an entry level PowerLine adapter which is compliant with the HomePlug AV standard, using your home's existing electrical wiring to create a network or extend your existing network*. It turns any power outlet into a network access point, letting you connect digital media devices, game consoles, print servers, computers, and network storage devices throughout your home, without the need for installing wiring.
Convenient Setup and Secure Operation
The PowerLine AV Mini Adapter plugs directly into a power outlet, and does not require any additional cables, which means that any power outlet in your home can be turned into a network connection instantly. Extend your home network by connecting multiple devices in the farthest corners of your home. Share the Internet connection from your study with the media center in your living room, or connect computers in different rooms to share files, all without installing new cabling. For convenient setup, an encryption key can be quickly configured with the push of a button. The adapter implements 128-bit AES data encryption to protect the network from unauthorized wire-tapping and keeping your network activity safe from intruders.
High-speed Data Transmission Over Existing Wiring
The DHP-208AV features PowerLine AV technology, enabling it to deliver data at speeds up to 200 Mbps, providing ample bandwidth for today's demanding multimedia applications. Create a network capable of Internet surfing and file sharing, all using your home's existing electrical wiring.
Saves Power Automatically
The DHP-208AV incorporates a power-saving mode to reduce energy consumption when the network is not is use. If no data transmission or reception occurs over a certain period of time, the adapter will automatically go into sleep mode, reducing power usage by more than 70% and allowing you to save energy automatically, without sacrificing performance.
Compact and Subtle Design
Thanks to the DHP-208AV's small form factor, your network can easily blend into your home's decor, meaning you can place it throughout your home without making your network equipment obvious. The stylish white exterior makes it discreet, and the small size means that it will not obstruct neighboring power outlets.
DHP-209AV PowerLine AV Mini Starter Kit
The DHP-208AV is also available in a starter kit that provides a complete PowerLine solution. The DHP-209AV Powerline AV Mini Starter Kit features two DHP-208AV adapters, giving you everything you need to create a PowerLine network in your home and get connected right away.
General features
Powerline Interface
• Power plug (country-dependent)
Ethernet Interface
• 10/100 Fast Ethernet Port with RJ-45 Connector
Standards
• IEEE 802.3
• IEEE 802.3u
• Homeplug AV
• IEEE 1901
Security
• 128-bit AES data encryption
LEDs
• Power
• Ethernet
• PowerLine
Powerline Modulation Scheme
• OFDM symbol modulation
PowerLine Frequency Band
• 2 MHz to 30 MHz
Data Rate
• Powerline: Up to 200 Mbps (PHY rate)**
• Ethernet: 10/100 Mbps (autonegotiation)
Physical Parameters
Dimensions
• 65.7 x 47.7 x 25 mm
Weight
• 60 grams
Power
• Input: 100 to 240 VAC, 50/60 Hz
Temperature
• Operating: 0° to 40°C
• Storage: -20° to 65°C
Humidity
• Operating: 10% to 90% non-condensing
• Storage: 5% to 95% non-condensing
Certifications
• CE
• FCC
• CE/LVD
• UL
* Power outlets and electrical wiring must all be part of the same electrical system. Certain electrical conditions in your home, such as wiring condition and configuration, may affect the performance of this product. Additional D-Link PowerLine AV series products are required to add new devices to the network. A minimum of two D-Link PowerLine AV series products are required to create a network. Connecting this product to a power strip with a surge protector may adversely affect the performance of this product. For best results, plug the adapter directly into a wall outlet.
** Maximum throughput is based on theoretical transmission PHY rate. Actual data throughput will vary. Network conditions and environmental factors, including volume of traffic and network overhead, may lower actual data
throughput rate. Interference from devices that emit electrical noise, such as vacuum cleaners and hair dryers, may adversely affect the performance of this product. This product may interfere with devices such as lighting
systems that have a dimmer switch or a touch-sensitive on/off feature, short wave radios, or other Powerline devices that do not follow the HomePlug AV standard.
Order info
DHP-208AV   PowerLine AV Mini Adapter