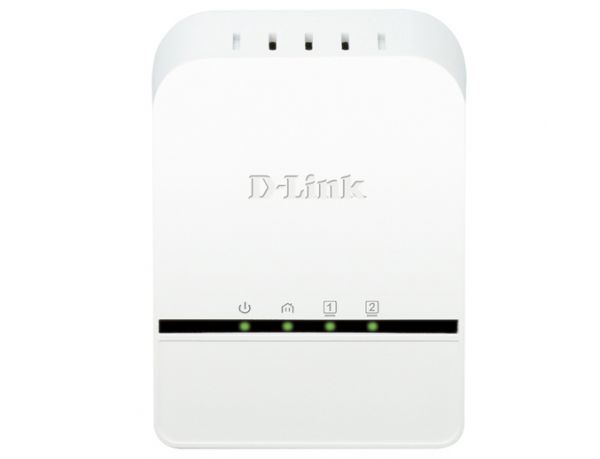 DHP-328AV
EOL EOS
PowerLine AV+ 2-Port Mini Adapter
Where to buy
Description
The DHP-328AV PowerLine AV+ 2-Port Mini Adapter uses your home's existing electrical wiring to create a network or extend your existing network*. It turns every power outlet into a network connection, compliant with the HomePlug AV standard, allowing you to access digital media devices, game consoles, print servers, computers, and network storage devices throughout your home.
Ideal for Bandwidth-Intensive Applications
The DHP-328AV features PowerLine AV+, enabling it to deliver data transfer rates at over 200 Mbps, faster than regular PowerLine AV products. This rapid transmission speed makes it ideal for bandwidth-intensive applications, guaranteeing smooth HD video streaming, VoIP calls, and lag-free online gaming experiences. This device provides ample network bandwidth, enabling you to tap into existing electrical wiring for high-quality multimedia streaming. The DHP-328AV also supports Quality of Service (QoS), which prioritizes multimedia traffic over other types of traffic on your network connection, ensuring faster transmission.
Convenient Setup and Secure Operation
The DHP-328AV plugs directly into a power outlet, and does not require any additional cables. Extend your home network by connecting up to two devices in the farthest corners of your home, or attach a switch or wireless access point to the adapter to connect even more devices. The adapter implements 128-bit AES data encryption at the push of a button to protect your network from unauthorized wiretapping. With hassle-free plug and play installation, the DHP-328AV is an ideal solution to create a wall-to-wall home network.
DHP-329AV PowerLine AV+ 2-Port Mini Starter Kit
The DHP-328AV is also available in a starter kit that provides a complete PowerLine solution which includes two DHP-328AV adapters that allow you to create a PowerLine network in your home right away. 
Easy Security and Power-Saving Setup
The DHP-328AV can be placed into a sleep mode to save power when it is not in use. Simply push the Simple Connect Button twice to enter power-saving mode, and push it again to resume regular operational mode. The DHP-328AV also uses less power than previous PowerLine products, saving you power automatically.
General features
Powerline Interface
• Power plug (country/region-dependent)
Ethernet Interface
• Two 10/100BASE-TX Fast Ethernet Ports with auto MDI/MDIX
Standards
• IEEE 802.3
• IEEE 802.3u
• HomePlug AV
• IEEE 1901
Security
• 128-bit AES Data Encryption
LEDs
• Power
• PowerLine
• Ethernet1
• Ethernet2
PowerLine Modulation Scheme
• OFDM Symbol Modulation
Powerline Frequency Band
• 2 to 28 MHz
Data Rate
• Powerline: Over 200 Mbps (PHY rate)**
• Ethernet: 10/100 Mbps (Auto Negotiation)
Order info
DHP-328AV  PowerLine AV+ 2-Port Mini Adapter