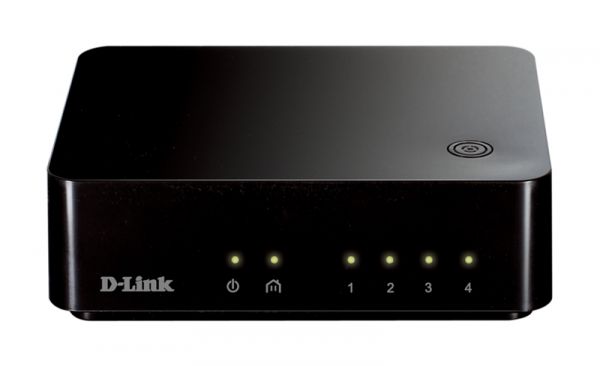 DHP-540
EOL EOS
PowerLine AV 500 4-Port Gigabit Switch
Where to buy
Description
Data transmission over electrical wiring
The D-Link DHP-540 PowerLine AV 500 4-Port Gigabit Switch uses your home's existing electrical wiring to create a network or extend your existing network*. It turns every power outlet into a possible network connection to access digital media devices, game consoles, print servers, computers, and network storage devices throughout your home. Compliance with the IEEE 1901 standard and backward compatibility with the HomePlug AV ensure that the DHP-540 can be used with older PowerLine devices.
Ideal for bandwidth-intensive applications
The DHP-540 is capable of delivering data transfer rates of up to 500 Mbps**. This rapid transmission speed makes it ideal for bandwidth-intensive applications, guaranteeing smooth HD video streaming, VoIP calls, and lag-free online gaming experiences. In addition, it prioritizes Internet traffic, ensuring that multimedia traffic has priority over web surfing and file downloads. Now you can experience high-quality multimedia streaming throughout your home, all through your existing electrical wiring.
Convenient setup and secure operation
The DHP-540 plugs directly into a power outlet, and does not require any additional cables. Extend your home network by connecting multiple devices in the farthest corners of your home, or attach a switch or wireless access point to the adapter for additional connectivity. For convenient setup, an encryption key can be quickly configured with the push of a button. The adapter implements 128-bit AES data encryption to protect the network from unauthorized wire tapping. With hassle-free plug and play installation, the DHP-540 is the ideal solution for creating a wall-to-wall home network.
Power saving feature
The DHP-540 incorporates a power saving mode that detects if there has been no data transmission or reception over a certain period of time or if no device is connected to a port, and will automatically place that port into sleep mode, saving more than 50% of the power normally needed.
General features
Standards
• IEEE 802.3
• IEEE 802.3u
• IEEE 1901
• HomePlug AV
PowerLine Interface
• Power cable (country-dependent)
Ethernet Interface
• Four Gigabit Ethernet LAN ports
• RJ-45 connector
PowerLine Frequency Band
• 2 MHz to 70 MHz
Data Rate**
• PowerLine: up to 500 Mbps (PHY rate)
• Ethernet: 10/100/1000 Mbps (autonegotiation)
QoS
• Integrated QoS prioritizes media and data
Security
• 128-bit AES data encryption
Minimum System Requirements (For PC Utility Software)
• Windows 7/Vista/XP SP3
• Ethernet interface
LEDs
• Power
• PowerLine
• Ethernet
Order info
DHP-540  PowerLine AV 500 4-Port Gigabit Switch