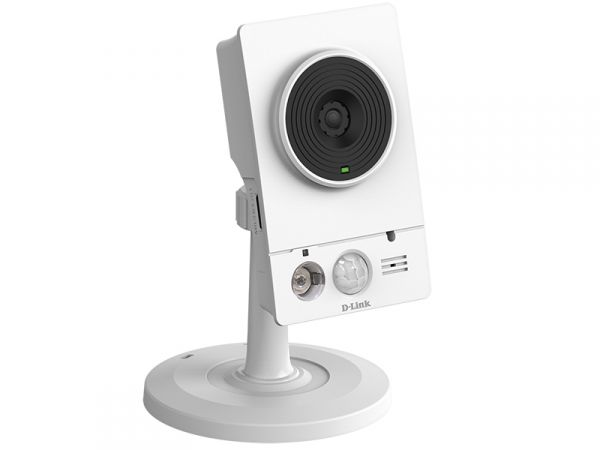 Description
The DCS-4201 Vigilance HD Wireless Camera is a versatile surveillance solution that is perfect for monitoring in your home or small office. It combines a high-resolution megapixel sensor with a built-in IR LED to help you keep watch over areas in complete darkness. The DCS-4201 also includes a built-in IR cut filter, making it suitable for both day and night applications. Additionally, the DCS-4201 is a complete system with a built-in CPU and web server that transmits high-quality video images for security and surveillance. The DCS-4201 features 802.11n wireless, allowing the camera to be placed anywhere within range of your wireless network. 
A Complete, Expandable Surveillance Solution
The DCS-4201 is a self-sufficient surveillance solution, capable of recording snapshots and video to a microSD card without requiring a PC or network storage device. If you want to expand your surveillance options, D-ViewCam management software is also included, giving you the ability to manage up to 32 cameras with a robust set of features, including multi-camera views and automated e-mail alerts to keep you informed of suspicious or unusual activities. 
Built for Versatility
The DCS-4201 comes with a wealth of features that enhance its surveillance capabilities, making it ideal for any situation. A passive infrared (PIR) sensor detects motion near the camera, allowing it to automatically record video and send you a notification when motion is detected. A built-in microphone and speaker allow for 2-way communication, which is ideal for use in entryways or for caretaker applications.
ePTZ For Surveying Regions Of Interest 
The ePTZ feature allows users to select a target region for close-up viewing simply by clicking on the video feed displayed within their browser. ePTZ makes use of the camera's  megapixel  resolution to survey a large area effortlessly. Since ePTZ requires no moving parts, there is no need to worry about the camera having mechanical failures. 
Wireless N Connectivity 
The Vigilance HD Wireless Camera includes 802.11n wireless for fast and easy integration into your existing network environment. Wireless N allows you to stream high quality video to remote sites and mobile devices. The DCS-4201 also includes a standard Ethernet port for connections to traditional wired networks.
General features
Camera
Camera Hardware Profile
•
1/4"megapixel progressive CMOS sensor
•
10 meter IR illumination distance
   1.0 lux (color)
   0.5 lux (B/W)
   0 Lux (IR-LED on)
•
Built-in Infrared-Cut Removable (ICR) filter module
•
Built-in PIR (Passive Infrared) sensor
•
Built-in microphone and speaker
   (H) 97.6°
   (V) 69.2°
   (D) 108.9°
Image Features
•
Configurable image size, quality, frame rate, and bit rate
•
Time stamp and text overlays
•
Configurable motion detection windows
•
3D noise filter for low light environments
•
Configurable privacy mask zones
•
Configurable shutter speed, brightness, saturation, contrast, and sharpness
•
Wide Dynamic Range image enhancement
Video Compression 
•
Simultaneous H.264/MJPEG format compression
•
H.264/MJPEG multicast streaming
Video Resolution
•
16:9 - 1280 x 720, 800 x 448, 640 x 360, 480 x 272, 320 x 176 up to 30 fps
•
4:3 - 960 x 720, 800 x 592, 640 x 480, 480 x 352, 320 x 240 up to 30 fps
Connectivity
•
802.11n/g/b wireless with WEP/WPA/WPA2 encryption
•
Operates on 2.4 GHz band
•
Maximum data rate of 54 Mbps (PHY rate)
Audio Support
Device Interfaces
Network
Network Protocols
RTP / RTSP/ RTCP
Security
•
Administrator and user group protection
•
Password authentication
•
HTTP and RTSP authentication
System Management
System Requirements for Web Interface
•
Operating System: Microsoft Windows 8/7/Vista
•
Browser: Internet Explorer, Firefox, or Safari
Event Management
•
Event notification and uploading of snapshots/video clips via e-mail or FTP
•
Supports multiple HTTP, SMTP, and FTP servers
•
Multiple event notifications
•
Multiple recording methods for easy backup
Remote Management
•
Configuration accessible via web browser
•
Take snapshots/video clips and save to local hard drive
D-ViewCam™ System Requirements
•
Operating System: Microsoft Windows 8/7/Vista
•
Web Browser: Internet Explorer 7 or higher
•
Protocol: Standard TCP/IP
D-ViewCam™ Software Functions
•
Remote management/control of up to 32 cameras
•
Supports all management functions provided in web interface
•
Viewing of up to 32 cameras on one screen
•
Scheduled motion triggered, or manual recording options
Weight
•
445 g (15.7 ounces) ± 5%
External Power Adapter
•
Input: 100 to 240 V AC, 50/60 Hz
Power Consumption
Temperature
•
Operating: -30 to 50 ˚C (-22 to 122 ˚F)
•
Storage: -20 to 70 °C (-4 to 158 °F)
Humidity
•
Operating: 20% to 80% non-condensing
•
Storage: 5% to 95% non-condensing
Certifications
Order info
DCS-4201  Vigilance HD Wireless Camera