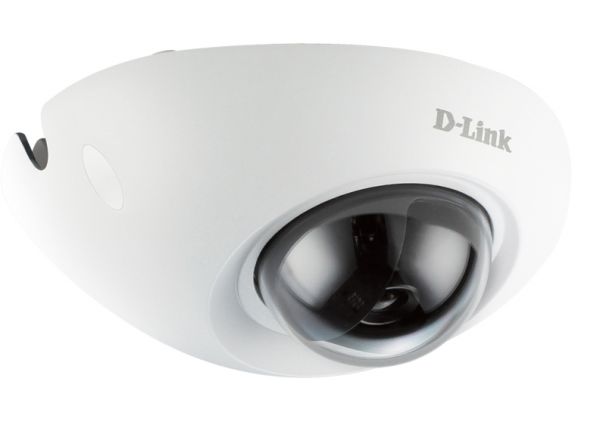 DCS-6210
EOL EOS
Full HD Mini Fixed Dome Network Camera
Where to buy
Description
The DCS-6210 Full HD Mini Fixed Dome Network Camera is an industry rated vandal proof and weatherproof camera suited to a wide range of traditionally difficult deployment scenarios.
Built for Tough Environments
Specially designed for use in challenging environments the DCS-6210 has a toughened metal, industry-certified IK-10 (vandal-proof ) and IP-66 (weather-proof ) housing. This means that it is able to withstand sudden high impact, and adverse weather conditions. Additionally, the DCS-6210 carries a Power over Ethernet (PoE) port which allows you to connect the camera to your network and power it through a single cable. This both expands and simplifies your deployment options by doing away with the need for a nearby power outlet, making deployment on ceilings much easier.
Surveillance in Full High Definition
The DCS-6210 is built with a megapixel image sensor to give you high-quality snapshots and video with resolutions up to 1080p Full HD. This gives you sharp, high-resolution pictures and videos with rich detail. Get a closer look with ePTZ, which lets you zoom in, zoom out, and pan across your camera's video so you can survey a large area easily.
A Complete, Expandable Surveillance Solution
The DCS-6210 is a self-sufficient surveillance solution, capable of recording snapshots and video to a MicroSD card without requiring a PC or network storage device. If you want to expand your surveillance options, D-ViewCam management software is also included, giving you the ability to manage up to 32 cameras with a robust set of features, including multi-camera views and automated e-mail alerts to keep you informed of suspicious or unusual activities.
Built for Versatility
The DCS-6210 comes with a wealth of features that enhance its surveillance capabilities, making it ideal for any situation. It's 3 axis lens mounting allows you to position it perfectly, while its motion detection capabilities allow it to automatically record video and send you a notification when motion is detected.
General features
Camera Hardware Profile
• 1/2.7" 2 Megapixel progressive CMOS sensor
• Fixed Lens, focal length 4.3 mm, aperture F2.0
• 10x digital zoom
• Angle of view:
• (H) 79°
• (V) 43°
• (D) 90°
Camera Housing
• IP-66 weather-proof compliant
• IK-10 vandal-proof compliant
Image Features
• Configurable image size, quality, frame rate, and bit rate
• Time stamp and text overlays
• Configurable motion detection windows
• Configurable privacy mask zones
• Configurable white balance, brightness, saturation, contrast, sharpness, and BLC
Video Compression
• Simultaneous H.264/MPEG-4/MJPEG format compression
• H.264/MPEG-4 multicast streaming
• JPEG for still images
Video Resolution
• 16:9 - 1920 x 1080 (upto 15 fps) 1280 x 800, 1280 x 720, 800 x 450, 640 x 360, 480 x 270, 320 x 176, 176 x 144 up to 30 fps recording
• 4:3 - 1440 x 1080 (up to 25 fps) 1024 x 768, 800 x 600, 640 x 480, 480 x 360, 320 x 240, 176 x 144 up to 30 fps recording
Audio Support
• G.726
• G.711
External Device Interfaces
• 10/100 BASE-TX Fast Ethernet port
• Supports 802.3af PoE
• MicroSD/SDHC card slot
Network Protocols
• IPv6
• IPv4
• TCP/IP
• UDP
• ICMP
• DHCP client
• NTP client (D-Link)
• DNS client
• DDNS client (D-Link)
• SMTP client
• FTP client
• HTTP / HTTPS
• Samba client
• PPPoE
• UPnP port forwarding
• RTP / RTSP/ RTCP
• IP filtering
• QoS
• CoS
• Multicast
• IGMP
• ONVIF compliant
Security
• Administrator and user group protection
• Password authentication
• HTTP and RTSP digest encryption
System Requirements for Web Interface
• Browser: Internet Explorer, Firefox, Safari, Chrome
Event Management
• Motion detection
• Event notification and uploading of snapshots/video clips via e-mail or FTP
• Supports multiple SMTP and FTP servers
• Multiple event notifications
• Multiple recording methods for easy backup
Remote Management
• Take snapshots/video clips and save to local hard drive or NAS via web browser
• Configuration interface accessible via web browser
D-ViewCam™ System Requirements
• Operating System: Microsoft Windows 7/Vista/XP
• Web Browser: Internet Explorer 7 or higher
• Protocol: Standard TCP/IP
D-ViewCam™ Software Functions
• Remote management/control of up to 32 cameras
• Viewing of up to 32 cameras on one screen
• Scheduled motion triggered, or manual recording options
• Supports all management functions in web interface
Order info
DCS-6210 Full HD Mini Fixed Dome Network Camera