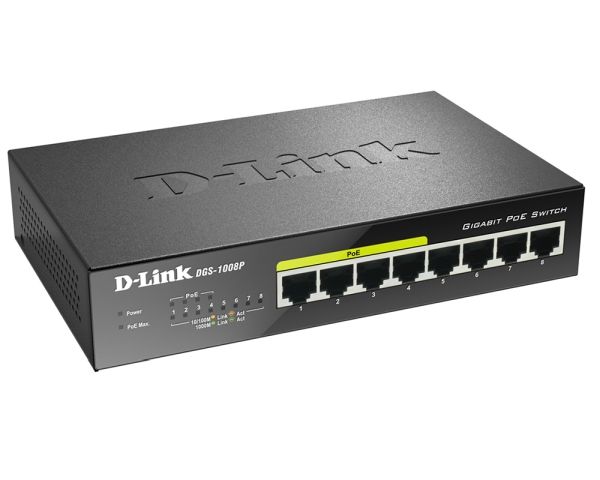 DGS-1008P
EOL EOS
8-Port Gigabit Ethernet PoE Switch
Where to buy
Description
Gigabit Connection for Home
The D-Link DGS-1008P 8-port Gigabit Ethernet switch enables home and office users to easily connect and supply power to Power over Ethernet (PoE) devices such as wireless access points (APs), IP cameras, and IP phones. It also provides the opportunity to add additional Ethernet devices like computers, printers, and Network Attached Storage (NAS) onto a network. This compact PoE switch operates quietly, making it ideal for use in virtually any room or office.
Power over Ethernet (PoE)
The first four ports of the DGS-1008P support the IEEE 802.3af PoE protocol. Each of these four ports can supply up to 15.4 watts, for a total PoE budget of 52 watts, allowing users to attach an IEEE 802.3af-compliant device to the DGS-1008P that requires no additional power. Use PoE for applications that are far from power outlets or when you want to minimize the clutter of extra cables.
Auto MDI/MDIX Crossover
All ports support automatic MDI/MDIX crossover, eliminating the need for crossover cables or uplink ports. Each port can be plugged directly to a server, hub, router, or switch using regular straight-through twisted-pair Ethernet cables.
Conserves Energy
The DGS-1008P 8-Port Gigabit Switch makes use of D-Link Green™ eco-friendly technology, providing energy savings, reduced power consumption, and a longer product life without sacrificing operational performance or functionality. This switch helps to conserve energy through methods such as Link Status and Cable Length Detection. The Link Status feature automatically powers down ports that have no link, allowing the switch to save substantial amounts of energy by cutting power for unused ports or ports connected to computers that have been shut down. It can also detect connected cable lengths, and adjust power usage accordingly, helping you save energy without affecting networking performance. In addition, the fan-less design extends the product's life and also reduces noise.
General features
Key features
• 8 10/100/1000Mbps Gigabit Ports
• Auto MDI/MDIX Crossover for all ports
• Store-and-forward Switching Scheme
• Full/half-duplex for Ethernet/Fast Ethernet Speeds
• IEEE 802.3x Flow Control
• Plug-and-play Installation
• Built-in D-link Green Technology
• RoHS Compliant
• IEEE 802.1p QoS (4 Queues, Strict Mode)
• Supports Cable Diagnostics
• Supports 9720KBytes Jumbo Frames
Switching capacity
• 16Gbps
Standards
• IEEE 802.3 10BASE-T Ethernet
• IEEE 802.3u 100BASE-TX Fast Ethernet
• IEEE 802.3ab 1000BASE-T Gigabit Ethernet
• ANSI/IEEE 802.3 NWay Auto-negotiation
• IEEE 802.3x Flow Control
• IEEE 802.1p QoS
PoE features
• Supports IEEE 802.3af
• Supplies power to PD: up to 15.4 watts
• Total PoE budget: 52 watts
• PoE port count/Average PoE watts per port: 4(Port 1 - 4)/13 watts
Data Transfer Rates
Ethernet:
• 10Mbps (half duplex)
• 20Mbps (full duplex)
Fast Ethernet:
• 100Mbps (half duplex)
• 200Mbps (full duplex)
Gigabit Ethernet:
• 2000Mbps (full duplex)
Topology
• Star
Media interface exchange
• Auto MDI/MDIX adjustment for all ports
Network cables
10BASE-T:
• UTP CAT 3, 4, 5/5e (100m max.)
• EIA/TIA-586 100-ohm STP (100m max.)
100BASE-TX, 1000BASE-T:
• UTP CAT 5/5e (100m max.)
• EIA/TIA-568 100-ohm STP (100m max.)
LED indicators
• Per port: Link/Activity/Speed/PoE Status
• Per device: Power/PoE Max
MAC address table
• 4K entries per device
MAC address learning
• Automatic update
Packet filtering/forwarding rates
• Ethernet: 14,880pps per port
• Fast Ethernet: 148,800pps per port
• Gigabit Ethernet: 1,488,000pps per port
RAM buffer
• 192Kbytes per device
Order info
DGS-1008P/B1 8-Port Gigabit Ethernet PoE Switch