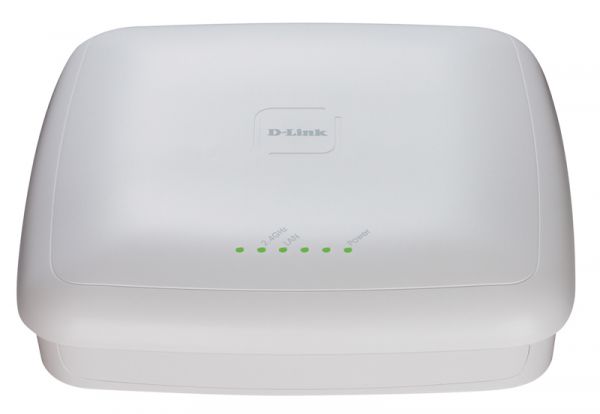 Description
The DWL-3600AP Unified 802.11n Access Point is an indoor 802.11n Wi-Fi access point designed specifically for deployment in business environments. Highly manageable and capable of high data transmission speeds, the DWL-3600AP integrates seamlessly into existing network infrastructure and can be easily scaled up to meet future demands.
High Performance
The DWL-3600AP's 2x2 MIMO 2.4GHz radio delivers up to 300 Mbps*of network throughput. In addition, the DWL-3600AP features RadioProtect technology, which ensures all users receive an adequate level of service even in an environment where many users are accessing the network through legacy 802.11b and 802.11g devices.
Self-Configuring Cluster
For small businesses that need to deploy multiple access points (APs) but lack the resources to tackle the complicated task of network management, the DWL-3600AP's self-configuring cluster feature offers the ideal solution. When a small number of DWL-3600APs is deployed on the network, they may be configured to form a self-configuring cluster. Once the administrator is through with configuring one access point, the same configuration can then be applied to all remaining APs. Up to 16 APs may be used to form a cluster.
Unified Management
When deployed in conjunction with D-Link's line of Unified Wireless Switches, up to 256 DWL-3600AP units may be centrally managed and provisioned, thus enabling the administrator to expand the Wi-Fi network to cover a large area.
Security
The DWL-3600AP supports the latest standards in Wi-Fi security, including WPA, WPA2, and 802.1X. In addition, the DWL-3600AP supports up to 16 virtual access points (VAP), which allows the administrator to assign different access privileges to different groups of users. When used together with D-Link's line of Unified Wireless Switches, security can be raised to a new level. Rogue APs in the network may be easily detected, and the administrator will be immediately notified of any security threat.
Automatic RF Management
When a number of access points are deployed close to each other, interference may result if proper RF management is not implemented. When a DWL-3600AP senses a neighbor nearby, it will automatically select a non-interfering channel. This greatly reduces RF interference and will allow the administrator to deploy APs more densely. To further minimize
interference, when a nearby AP is operating on the same channel, the DWL-3600AP will automatically lower its transmission power. When, for whatever reason, the nearby AP is no longer present, the DWL-3600AP will increase its transmit power to expand coverage.
Quality of Service
The DWL-3600AP is WMM-certified, so in the event of network congestion, time-sensitive traffic can be given priority ahead of the rest of traffic. Furthermore, when a number of DWL-3600APs are in close proximity with each other, an access point will refuse new association requests once its resources are fully utilized. Instead, the association request will be picked up by a neighboring unit. This feature ensures that no single AP is overburdened while others nearby sit idle.
General features
Power
• Power Adapter: 5V/2.5A
• Power over Ethernet: 48V DC +/-10%
Enclosure Type
• PC or plenum-rated chassis
Enclosure Size
• 203 x 203 x 48mm
Weight
• Standard chassis: 550g
• Plenum-rated chassis: 635g
Operation Temperature
• 0 to 40°C
Operation Humidity
• 10% to 90% non-condensing
Safety
• cUL, LVD (EN60950-1), UL2043 (for plenum-rated sku only)
Compliance
• EMI/EMC/RF: EN60601-1-2, FCC Class B, CE Class B, C-tick, IC, VCCI, NCC, TELEC, Wi-Fi Certified
Order info
DWL-3600AP Unified N Access Point