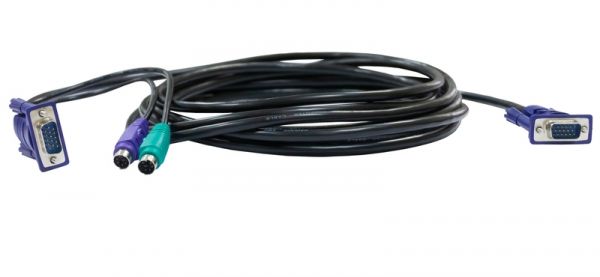 DKVM-CB5
5 m KVM Cable with VGA and PS/2 for DKVM-4K/B
Where to buy
Description
The DKVM-CB5 5 m KVM cable is designed for connecting PC to the D-Link DKVM-4K/B KVM switch. The cable is equipped with 6-pin mini-DIN connectors for connecting to PS/2 keyboard and mouse ports on the PC and 15-pin HDB connectors for connecting to VGA port on the PC and on the KVM switch.
The DKVM-CB5 combines several cables in one assembly, thus allowing you to save space on your table. Each connector has its own colour code (PC99), ensuring correct connection.
General features
Length
• 5 m
Keyboard
• One 6-pin mini-DIN connector (purple) (PS/2)
Mouse
• One 6-pin mini-DIN connector (green) (PS/2)
Video
• Two 15-pin HDB connectors (blue) (VGA)
Advanced features
• Several cables in one assembly
• Connector colour coding
Compatible KVM switch*
• DKVM-4K/B
*NOTE! The DKVM-CB5 KVM cable of hardware revision B is compatible only with the DKVM-4K KVM switch of hardware revision B.
Order info
DKVM-CB5  5 m KVM Cable with VGA and PS/2 for DKVM-4K/B