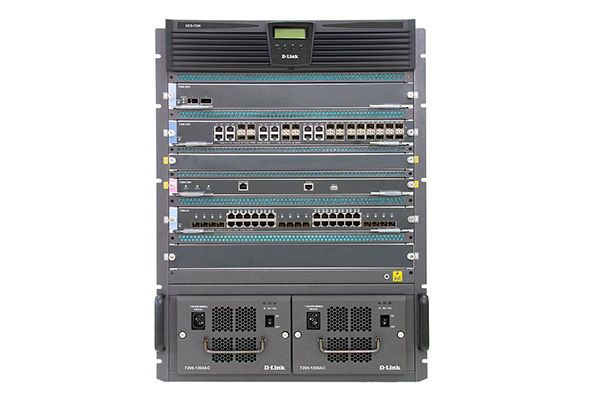 DES-7206-Base
EOL EOS
6 slots chassis base with Fan module without Power supply
Where to buy
Description
D-Link's DES-7200 series of chassis-based switches are intelligent and high-performance multi-layer LAN devices designed for enterprise campus and metropolitan area networks (MAN). They are ideal for deployment in environments where uninterrupted running of network applications and a high level of performance, security and control are required.
Featuring a fexible modular architecture and industry standard compliance, these switches provide scalable expansion and a high level of investment protection for businesses and telecom carriers to deploy Gigabit and 10-Gigabit packet switching and routing for offce networking and Ethernet-based Internet services to the homes.

The DES-7200 series switches feature minimum or zero network downtime, robust security and real-time running of bandwidth-intensive applications. Equipped with high-speed switch fabrics, redundant backup/load sharing capability and advanced software functions including complete IPv6 support, these switches provide the performance, high availability and future-proof architecture suitable for applications of not just today but well into the future.
Two DES-7200 series offers end-to-end connectivity and granular application control with two chasses supporting a wide range of port modules:

Flexible Modular Design
The DES-7200 series is available in two models: the DES-7206 6-slot chassis with 4 open slots, and the DES-7210 10-slot chassis with 8 open slots. The open slots can be ftted with user-selectable port modules. In addition to the open slots, 2 slots are reserved for redundant backup control modules, 2 slots for redundant backup power supplies, and slots for replaceable fan modules. This modular architecture allows modules to be gradually added to meet network rowth, and modules to be easily swapped anytime to ft network requirement change.

Deployable as Core or Distribution Switch
Using a common set of modules for 10/100/1000BASE-T ports, PoE support, SFP and 10-Gigabit uplinks, IT personnel can ft a DES-7200 switch with different port types and deploy it either as a core switch or an aggregation (i.e. distribution) switch. A DES-7200 core switch provides numerous high-speed fber backbones for a campus and central offce network, while a DES-7200 aggregation switch can provide high port density connections to workstations in an offce environment, or to subscribers' CPE in a densely populated Ethernet metro area network.

High Availability
Both the DES-7206 and the DES-7210 provides 2 slots for installation of control modules. Each control module is equipped with its own switch fabric hardware and management agent, and can be used for redundant backup and sharing of network traffc load and management tasks. Adding to this feature are 2 redundant backup power supplies and hot swappable fan module to create very highly available chassis-based devices suitable for mission-critical network applications.

High Performance
The DES-7206 6-slot switch provides a backplane capacity of 0.8Tbps, a switch capacity of up to 192Gbps and a system performance of up to 142Mpps. The DES-7210 10-slot switch provides a backplane capacity of 1.6Tbps, a switch capacity of up to 384Gbps and system performance of up to 286Mpps. To make use of this high-performance hardware, these switches utilize a distribution switching method which has each line card (the port module that directly connects to the network nodes) intelligently determine the switch path for each data packet. The switches synchronize the switching and routing information between the control cards and the line cards to map out the fastest data transfer path. With each line card capable of performing L2/3/4 on-board packet switching without relying on the control cards, the DES-7200 switches can deliver very fast packet forwarding at almost zero-wait speed.

High Port Densities
Port densities can reach 192 Gigabit or 16 10-Gigabit ports per 6-slot chassis, or 384 Gigabit or 32 10-Gigabit ports per 10-slot chassis. All port modules are hot-swappable, and can be used for in either chassis type without the need to change any hardware or software settings.

Application Convergence
The DES-7200 combines high-speed hardware with software functions like prioritized traffc QoS and multicast routing to deliver the performance suitable for real-time applications such as Internet phone, streaming multimedia and TV. In addition, these switches offer Power over Ethernet (PoE) solutions to provide both electrical power and network connectivity to PoE-capable devices, such as IP phones and wireless AP, and are ideal for large-scale enterprise edge deployment. An example of this application convergence would be VoIP for mobile users via wireless access points connected through
the DES-7200 switches.

Complete IPv6 Support
The DES-7200 provides complete support for IPv6 to accommodate the potential huge increase in number of users and geographical needs of the Internet expansion. It addresses the requirements of emerging applications such as Internet-enabled wireless devices, home and industrial appliances, Internet-connected transportations, integrated telephony services, sensors networks, and distributed computing or gaming. The use of globally unique IPv6 addresses simplifes the mechanisms used for reach-ability and end-to-end security for network devices, functionality that is crucial to the applications and services that are driving the demand for IP addresses.

Enterprise-Wide Security
The DES-7200 provides not only network access security but also protection against virus and worm attacks. Access security is provided through comprehensive policy-based ACL, port security, IP-MAC-Port binding features and Defeat IP Scan, while attacks hidden behind control protocols are thwarted to prevent the switch's CPU from being overwhelmed with unnecessary tasks which can cause degradation to a network's performance. The DES-7200 extends security to network management via such functions as SSH v2 and SNMP v3 with authentication and encryption of management traffc.

MPLS Functions
With the use of Advanced Service Engine (ASE), the DES-7200 supports many advanced Multi-protocol Label Switching (MPLS) functions, including MPLS label management, LDP, MPLS L2/L3 VPN and VPLS, enabling enterprises and service providers to build next-generation intelligent networks that deliver a wide variety of advanced, value-added services over a single infrastructure. This solution can be integrated seamlessly over any existing infrastructure, such as IP, Frame Relay, ATM, or Ethernet. Subscribers with differing access links can be aggregated on an MPLS edge without changing their current environments, as MPLS is independent of access technologies.

NAT Traversal and Accounting
The DES-7200 provides Layer 3 IP packet routing with Network Address Translation (NAT) useful for enterprise networks as well as Internet providers offering Ethernet metro area network services. With dynamic IP address generation for users in a campus LAN and subscriber CPEs in a carrier network, the DES-7200 can be deployed for end-to-end services without incurring the cost of attaching external routers to packet switching devices. In addition, the DES-7200 provides 802.1X access control with period accounting, multiple accounting and statistics, bandwidth restriction and RADIUS server support,
enabling carriers to implement complete Ethernet-based Internet services to home customers.

QoS & Bandwidth Management
The DES-7200 supports numerous advanced traffc management options including fow-based bandwidth control and broadcast/multicast storm control. It provides egress traffc bandwidth control with minimum granularity of 64Kbits. Combining Rate Limiting applicable to categories of subscriber CPE and access control-based accounting, the DES-7200 provides the functions useful for carriers offering services to home users in a metropolitan Ethernet network.

Comprehensive Management
To maximize management uptime, the DES-7200 provides optional dual redundant backup management agents in the same chassis. It offers a comprehensive set of management features to provide enterprise-wide visibility and control to network administrators for confguration, access/traffc monitoring and troubleshooting. These features are accessible through a CLI, Telnet or SNMP console. RMON monitoring is supported, and complete debug, system information, alert information and interface management are provided.
General features
Hardware
- 6 Chassis Slots
- 2 Fixed Slots (for Control Modules)
- 4 Open Slots (for Port Modules)
- BackPlane: 0.8 Tbps
- Max. Switch Capacity*: 192 Gbps
- Max. Packet Forwarding Rate *: 142 Mpps
- Packet Buffer: 2MB

* Note: Figures are based on the usage of 2 control modules.

Maximum Port Density
- 192 10/100/1000BASE-T Ports
- 192 10/100/1000BASE-T Ports with PoE
- 96 SFP Slots
- 16 10-Gigabit Ethernet XFP Slots

L2 Features
+ MAC Address Table
DES-7206: up to 64K
DES-7210: up to 128K
+ ARP
Static ARP
Confgurable ARP aging time
+ Jumbo Frame up to 9,216 Bytes
+ IGMP snooping
1K Groups
+ Spanning Tree
802.1D STP
802.1w RSTP
802.1s MSTP
+ Rapid Ether Ring Protection (RERP)
Support up to 16 domains
Recovering L2 traffc in 500ms
+ Rapid Link Detection Protocol (RLDP)
+ 802.3ad Link Aggregation
128 Trunk Groups, 8 Ports Per Group
+ Port Mirroring:
One-to-One
Multi-to-One
Tx/Rx/Both port mirroring
+ Head of Line Blocking Prevention

VLAN
+ 802.1Q Tagged VLAN
+ 802.1v
+ VLAN Group: 4K
+ Confgurable VLAN ID: 1-4094
+ Port-Based VLAN
+ Super VLAN
+ Private VLAN
+ Double VLAN (Q-in-Q)
Port-Based Q-in-Q
Selective Q-in-Q

L3 Features
+ Max 2K IP interface
+ Secondary IP
+ VRRP
+ IPv6 Tunneling
Manual Tunnel
ISATAP
6to4
+ IPv6 Ready Phase 2

L3 Routing
+ Floating Static Routes: 1000
+ Static Routes: Max. 1000
+ Policy Based Route
+ Multi Path Route:
ECMP /WCMP
+ RIP v1/v2
+ RIPng (IPv6)
+ OSPF
OSPF v2
OSPF v3 (IPv6)
Stub/NSSA Area
+ BGP+ v4 (IPv6)

L3 Multicasting
+ PIM-DM
+ PIM-DM v6 *
+ PIM-SM
+ PIM-SM v6*
+ PIM-SSM
+ PIM-SSM v6*
+ IGMP v1/v2/v3

QoS (Quality of Service)
+ 802.1p Class of Service (CoS)
+ 8 queues
+ Queue Handling:
Strict
Weighted Round Robin (WRR)
ST+WRR
+ CoS Based on:
VLAN ID
802.1p Priority
MAC Address
IP Address or IP Prefx
DSCP/IP Precedence
IP Protocol Type
TCP/UDP Port
Combination of above
+ Support Following Actions for Flows
Remark 802.1p Priority Tag
Remark ToS/DSCP Priority Tag
Rate Limiting
Congestion Control
Flow Statistic
+ Bandwidth Control
For Egress traffc, min. granularity 64Kbps)
For Ingress traffc, min. granularity 64Kbps)
+ Time Based QoS

MPLS (ASE required)
+ MPLS
+ MPLS Label Management
+ LDP
+ MPLS L3 VPN (MPLS / BGP VPN)
+ MPLS L2 VPN
+ VPLS*

NAT (ASE required)

ACL (Access Control List)
+ Up to 2K Rules per line card
+ ACL Based on
802.1p Priority
VLAN ID
MAC Address
IP Address or IP Prefx
DSCP/IP Precedence
IP Protocol Type
TCP/UDP Port Number
Combination of the above
+ Time-based ACL

Security
+ CPU Protection Policy (CPP)
+ SSH
+ Port Security up to 16 MAC address per port
+ Global MAC-IP Binding
+ Defeat IP Scan
+ IP-MAC-Port Binding

AAA
+ 802.1X
Port-Based Access Control
MAC-Based Access Control
Dynamic VLAN Assignment
+ Accounting
Period Accounting
Multiple Accounting
+ RADIUS

Management
+ Command Line Interface (CLI)
+ Telnet Server
+ TFTP
+ XModem
+ SNMP v1/v2c/v3
+ SNMP Trap
+ System Log
+ RMON v1
Support 1,2,3,9 Groups
+ DNS Client
+ Debug
+ NTP/SNTP
+ File System
Flash storage media
Multiple Firmware
Multiple Confguration
+ System Status LED
+ System Alert

MIB/IETF Standard
+ RFC1213 MIB-II
+ RFC1493 Bridge MIB
+ RFC1901, 1907 SNMPv2 MIB
+ RFC1157, 2571~2576 SNMP MIB
+ RFC1271, 2819 RMON MIB
+ RFC3569 PIM-SSM MIB
+ D-Link Private MIB
+ RFC2362 PIM-SM
+ RFC2338, 2787 VRRP
+ RFC1075 DVMRP
+ RFC2474~2475 DiffServ
+ RFC2674 802.1P
+ RFC2138~2139, 2865~2866 RADIUS
+ RFC1370, 1587, 1765, 2328, 2370 OSPF
+ RFC1771, 1997, 2439, 2796, 2842, 2918 BGP
+ RFC1542, 2131, 3046 DHCP
+ RFC3069 Super VLAN
+ RFC3411~3417 SNMP
+ RFC768 UDP
+ RFC791 IP
+ RFC793 TCP
+ RFC854 Telnet
+ RFC1305 NTP
+ RFC1350 TFTP
+ RFC1769 SNTP

* Function available in future frmware upgrade
Order info
Chassis Kits
DES-7206-Base 6 slots chassis base with Fan module without Power supply

LAN Interface Modules
7200-24 12 ports 10/100/1000M and 12 ports combo 10/100/1000M / SFP module
7200-24G 12 ports SFP and 12 ports combo 10/100/1000M / SFP module
7200-48 48 ports 10/100/1000M module and 4 ports combo10/100/1000M / SFP module
7200-2XG 2 ports XFP module
7200-4XG 4 ports XFP module
7200-24P 12 ports 10/100/1000M and 12 ports combo 10/100/1000M / SFP module with PoE function
7200-48P * 48 ports 10/100/1000M module and 4 ports combo10/100/1000M / SFP module with PoE function

Power Supplies
7200-1200AC 1200W redundant AC power supply
7200-1200DC 1200W redundant DC power supply
7200-2000AC 2000W redundant AC power supply
7200-2000DC 2000W redundant DC power supply

CPU Engines
7200-CM1 CPU module for DES-7206 chassis, 96G switching capacity
7200-CM2 CPU module for DES-7210 chassis, 192G switching capacity
7200-CM3 * CPU module for DES-7206 chassis, 96G switching capacity, support

Advanced Service Engine(ASE)
7200-CM4 * CPU module for DES-7210 chassis, 192G switching capacity, support Advanced Service Engine(ASE)

Advanced Service Engine
7200-ASE1 * Advanced Service Engine I for NAT support
7200-ASE2 * Advanced Service Engine II for IPFIX support
7200-ASE3 * Advanced Service Engine III for MPLS support
7200-ASE4 * Advanced Service Engine IV with larger H/W table size

Optional Management Software
DS-510S D-View 5.1 SNMP Network Management Program (standard version)
DS-510P D-View 5.1 SNMP Network Management Program (professional version)

Optional 10-Gigabit XFP Transceivers
DEM-421XT XFP transceiver, 10GBASE-SR standard, multi-mode fber, max. distance 300 m, 3.3/5V
DEM-422XT XFP transceiver, 10GBASE-LR standard, single-mode fber, max. distance 10 km, 3.3/5V
DEM-423XT XFP transceiver, 10GBASE-ER standard, single-mode fber, max. distance 40 km, 3.3/5V

Optional SFP Transceivers
DEM-310GT SFP transceiver, 1000BASE-LX standard, single-mode fber, max. distance 10 km, 3.3V
DEM-311GT SFP transceiver, 1000BASE-SX standard, multi-mode fber, max. distance 550m, 3.3V
DEM-312GT2 SFP transceiver 1000BASE-SX standard, multi-mode fber, max. distance 2km, 3.3V
DEM-314GT SFP transceiver, 1000BASE-LX standard, single-mode fber, max. distance 50km, 3.3V
DEM-315GT SFP transceiver, 1000BASE-LX standard, single-mode fber, max. distance 80km, 3.3V
DEM-330T WDM SFP transceiver, 1000BASE-LX standard, single-mode fber, max. distance 10 km, 3.3V, Tx wavelength 1550 nm, Rx wavelength 1310 nm
DEM-330R WDM SFP transceiver, 1000BASE-LX standard, single-mode fber, max. distance 10 km, 3.3V, Tx wavelength 1310 nm, Rx wavelength 1550 nm
DEM-331T WDM SFP transceiver, 1000BASE-LX standard, single-mode fber, max. distance 40 km, 3.3V, Tx wavelength 1550 nm, Rx wavelength 1310 nm
DEM-331R WDM SFP transceiver 1000BASE-LX standard, single-mode fber, max. distance 40 km, 3.3V, Tx wavelength 1310 nm, Rx wavelength 1550 nm

* Note: Available in future