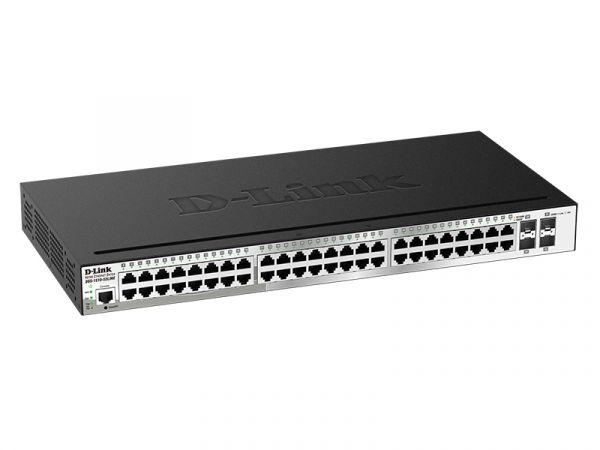 DGS-1510-52L/ME
EOL EOS
48 10/100/1000 Mbps ports + 4 SFP ports Metro Ethernet Switch
Where to buy
Description
The DGS-1510/ME Series Metro Ethernet Switches are a family of Ethernet switches ideal for Metro Ethernet applications. They feature a variety of ports, including 10/100/1000BASE-T RJ-45 ports, 1G SFP ports, and 10G SFP+ ports for increased network bandwidth. Surge protection, advanced Layer 2 functions and a suite of security and management tools make the DGS-1510/ME Series Metro Ethernet Switches ideally suited for Metro Ethernet applications.
Multi-Gigabit Performance
The DGS-1510/ME Series Metro Ethernet Switches come with a variety of port types, including Gigabit Ethernet RJ-45, 1 Gigabit Ethernet SFP ports, or 10 Gigabit Ethernet SFP+ ports. All models offer a minimum of at least 2 Gigabit Ethernet SFP ports. The DGS-1510-28X/ME, DGS-1510-28XS/ME and DGS-1510-52/ME offer 4 10 Gigabit Ethernet SFP+ ports for improved uplink bandwidth. The DGS-1510-28LP/ME and DGS-1510-28XMP/ME switches feature PoE, allowing compatible devices to be installed in remote locations without immediate access to power outlets.
Efficient and Resilient Networking
All Ethernet ports in the DGS-1510/ME Series support 6 kV surge protection, protecting the switch from power surges due to lightning strikes or faulty electrical cabling. The switches can be used with a D-Link DPS-500A/DPS-500DC Redundant Power Supply (RPS) or a 12 VDC backup connection to ensure continuous operation. The DGS-1510/ME Series support ITU-T G.8032 Ethernet Ring Protection Switching (ERPS), which allows 50 millisecond failover in the event of a failure of one of the rings, minimizing service disruption. The switches also support IEEE 802.1AX and 802.3ad Link Aggregation, which allows grouping of multiple ports to provide redundancy and load balancing in mission-critical environments.
Triple Play Services
The DGS-1510/ME Series Metro Ethernet Switches feature a full suite of Layer 2 multicast functions, including IGMP snooping, IGMP filtering, fast leave, and multicast traffic configuration for specific ports. With L2 multicast support, the DGS-1510/ME Series is ready and capable of handling the growing demand for IPTV applications. Host-based IGMP/MLD Snooping allows for multiple multicast subscribers per physical interface, and an Internet Standard Multicast (ISM) VLAN separates multicast streams in a multicast VLAN, saving bandwidth on the backbone network. The ISM VLAN profiles allow users to bind the predefined multicast registration information to subscriber ports quickly and easily. The DGS-1510/ME Series also supports IGMP authentication, which can prevent rogue IPTV subscriptions by authenticating set-top boxes as well as channel switching to secure Internet Service Provider (ISP) revenues.
Quality of Service
The DGS-1510/ME Series supports advanced Quality of Service (QoS) functions to help ISPs reliably deliver high-quality triple play services. Flexible packet classification can be based on various header fields or user-defined packet content to help administrators prioritize network traffic. The Bandwidth Control feature allows ISPs to define the upstream/downstream throughput levels for each port with granularity down to 64 Kbps.
Robust Maintenance and Troubleshooting
The DGS-1510/ME Series feature a complete set of Operations, Administration, and Management (OAM) features to reduce maintenance costs and simplify management. Cable diagnostics display the status of Ethernet cables and allow support staff to detect cable errors remotely, reducing on-site support costs. The 802.3ah Ethernet Link OAM and 802.1ag Connectivity Fault Management (CFM) standards provide administrators with tools to effectively monitor and manage Ethernet networks. This allows service providers to monitor customer connectivity, isolate network issues and optimize network performance.
Security & Authentication
The DGS-1510/ME Series offer user and device authentication features such as 802.1X port-based access control and MAC address-based access control. This allows devices to be authenticated based on their MAC address, removing the need for client software and ensuring device compatibility. Host-based authentication and authorization provide the option to finely control network access for each device on the network. Advanced features such as RADIUS accounting allow the switches to be integrated with back-end systems for billing or advanced access control. The DGS-1510/ME Series support address and interface binding features such as IP-MAC-Port Binding and ARP Spoofing Prevention to protect against Man-in-the-Middle or ARP Spoofing attacks.
General features
Hardware Version
• A1
Interface
Size
• 19-inch standard rack-mount width
• 1U height
Interface
• 48 10/100/1000 Mbps + 2 SFP
Console Port
• RJ-45 Console Port
Port Standards & Functions
• IEEE 802.3 10BASE-T Ethernet
• IEEE 802.3u 100BASE-TX Fast Ethernet
• IEEE 802.3ab 1000BASE-T Gigabit Ethernet
• IEEE 802.3x Flow Control for full-duplex mode, auto-negotiation
Network Cables
• UTP Cat. 5, Cat. 5e (100 m max.); EIA/TIA-568 100-ohm STP (100 m max.)
Full/Half-Duplex
• Full/half-duplex for 10/100 Mbps and Gigabit speed
Media Interface Exchange
• Auto or configurable MDI / MDIX
Performance
• Switching Capacity: 104 Gbps
• Forwarding Method: Store-and-forward
• MAC Address Table Size: Up to 16K entries per device
• MAC Address Update: Up to 512 static MAC entries
• Maximum 64-byte Max. Packet Forwarding Rate: 104.16 Mpps
• Packet Buffer: 3.0 MB per device
LEDs
• Power (per device)
• Redundant Power Supply (RPS) (per device)
• Console (per device)
• Link/Active/Speed (per port)
• Fan Error
Software Specifications
Virtual Stacking
• D-Link Single IP Management
- Up to 32 units per Virtual Stack
L2 Features
• MAC Address Table: Up to 16K
• Flow Control
- 802.3x Flow Control
- HOL Blocking Prevention
• Jumbo Frames up to 9216 Bytes
• Spanning Tree Protocols
- 802.1D STP
- 802.1w RSTP
- 802.1s MSTP
• BPDU Filtering
• Root Restriction
• Loopback Detection
• Link Aggregation
- Compliant with 802.1AX and 802.3ad
• Port Mirroring
- Supports 1 Mirroring group
- Supports One-to-One, Many-to-One, Flow-based (ACL)
Mirroring
• Ethernet Ring Protection Switching (ERPS)
• L2 Protocol Tunneling (L2PT)
L2 Multicasting
• IGMP Snooping
- IGMP v1/v2 Snooping, v3 awareness
- Supports 1024 groups
- Port/Host-based IGMP Snooping Fast Leave
- Report Suppression
- IGMP Authentication
- Limited IP Multicast (IGMP Filtering)
• MLD Snooping
- MLD v1, MLD v2 awareness
- Supports 1024 groups
- Port/Host-based MLD snooping Fast Leave
VLAN
• VLAN Group
- Max. 4094 VLAN
• Port-based VLAN
• MAC-based VLAN
• GVRP
- Max. 255 dynamic VLANs
• 802.1v Protocol VLAN
• 802.1Q Tagged VLAN
• Double VLAN (Q-in-Q)
- Port-based Q-in-Q
• ISM VLAN
• VLAN Translation
• VLAN Trunking
L3 Features
• Max. 1024 ARP entries
- Supports 255 static ARP entries
• Gratuitous ARP
• IPv6 Neighbor Discovery (ND)
• 16 IP interfaces
• Default Route
• Static Route1
- 64 IPv4 static routes1
- 32 IPv6 static routes1
Quality of Service (QoS)
• CoS based on
- Switch Port
- 802.1p Priority
- VLAN ID
- MAC Address
- Ether Type
- IPv4/IPv6 address
- DSCP
- ToS
- Protocol Type
- TCP/UDP Port
- IPv6 Traffic Class
- IPv6 Flow Label
- User Defined Packet Content
• Bandwidth Control
- Port-based (Ingress, Min. Granularity 64 Kbps)
- Flow-based (Ingress, Min. Granularity 64 Kbps)
- Egress queue bandwidth control (Min. Granularity 64 Kbps)
• Queue Handling
- Strict Priority Queue (SPQ)
- Weighted Round Robin (WRR)
- SPQ + WRR
• 8 queues per port
Access Control List (ACL)
• ACL based on
- Switch Port
- 802.1p Priority
- VLAN ID
- MAC Address
- Ether Type
- IPv4/IPv6 Address
- IPv6 Traffic Class
- IPv6 Flow Label
- DSCP
- ToS
- Protocol Type
- TCP/UDP Port
- User-defined Packet Content
• Up to 1024 ingress access rules
• Time-based ACL
• ACL Statistics
• CPU Interface Filtering
AAA
• 802.1X
- Port-based Access Control
- Host-based Access Control
- Dynamic VLAN Assignment
• MAC-based Access Control (MAC)
- Port-based Access Control
- Host-based Access Control
- Dynamic VLAN Assignment
• Microsoft® NAP (IPv4)
• Guest VLAN
• RADIUS (IPv4)
• TACACS (IPv4)
• TACACS+ (IPv4)
• XTACACS+ (IPv4)
• Trusted Host
• RADIUS Accounting
• Four-level User Account
Security
• SSH v1/v2
• SSL v1/v2/v3
• Port Security
- Up to 64 MAC addresses per port
• Broadcast/Multicast/Unicast Storm Control
• IP-MAC-Port Binding (IMPB)
- ARP Inspection
- IP Inspection
- DHCP Snooping
- DHCPv6 Snooping1
- DHCPv6 Guard1
- IPv6 Route Advertisement (RA) Guard1
- IPv6 ND Snooping1
- IPv6 ND Inspection1
• Traffic Segmentation
• D-Link Safeguard Engine
• L3 Control Packet Filtering
• NetBIOS/NetBEUI Filtering
• DHCP Server Screening
• DHCP Client Filtering
• ARP Spoofing Prevention
• BPDU Attack Protection
• DoS Attack Prevention
OAM
• Cable Diagnostics
• 802.3ah Ethernet Link OAM
• Dying Gasp
• 802.1ag Connectivity Fault Management (CFM)
Management
• Web-based GUI (Supports IPv4/v6)
• Command Line Interface (CLI)
• Telnet Server/Client (Supports IPv4)
• TFTP/FTP Client (Supports IPv4)
• ZModem
• Command Logging
• SNMP v1/v2c/v3 (Supports IPv4)
• SNMP Traps
• System Log
• SMTP (IPv4)
• RMON v1:
- Supports 1,2,3,9 groups
• RMON v2:
- Supports Probe Config group
• 802.1AB LLDP
- LLDP-MED
• BootP/DHCP Client (Supports IPv4)
• DHCP Auto-Configuration1
• DHCP Relay (Supports IPv4)
- DHCP Relay Option 60, 61 and 82
- DHCP Client Option 12
• PPPoE Circuit-ID Tag Insertion1
• Multiple Image
• Flash File System
• CPU Monitoring
• Memory Monitoring
• SNTP (Supports IPv4)
• Debug Command
• Password Recovery
• Password Encryption
• Ping
• Traceroute
• Microsoft® NLB (Network Load Balancing) Support (Supports IPv4)
• Zero Touch Provisioning (ZTP)1
• sFlow1
• D-Link Network Assistant1
Physical/Environmental
MTBF
• 501,290 hours
Acoustic
• 47 dB(A)
Heat Dissipation
• 132.99 BTU/h
Power Input
• AC Input: 100 to 240 VAC 50/60 Hz
Maximum Power Consumption
• 39 W
Standby Power Consumption
• 22.7 W/100 V
• 22.8 W/240 V
Dimensions (W x D x H)
• 440 x 210 x 44mm
Weight
• 2.40 kg
Ventilation
• 2 x Smart Fan
Power Surge Protection
• All Ethernet ports support IEC61000-4-5 6 kV surge protection
Operating Temperature
• -5 to 50 ˚C (23 to 122 ˚F)
Storage Temperature
• -20 to 70˚C (-4 to 158 ˚F)
Operating Humidity
• 0% to 95% non-condensing
Storage Humidity
• 0% to 95% non-condensing
EMI
• CE, FCC, C-Tick, VCCI, BSMI
Safety Certifications
• cUL, CB
1Feature available in a future software
Order info
DGS-1510-52L/ME 48 10/100/1000 Mbps ports + 4 SFP ports Metro Ethernet Switch
Redundant Power Supply and Cable
DPS-500A 140 W Redundant Power Supply (Alternating Current)
DPS-500DC 140 W Redundant Power Supply (Direct Current)
DPS-CB150-2PS v.B1 150 cm RPS cable for connecting the DGS-1510/ME Series with the DPS-500A and DPS-500DC
Optional SFP Transceivers
DEM-310GT 1000BASE-LX, single-mode, 10 km
DEM-311GT 1000BASE-SX, multi-mode, 550 m
DEM-312GT2 1000BASE-SX, multi-mode, 2 km
DEM-314GT 1000BASE-LHX, single-mode, 50 km
DEM-315GT 1000BASE-ZX, single-mode, 80 km
DGS-712 1000BASE-T to SFP transceiver
Optional WDM SFP Transceivers
DEM-331T 1000BASE-LX, wavelength Tx: 1550 nm, Rx: 1310 nm, single-mode, 40 km
DEM-331R 1000BASE-LX, wavelength Tx: 1310 nm, Rx: 1550 nm, single-mode, 40 km
DEM-330T 1000BASE-LX, wavelength Tx 1550 nm, Rx 1310 nm, single-mode, 10 km
DEM-330R 1000BASE-LX, wavelength Tx 1310 nm, Rx 1550 nm, single-mode, 10 km
DEM-302S-BXD 1000BASE-LX, wavelength Tx:1550 nm Rx:1310 nm, Single-mode, 2 km
DEM-302S-BXU 1000BASE-LX, wavelength Tx:1310 nm Rx:1550 nm, Single-mode, 2 km
Optional SFP+ Transceivers
DEM-431XT 10GBASE-SR SFP+ Transceiver (without DDM), 33 m: OM1 MMF, 82 m: OM2 MMF, 300 m: OM3 MMF
DEM-431XT-DD 10GBASE-SR SFP+ Transceiver (with DDM), 33 m: OM1 MMF, 82 m: OM2 MMF, 300 m: OM3 MMF
DEM-432XT 10GBASE-LR SFP+ Transceiver (without DDM), 10 km
DEM-432XT-DD 10GBASE-LR SFP+ Transceiver (with DDM), 10 km
DEM-433XT 10GBASE-ER SFP+ Transceiver (without DDM), 40 km
DEM-433XT-DD 10GBASE-ER SFP+ Transceiver (with DDM), 40 km
DEM-434XT 10GBASE-ZR SFP+ Transceiver (without DDM), 80 km
DEM-436XT-BXD 10GBASE-LR BiDi SFP+ Transceiver (without DDM), Wavelength Tx 1330 nm, Rx: 1270 nm, 20 km
DEM-436XT-BXU 10GBASE-LR BiDi SFP+ Transceiver (without DDM), Wavelength Tx 1270 nm, Rx: 1330 nm, 20 km