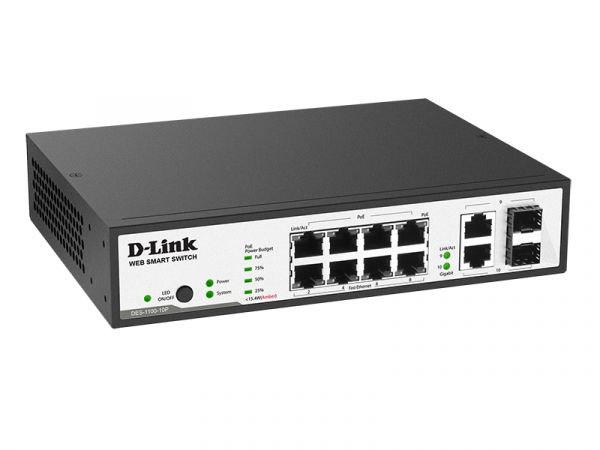 DES-1100-10P
EOL EOS
8-Port 10/100Mbps and 2 combo 10/100/1000BASE-T/SFP ports Web Smart switch with 8 PoE ports
Where to buy
Description
The DES-1100-10P Web Smart Switch is equipped with 8 10/100BASE-T ports, 2 combo 10/100/1000BASE-T/SFP ports and 8 IEEE 802.3af/at PoE ports. The DES-1100-10P integrates advanced management and security functions to provide a complete solution for small and medium businesses and the enterprise edge.
Power over Ethernet
The DES-1100-10P features 8 10/100BASE-T ports that support the IEEE 802.3at Power over Ethernet (PoE) standard. Each of the 8 PoE ports can supply up to 30 Watts, with a total PoE budget of 90 Watts, allowing users to attach an 802.3at-compatible device to the DES-1100-10P without an external power source. PoE is especially suitable for devices that are far from power outlets or when you want to minimize the clutter of extra cables. When a device is not PoE-compatible, the D-Link DWL-P50 PoE Adapter can be used to provide an external power source using standard network cabling.
Extensive Layer 2 Features
Equipped with a complete lineup of Layer 2 features, these switches include IGMP Snooping, Port Mirroring, Spanning Tree, and Link Aggregation Control Protocol (LACP). IEEE 802.3x Flow Control helps to prevent dropped packets by signalling to clients when the switch's input buffer is full. Network maintenance features include Loopback Detection and Cable Diagnostics. Loopback Detection is used to detect loops created by a specific port and automatically shuts down the affected port.
Performance Enhancement
The DES-1100-10P supports a variety of traffic control and performance enhancement features. The bandwidth control feature allows network administrators to define the maximum throughput for each port in order to manage bandwidth. It also provides fine granularity to define the ingress/egress traffic limits down to 512 Kbps segments. IEEE 802.1p Quality of Service (QoS) allows real-time traffic classification into eight priority levels and two queues.
Traffic & Security Features
The DES-1100-10P supports both port-based VLANs and IEEE 802.1Q VLAN tagging, allowing traffic to be separated on a per-port basis or combined with multiple VLANs in an 802.1Q trunk. This allows VLAN information to be sent with the packet, so that multiple VLANs can be supported on a single port. Storm control enables broadcast, multicast, or unknown unicast traffic to be detected, allowing thresholds to be set for the switch to block or discard these packets, preventing possible problems with network flooding or service disruption.
Versatile Management
Web Smart Switches support an intuitive SmartConsole utility and a web-based management interface that enables administrators to remotely control their network down to the port level. The SmartConsole easily allows customers to discover multiple D-Link WebSmart Switches within the same Layer 2 network segment. With this utility, users do not need to change the IP address of their PC, making the initial setup of the Smart Switches quick and easy. Switches within the same Layer 2 network segment that are connected to the user's local PC are displayed on screen for instant access. This allows for device discovery and configuration of basic switch settings such as password changes.
General features
Size
• 8-inch metal case
Interface 
• 8 10/100BASE-TX
• 2 10/100/1000BASE-T
Port Standards 
• IEEE 802.3 10BASE-T Ethernet (twisted-pair copper)
• IEEE 802.3u 100BASE-TX Fast Ethernet (twisted-pair copper)
• IEEE 802.3ab 1000BASE-T Gigabit Ethernet (twisted- pair copper)
• IEEE 802.3af PoE
• IEEE 802.3at PoE
• Auto-negotiation
• IEEE 802.3x Flow Control
Performance
Switching Capacity
• 5.6 Gbps
Maximum Forwarding Rate
• 4.2 Mpps
MAC Address Table Size
• 4K Entries
Packet Buffer
• 2.75 Mbits
Flash Memory
• 2 Mbytes
Forwarding Method 
• Store and forward
LEDs
• Power (Per Device)
• Link/Active/Speed (Per Port)
• PoE Budget LED
PoE Capable Ports 
• Ports 1-8
Power Budget 
• 90 W
Software Features
Layer 2 Features 
• MAC Address Table
  • 4K entries
• Flow Control
  • 802.3x Flow Control 
  • HOL Blocking Prevention
• Port Mirroring
  • One-to-One 
  • Many-to-One
  • Supports Mirroring for Tx/Rx/Both
• Spanning Tree
  • Supports 802.1D STP 2004 edition
  • Supports 802.1w RSTP
  • Supports Root Restriction (defined in 802.1Q-2005)
• 802.3ad Link Aggregation
  • Supports 2 trunking groups:
    • 2-4 ports per trunk, port 1-4 and port 5-6
Layer 2 Multicasting 
• IGMP Snooping
  • Supports IGMP v1/2
VLAN 
• VLAN mode: tag-based or port-based*
Quality of Service (QoS) 
• 802.1p
• Max. 4 queues per port
• Queue Handling
  • Strict
  • Weighted Round Robin (WRR)
• Bandwidth control
• CoS Based on:
  • 802.1p
  • DSCP
  • ToS
  • TCP/UDP port number
Security 
• Storm Control
• MAC-Port Binding
Physical
MTBF
• 61320 hours
Acoustics
• 0 dB
Heat Dissipation
• 45.73 BTU/h
Power Input
• 54 V / 2.22 A external power adapter
Maximum Power Consumption
• 107.6 W
Weight
• 638 g
Dimensions
• 210 x 160 x 44 mm
Operating Temperature
• 0 to 50°C
Storage Temperature
• -20 to 70 °C
Operating Humidity
• 20% to 80% non-condensing
Storage Humidity
• 10% to 90% non-condensing
Certification
• CE
* Only one VLAN mode can be enabled at a time.
Order info
DES-1100-10P   8-Port 10/100Mbps and 2 combo 10/100/1000BASE-T/SFP ports Web Smart switch with 8 PoE ports