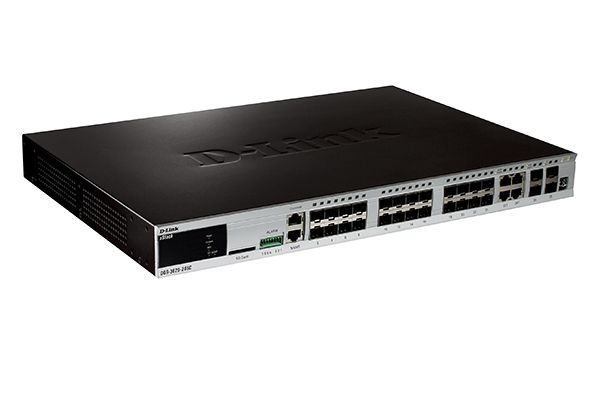 DGS-3620-28SC
EOL EOS
20 SFP and 4 Combo 10/100/1000BASE-T/SFP and 4 SFP+ with embedded EI image
Where to buy
Description
The DGS-3620 Series xStack L3 Managed Stackable Gigabit Switches deliver great performance, flexibility, security, multi-layer QoS, and accessibility, along with redundant power solutions for SMBs and enterprises. With high Gigabit port densities, Gigabit SFP and 10-Gigabit SFP+ support, and advanced software solutions, these switches can act as either departmental access layer devices or core switches to form a multilevel network structured with backbone and centralized high-speed servers. Service providers can take advantage of the high SFP density switches to structure the cores of Fiber to the Building (FTTB) networks that are extended to the subscribers' sites.
Standard and Enhanced Images
The DGS-3620 Series is embedded with two different software images, the Standard Image (SI), and the Enhanced Image (EI). The Standard Image provides fundamental features for campuses and enterprises such as switching, routing, multicasting, advanced Quality of Service (QoS), and robust security features. The Enhanced Image supports OAM, BGP, IPv6 dynamic routing, and tunneling which are all suitable for the service provider network.
Unparalleled Flexibility
Easily deployed and simple to manage, the DGS-3620 Series can be stacked with any switch that supports D-Link's Single IP Management to form a multi-level network structured with backbone and centralized high-speed servers. The virtual stack can include units located anywhere on the same network domain, and uses optional 10-Gigabit uplinks to move intra-stack traffic at 20 Gbps full duplex speeds. The stack can also eliminate single point of failures, cable distance barriers, limitations of physical stacking, and the need for stack cabling.
Redundant Ring Stacking
Alternatively, depending on whether linear or fault-tolerant ring stacking is implemented, users can use a maximum of four 10-Gigabit SFP ports to create a physical stack4. 12 units or 576 Gigabit ports can be configured for a stack using direct attach cables providing high bandwidth on the already cost-efficient DGS-3620 Series.
Security, Performance & Availability
The DGS-3620 Series provides a complete set of security features including L2/L3/L4 multi-layer Access Control Lists and 802.1X user authentication via TACACS+ and RADIUS servers. D-Link ZoneDefense technology is built-in, allowing businesses to integrate the switch stack with D-Link NetDefend firewalls to implement a complete and proactive security infrastructure.
The DGS-3620 Series offers extensive VLAN support including GVRP and 802.1Q VLAN to enhance security and performance. A robust set of L2/L3/ L4 QoS/CoS solutions help ensure that critical network services such as VoIP, ERP, Intranet, and video conferencing are served with proper priority. The DGS-3620 Series provides D-Link's Safeguard Engine to increase the switch's reliability, serviceability, and availability to prevent malicious flooding traffic caused by worms or virus infections. Bandwidth Control can be flexibly set for each port using pre-defined thresholds to assure a committed level of service for end users. For advanced applications, flow-based bandwidth control allows easy fine-tuning of service types based on specific IP addresses or protocols.
IPv6 Technology
The DGS-3620 Series also features comprehensive IPv6 support, including IPv6 Tunnel, ICMPv6, DHCPv6, RIPng, OSPFv3, IPv4/IPv6 dual stack and more. With 10-Gigabit connectivity and IPv6 support, the DGS-3620 Series enables you to future-proof your network for cost efficiency and longevity while meeting the requirements that future IPv6-capable network devices require.
D-Link Green Technology
D-Link is striving to take the lead in developing innovative and power-saving technology that does not sacrifice operational performance or functionality. The DGS-3620 Series implements D-Link Green technology, which includes a power-saving mode, smart fan feature, reduced heat dissipation, and cable length detection. The power-saving feature automatically powers down ports that have no link or link partner, and ensures that LEDs are shut off when not needed. The Smart Fan feature allows for the built-in fans to automatically turn on only at a certain temperature, providing continuous, reliable, and eco-friendly operation of the switch.
General features
Interfaces
20 SFP ports
• 4 Combo 10/100/1000BASE-T/SFP ports
• 4 SFP+ ports
Optional Redundant Power Supply
• DPS-500
Console Port
• RJ-45
Management Port
• 10/100BASE-T
Alarm Port
• 1
SD Card Slot
• 1
Performance
• Switch Fabric: 128 Gbps
• Packet Forwarding Rate: 95.24 Mbps
• Packet Buffer: 2 MB
• MAC Address Table: 32K entries
• IPv4 Routing Table: 12K entries
• IPv6 Routing Table: 6K entries
• IPv4 Forwarding Table: 8K entries
• IPv6 Forwarding Table: 4K entries
• Jumbo Frame Size: 13000 bytes
Software Features
Stackability
• Virtual stacking support
- D-Link Single IP Management
- Up to 32 devices per virtual stack
- Up to 20G stacking bandwidth
• Physical stacking
- Supports duplex chain/ring topology
- Up to 80G stacking bandwidth
- Up to 12 units per stack
L2 Features
• MAC address table: 32K
• Flow control
- 802.3x Flow control
- HOL blocking prevention
• Jumbo frames up to 13000 bytes
• IGMP snooping
- IGMP v1/v2/v3 snooping
- Supports 2K groups
- Port/host-based
- IGMP snooping fast leave
• MLD snooping
- MLD v1 snooping
- Supports 2K groups
- Host-based MLD snooping fast leave
• Spanning tree
- 802.1D-2004 STP
- 802.1w RSTP
- 802.1Q-2005 MSTP
- BPDU filtering
- Root restriction
• Loopback detection
• 802.3ad link aggregation
• Max. 32 groups per device
- 8 Gigabit ports or 2 10-Gigabit ports per group
• Port mirroring
- Supports 4 mirroring groups
- Supports one-to-one, many-to-one, flow-based, and RSPAN mirroring
• L2 protocol tunneling
• ERPS (Ethernet Ring Protection Switching)
VLAN
• VLAN group
- Max. 4K static VLAN groups
- Max. 4K dynamic VLAN groups
- 802.1Q tagged VLAN
• Surveillance VLAN
• 802.1v protocol VLAN
• GVRP
• Double VLAN (Q-in-Q)
- Port-based Q-in-Q
- Selective Q-in-Q
• MAC-based VLAN
• VLAN trunking
• Super VLAN
• Voice VLAN
• Subnet VLAN
L3 Features
• 256 IP interfaces
• Bidirectional Forwarding Detection for OSPF/VRRP4
• Loopback interface
• Proxy ARP
• VRRP
• Gratuitous ARP
L3 Routing
• 12K routing entries shared by IPv4/v6
- Max. 12K IPv4 routes
- Max. 6K IPv6 routes
• 8K L3 forwarding entries shared by IPv4/v6
- Max. 8K IPv4 entries
- Max. 4K IPv6 entries
• 256 static routing entries for IPv4, 128 entries for IPv6
• Supports ECMP/WCMP
• Policy-based routing
• RIP v1/v2
• OSPF
- OSPF v2
- OSPF passive interface
- Stub/NSSA area
- OSPF equal cost route
Multicasting
• 2K multicast groups
• PIM-DM
• PIM-SM
• PIM sparse-dense mode
• IGMP v1/v2/v3
QoS (Quality of Service)
• 802.1p Class of Service (CoS)
• 8 queues per port
• Queue handling
- Strict
- Weighted Round Robin (WRR)
- Strict + WRR
• WRED
• 802.1Qbb priority-based flow control on 10G port
• CoS based on
- Switch port
- VLAN ID
- 802.1p priority queues
- MAC address
- IPv4/v6 address
- DSCP
- Protocol type
- IPv6 traffic class
- IPv6 flow label
- TCP/UDP port
- User-defined packet content
• Supports following actions for flows:
- Remark 802.1p priority tag
- Remark TOS/DSCP tag
- Bandwidth control
- Flow statistics
- Committed Information Rate (CIR), min. granularity 1 Kbps.
• Bandwidth control
- Port-based (ingress/egress, min. granularity 8 Kbps)
- Flow-based (ingress, min. granularity 8 Kbps)
• Time-based QoS
ACL (Access Control List)
• Ingress ACL: support up to 6 profiles and 256 rules per profile
• Egress ACL: support up to 4 profiles and 128 rules per profile
• ACL based on
- 802.1p priority
- VLAN ID
- MAC address
- Ether type
- IPv4/v6 address
- DSCP
- Protocol type
- TCP/UDP port number
- IPv6 traffic class
- IPv6 flow label
- User-defined packet content
• ACL statistics
• Time-based ACL
Green
• Power saving by link status
• Power saving by cable length
• Power saving by LED shut-off
• Power saving by port shut-off
• Power saving by system hibernation
• 802.3az Energy-Efficient Ethernet
Security
• SSH v2
• SSL v1/v2/v3
• Port security for up to 3328 MAC addresses for port/system/VLAN
• Broadcast/multicast/unicast storm control
• Traffic segmentation
• UDP helper
• IP-MAC-port binding
- ARP packet inspection
- IP packet inspection
- DHCP snooping
- DHCPv6 and NDP snooping
- Supports up to 500 address binding entries per device
• D-Link safeguard engine
• DHCP server screening
• CPU interface filtering
• ARP spoofing prevention
• BPDU attack protection
• Unicast reverse path forwarding
• DoS attack prevention
AAA
• 802.1X
- Port-based access control
- Host-based access control
- Dynamic VLAN assignment
• Web-based Access Control (WAC)
- Port-based access control
- Host-based access control
- Dynamic VLAN assignment
• MAC-based Access Control (MAC)
- Port-based access control
- Host-based access control
- Dynamic VLAN assignment
• Japan Web-based Access Control (JWAC)
- Host-based access control
• Microsoft® NAP
- Supports 802.1X NAP
- Supports DHCP NAP
• Guest VLAN
• RADIUS and TACACS+ authentication for switch access
• 4-Level user account
Management
• Web-based GUI
• Command Line Interface (CLI)
• Telnet server
• Telnet client
• TFTP client
• ZModem
• SNMP v1/v2c/v3
• SNMP trap
• System log
• RMON v1
- Supports 1,2,3,9 groups
• RMON v2
- Supports ProbeConfig group
• Scheduled Reboot4
• sFlow
• LLDP/LLDP-MED
• BootP/DHCP client
• DHCP auto-configuration
• DHCP relay
• DHCP relay option 60; 61
• DHCP relay option 82
• DHCP server
• Flash file system
• Multiple images
• Multiple configurations
• CPU monitoring
• IPv4/IPv6 DNS client
• Debug command
• SNTP
• ICMPv6
• DHCPv6 client
• DHCPv6 relay
• DHCPv6 server
• DHCPv6 prefix delegation
• Trusted host
• MTU setting
• Microsoft® NLB support
• Secure FTP
• FTP client4
• DHCP client option 124
OAM
• 802.3ah Ethernet link OAM
• Cable diagnostics
• 802.3ah D-Link extension: D-Link Unidirectional Link Detection (DULD)
• IEEE1588 Precision Time Protocol (PTP)
MIB/IETF Standards
• RFC1213 MIB-II
• RFC1493, 4188 bridge MIB
• RFC1907 SNMPv2 MIB
• RFC2571~2576 SNMP MIB
• RFC1271, 2819 RMON MIB
• RFC2021 RMON v2 MIB
• RFC1398, 1643, 1650, 2358, 2665 Ether-like MIB
• RFC2668 MAU MIB
• RFC2674, 4363 802.1p MIB
• RFC2233, 2863 IF MIB
• RFC2618 RADIUS authentication client MIB
• RFC1724 RIP v2 MIB
• RFC1850 OSPF v2 MIB
• RFC2096, 4292 IP forwarding table MIB (CIDR)
• RFC2787 VRRP MIB
• RFC2932 IPv4 multicast routing MIB
• RFC2934 PIM MIB for IPv4
• RFC2620 RADIUS accounting client MIB
• RFC2933 IGMP MIB
• RFC2925 ping MIB
• RFC2925 traceroute MIB
• D-Link private MIB
• RFC768 UDP
• RFC783 TFTP
• RFC 791 IP
• RFC 792 ICMP
• RFC 793 TCP
• RFC 826 ARP
• RFC854 Telnet
• RFC951, 1542, 2131 BootP
• RFC2068, 2618 HTTP
• RFC2338 VRRP
• RFC2529, 3053, 3056 IPv6 Tunnel
• RFC2138 RADIUS
• RFC2139 RADIUS Accounting
• RFC1492 TACACS
• RFC3176 sFlow
• RFC2598 DiffServ Expedited Forwarding (EF)
• RFC2460 IPv6
• RFC2461, 4861 IPv6 Neighbor Discovery (ND)
• RFC2462, 4862 IPv6 stateless address autoconfiguration
• RFC1981 IPv6 path MTU discovery
• RFC4213 IPv4/IPv6 dual stack
Enhanced Image (EI) Features
L3 Features
• IPv6 tunneling
- Static
- ISATAP
- GRE
- 6to4
L3 Routing
• RIPng (IPv6)
• OSPF v3 (IPv6)
• BGP v4
• BGP+4
Multicasting
• PIM-SM v6
• DVMRP v3
OAM
• 802.1ag Connectivity Fault
• ITU-T Y.1731 Management (CFM)<
Physical
MTBF
• 298263 hours
Acoustics
• 49.9 dB maximum
Heat Dissipation
• 144.2 BTU/hr
Power Input
• 100 to 240 V AC, 50/60 Hz
Max Power Consumption
• 43.4 W
Dimensions
• 441 x 310 x 44 mm (17.36 x 12.20 x 1.73 inches)
Weight
• 4.10 kg (9.04 lbs)
Ventilation
• Smart fan (> 40 °C (104 °F): high speed; < 35 °C (95 °F): low speed)
Operating Temperature
• 0 to 50 °C (32 to 122 °F)
Storage Temperature
• -40 to 70 °C (-40 to 158 °F)
Operating Humidity
• 0% to 90% RH
Storage Humidity
• 5% to 90% RH
Emission (EMI)
• FCC Class A, CE Class A, VCCI Class A, IC, C-Tick
Safety
• CB, cUL, LVD
Certifications
• IPv6 Ready Logo Phase 2
Order info
DGS-3620-28SC 20 SFP and 4 Combo 10/100/1000BASE-T/SFP and 4 SFP+ with embedded EI image
Optional Products - Management Software
DV-600S D-View 6.0 Network Management Software Standard Edition
DV-600P D-View 6.0 Network Management Software Professional Edition
Optional Products - 10 Gbps SFP+ Transceivers
DEM-431XT 10 GBASE-SR SFP+ transceiver (w/o DDM), 80 m: OM1 & OM2 MMF, 300 m: OM3 MMF
DEM-431XT-DD 10GBASE-SR SFP+ transceiver (with DDM), 80 m: OM1 & OM2 MMF, 300 m: OM3 MMF
DEM-432XT 10GBASE-LR SFP+ transceiver (w/o DDM), 10 km
DEM-432XT-DD 10GBASE-LR SFP+ transceiver (with DDM), 10 km
DEM-433XT 10GBASE-ER SFP+ transceiver (w/o DDM), 40 km
DEM-433XT-DD 10GBASE-ER SFP+ transceiver (with DDM), 40 km
DEM-434XT 10GBASE-ZR SFP transceiver (w/o DDM), 80 km
DEM-435XT 10GBASE-LRM SFP+ transceiver (w/o DDM), 220 m: OM1 & OM2 MMF, 300 m: OM3 MMF
DEM-435XT-DD 10GBASE-LRM SFP+ transceiver (with DDM), 220m: OM1 & OM2 MMF, 300 m: OM3 MMF
DEM-436XT-BXU 10GBASE-LR BiDi SFP+ transceiver (w/o DDM) 20 km, TX: 1270 nm, RX: 1330 nm
DEM-436XT-BXD 10GBASE-LR BiDi SFP+ transceiver (w/o DDM) 20 km, TX: 1330 nm, RX: 1270 nm
Optional Products - 1 Gbps SFP Transceivers
DEM-310GT SFP transceiver, 1000BASE-LX standard, single-mode fiber, max. distance 10 km, 3.3 V operating voltage
DEM-311GT SFP transceiver, 1000BASE-SX standard, multi-mode fiber, max. distance 550 m, 3.3 V operating voltage
DEM-312GT2 SFP transceiver 1000BASE-SX standard, multi-mode fiber, max. distance 2 km, 3.3 V operating voltage
DEM-314GT SFP transceiver, 1000BASE-LHX standard, single-mode fiber, max. distance 50 km, 3.3 V operating voltage
DEM-315GT SFP transceiver, 1000BASE-ZX standard, single-mode fiber, max. distance 80 km, 3.3 V operating voltage
DEM-330T WDM SFP transceiver, 1000BASE-LX standard, single-mode fiber, max. distance 10 km, 3.3 V operating voltage, Tx wavelength 1550 nm, Rx wavelength 1310 nm
DEM-330R WDM SFP transceiver, 1000BASE-LX standard, single-mode fiber, max. distance 10 km, 3.3 V operating voltage, Tx wavelength 1310 nm, Rx wavelength 1550 nm
DEM-331T WDM SFP transceiver, 1000BASE-LX standard, single-mode fiber, max. distance 40 km, 3.3 V operating voltage, Tx wavelength 1550 nm, Rx wavelength 1310 nm
DEM-331R WDM SFP transceiver 1000BASE-LX standard, single-mode fiber, max. distance 40 km, 3.3 V operating voltage, Tx wavelength 1310 nm, Rx wavelength 1550 nm
DEM-211 SFP transceiver, 100BASE-FX multi-mode fiber, max. distance 2 km, 3.3 V operating voltage
DEM-210 SFP transceiver, 100BASE-FX single-mode fiber, max. distance 15 km, 3.3 V operating voltage
DEM-220T100Base-BX, wavelength Tx:1550 nm, Rx:1310 nm, single-mode, 20 km
DEM-220R100Base-BX, wavelength Tx:1310 nm, Rx:1550 nm, single-mode, 20 km
DGS-712SFP transceiver, 1000BASE-TX
Optional Products - 10 Gbps SFP+ Direct Attach Cables
DEM-CB100S10-GbE SFP+ 1 m direct attach cable
DEM-CB300S10-GbE SFP+ 3 m direct attach cable
DEM-CB700S10-GbE SFP+ 7 m direct attach cable
Optional Products - Redundant Power Supplies
DPS-500 140 W redundant power supply
DPS-500DC140 W DC redundant power supply
DPS-7002 589 W redundant power supply