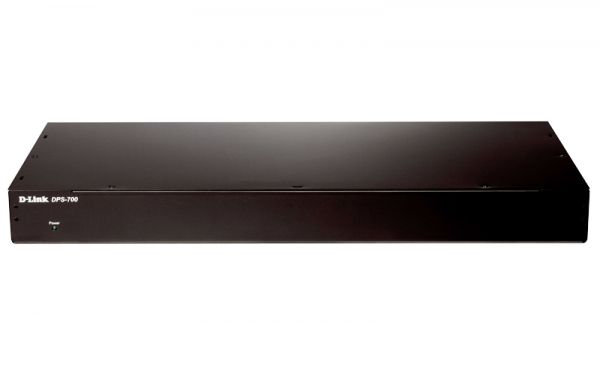 Description
DPS-700 redundant power supply (RPS) is designed to conform to the wattage requirements of D-Link's Ethernet and Gigabit switches. This is external RPS enclosed in solid metal cases with sockets to AC or DC power sources on one end, and connectors to the switch's internal power supply on the other end. DPS-700 provides a low-cost, simple solution to the problem of an inadvertent failure of the internal power-supply of the Ethernet switch, which can result in the shutdown of that switching device, the devices attached to its ports, or an entire network. Supporting full output power for the switch, this redundant power supply can maximize the power availability of the switching device.
Redundant Power Backup
DPS-700 is equipped with an integrated detection circuit that continuously monitors the switching device's internal power supply. In the event of a power interruption, the redundant power supply is immediately triggered so that the LAN switch and its connected devices can continue providing service. This results in a more reliable network infrastructure and protects the network from a single failure of a network device power supply.
Easy and Flexible Deployment
Deployment of a DPS-700 does not necessitate any change in configuration of the LAN switch. DPS-700 is equipped with a universal internal power supply, and can be connected to any AC main power source from 85VAC to 264VAC, 47Hz to 63Hz through a standard AC power cable.
DPS-700 Redundant Power Supply
DPS-700 is 19-inch standard-size rack mount power supply designed to improve flexibility in supporting PoE (Power over Ethernet) equipment. The DPS-700 also supports 1+1 power capabilities. When cascading the DPS-700 with a device's internal power supply, the power system can provide an additional power budget to the device.
General features
Output power
589 watts
Input voltage range
90 to 264VAC
Input frequency
47 to 63 Hz
Max input current
7.5A @ 115VAC
3.7A @ 230VAC
Max inrush current
30A @ 115VAC
30A @ 230VAC
Efficiency
80%
Operating temperature
0° to 65°C
Storage temperature
-40° to 85°C
Operating humidity
5% to 95% non-condensing
MTBF
624,961 hours
Dimensions
441 x 199 x 44mm
Weight
3.70kg
Order info
DPS-700 Redundant Power Supply, 589 watts