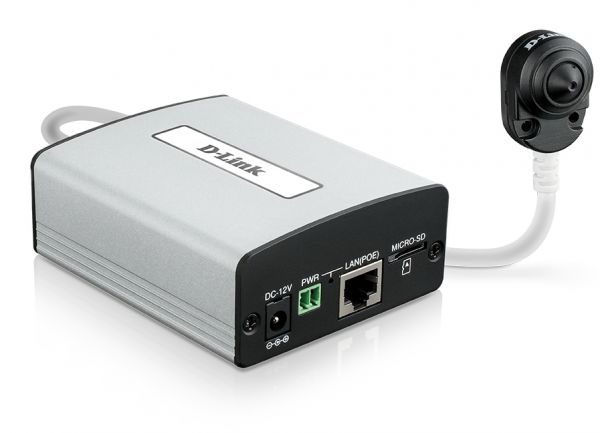 Apraksts
The DCS-1201 HD Covert Network Camera provides an excellent way to discreetly keep watch over an area without sacrificing quality or functionality. Place it anywhere you need to keep watch over an area; it's diminutive size lets you place it in a far corner of the room or use a discreet pinhole installation. With motion detection, external device connectivity, advanced event management and more, the HD Covert Network Camera gives you reliable surveillance in a tiny package.
High Definition Surveillance, Anywhere
The HD Covert Network Camera uses a two-piece design that allows you to place the camera away from its control box. The camera generous 15 meter cable lets you install the camera in any corner of the room, even without a power outlet nearby. The camera unit itself is miniscule, and comes with three different mounting brackets for surface mount, angled mount, or discreet pinhole installation.
Though small in size, the camera is big on quality and uses a 720p HD sensor to provide sharp, high-resolution snapshots and videos with rich detail. Get a closer look with ePTZ, which lets you zoom in, zoom out, and pan across your camera's video so you can survey a large area easily.
High Speed Access To Multiple Video Streams
The DCS-1201 supports simultaneous streaming of H.264, MPEG-4, and MJPEG video to provide both high-quality and bandwidth-efficient compression formats. Additionally, the DCS-1201 supports multicast H.264 and MPEG-4 streaming, allowing users to view the camera feed by subscribing to a multicast IP address on the network. You can also save snapshots and video to an inserted microSD card, ensuring that you can continue to record footage even if your network is disrupted.
A Complete, Expandable Surveillance Solution
The DCS-1201 is a self-sufficient surveillance solution, capable of recording snapshots and video to a microSD card without requiring a PC or network storage device. If you want to expand your surveillance options, D-ViewCam management software is also included, giving you the ability to manage up to 32 cameras with a robust set of features, including multi-camera views and automated e-mail alerts to keep you informed of suspicious or unusual 
activities.
Īpašības
Camera Hardware Profile 
• 1/3" Megapixel progressive CMOS sensor
• Minimum illumination: 0.2 lux
• Minimum object distance 0.5 m 
• Lens focal length: 2.8 mm
• Aperture: F2.0
• Angle of view (16:9):
  (H) 84В°
  (V) 44В°
  (D) 100В°
Image Features 
• Configurable image size, quality, frame rate, and bit rate
• Time stamp and text overlays
• Configurable motion detection windows
• Configurable privacy mask zones 
• Configurable exposure time, brightness, saturation, contrast, sharpness
• Wide Dynamic Range (WDR)
• 3D filtering
Video Compression 
• Simultaneous H.264/MPEG-4/MJPEG format compression 
• H.264/MPEG-4 multicast streaming
• JPEG for still images
Video Resolution 
• 16:9 - 1280 x 720, 800 x 450, 640 x 360 at up to 30 fps* 
• 4:3 - 1024 x 768, 800 x 600, 640 x 480 at up to 30 fps*
Audio Compression 
• G.711 Ој-law
External Device Interfaces 
• 10/100 BASE-TX Ethernet port with PoE (Class 2)
• 1 DI / 1 DO
• DC 12 V, 100 mA output
• Camera port 
• Power terminal (8 ~ 28 V DC)
• microSD/SDHC/SDXC card slot**
• Audio input/output
Network Protocols 
• IPv6
• IPv4
• TCP/IP
• UDP
• ICMP
• DHCP client
• NTP client (D-Link)
• DNS client
• DDNS client (D-Link)
• SMTP client
• FTP client
• HTTP / HTTPS 
• Samba client
• PPPoE
• UPnP port forwarding
• RTP / RTSP/ RTCP
• IP filtering
• QoS
• CoS
• Multicast
• ONVIF compliant
• SNMP
• Bonjour
Security 
• Administrator and user group protection
• Password authentication 
• HTTP and RTSP authentication
System Requirements for Web Interface
• Operating system: Microsoft Windows 10/8/7 or Mac OS X 10.7 or higher 
• Browser: Internet Explorer 8, Firefox 12, or Safari 6 or higher
Event Management 
• Motion detection
• Event notification and uploading of snapshots/video clips via e-mail or FTP 
• Supports multiple SMTP and FTP servers
• Multiple event notifications
• Multiple recording methods for easy backup
Remote Management 
• Take snapshots/video clips and save to local hard drive 
• Configuration interface accessible via web browser
D-ViewCamTM System Requirements 
• Operating System: Microsoft Windows 10/8/7
• Web Browser: Internet Explorer 8 or higher 
• Protocol: Standard TCP/IP
D-ViewCamTM Software Functions 
• Remote management/control of up to 32 cameras
• Supports all management functions provided in the web interface 
• Viewing of up to 32 cameras on one screen
• Scheduled motion triggered, or manual recording options
Physical Parameters
Weight
• Camera with 15 meter cable: 375 grams В± 5% 
• Control box: 185 grams В± 5%
Power 
• Input: 100 to 240 V AC, 50/60 Hz 
• Output: 12 V DC 1.5 A
Power Consumption 
• 5.3 watts В± 5% (8 to 28 V DC)
Temperature 
• Operating: 0В° to 40В°C
• Storage: -20В° to 70В°C
Humidity 
• Operating: 20% to 80% non-condensing 
• Storage: 5% to 95% non-condensing
Certifications 
• CE
• CE LVD
• FCC
• C-Tick
Dimensions  
Camera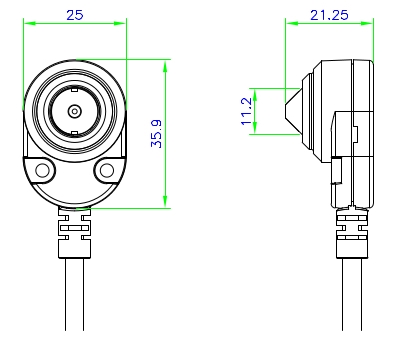 Control Box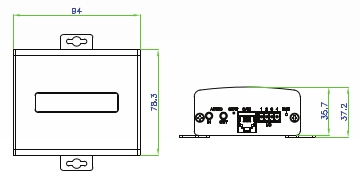 Camera Mounts
 
   Camera Cover                          Flat Mounting Bracket            Angled Mounting Bracket


* Frame rates when streaming video may vary depending on network conditions and method used.
** Camera is compatible with microSD/SDHC/SDXC cards up to v3.01. Camera is not compatible with v4.x cards.
Fiziskie raksturlielumi
Informācija pasūtījumam
DCS-1201  HD Covert Network Camera