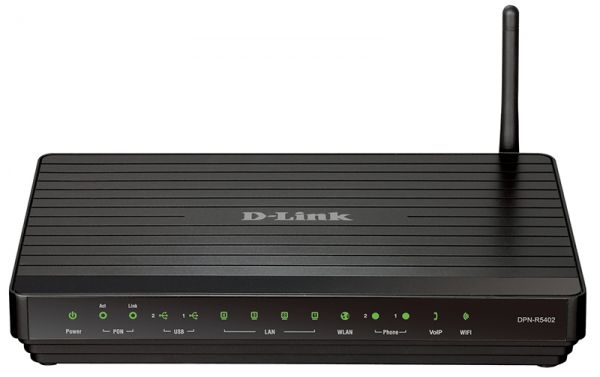 DPN-R5402
EOL EOS
GPON ONT Wireless N Gigabit VoIP Gateway
Kur iegādāties
Apraksts
The DPN-R5402 GPON ONT Wireless N Gigabit VoIP Gateway is a GPON (Gigabit-capable Passive Optical Network) ONT (Optical Network Terminal) device that provides a Gigabit connection and voice features for indoor environments such as small offices and multi-unit buildings. GPON technology delivers up to 2.4Gbps speeds over optical fiber wiring, and enables next-generation simultaneous voice, video, and data services including high-speed Internet access, video streaming, and instant messaging. It has a built-in 802.11n wireless interface and four LAN ports, so family members can connect to the network wirelessly, or through network cables. The DPN-R5402 is an effective, easy-to-deploy technology that can be used as a high-performance Internet solution.
Leverage Your Fiber
The DPN-R5402 GPON ONT Wireless N Gigabit VoIP Gateway provides an optical line connection to a GPON OLT on the CO side, multiple VoIP phone connections, an 802.11n wireless interface, two USB ports, and four 10/100/1000Mbps Gigabit Ethernet connections to the end-user's LAN side. It utilizes the extraordinary bandwidth of GPON technology, the next step in the delivery of new high-speed Internet applications to home and office users. Designed for deployment inside a home or an apartment building, this ONT device provides a reliable, long-reach last-mile connection by extending the public high-bandwidth network to people living and working in remote multi-unit, multi-tenant buildings.
Secure Wired and Wireless Connections
The DPN-R5402 provides an integrated 802.11n WLAN that supports wireless speeds of up to 300Mbps and four Gigabit Ethernet ports for connecting to non-wireless computers and other network devices via network cables. To secure your wireless connections, this gateway provides the latest WPA/WPA2 security encryption protocols to maximize security, while also allowing WEP-secured connections for maximum compatibility with legacy devices.
Īpašības
Configuration and Management
• Remote management with PLOAM functions
• Management through G.984.4 OMCI (ONT Management and Control Interface)
• Secure access via ACL (Access Control List)
• Telnet session for remote management
• Provide Shell & Logger for advanced user configuration/diagnostic usage
• Firmware upgrades through OMCI or CLI
• Configurable QoS classes and related parameters (T-CONT, PortID, AllocID)
GPON Features
• Class B+ GPON optical transceiver
• Upstream (Transmitter): 1310nm +/-50nm, Max. 1.244Gbps upstream burst data rate
• Downstream (Digital Receiver): 1490 nm +/-10 nm, Max. 2.488Gbps downstream continuous data rate
• 1 SC connector that can be connected to the fiber cable from CO site
• Single Mode fiber cable
• Maximum ONT Splits: 64
• Maximum physical reach: 20km
• Address management (add, delete, clear MAC address)
• IGMP v1/v2 Snooping, 16 entries, can be enabled/disabled, Fast leaving
• UNI port config. (Speed, duplex, pause flow control, disable/enable, auto mode)
• Compliant with ONT dying gasp
• ONT authentication
• Configurable AES encryption on DS payload
• Up to 64 learning MAC addresses
• Full ITU-T G.984.x set ONU functionality with extended functionalities
LAN Features
• 10BASE-T IEEE 802.3
• 100BASE-TX IEEE 802.3u
• 1000BASE-TX IEEE 802.3ab
• IE802.3x flow control (PAUSE frame)
• Auto negotiation, auto MDI/MDIX
• 522 byte Ethernet packet size (Tag Packet).
• Manual speed setting for 10M,100M, 1000M
• Cable: UTP(Category 5e)
• IEEE 802.1Q VLAN (32 VLANs, VID: 1 – 4094)
• VLAN trunk, VLAN based on user port and service type
VoIP Features
• Basic outgoing and incoming call, Call Waiting, Three Party Conference, Call Transfer, Caller ID
• Voice Codecs: 711 a-law, G.711 u-law, G.723.1A, G.729A, G.729B.
• Voice Transport: compliant with RTP (RFC1889)
• Call Control SIP (RFC3261)
• T.38 Fax relay
• Echo Cancellation
Wireless Features
• 802.11n
• 2.4GHz to 2.4835GHz
• WEP, WPA-PSK, and WPA2-PSK AES security encryption protocols
USB Features
• Storage functionality
• SAMBA
Fiziskie raksturlielumi
Interfaces
• GPON Port (SC Connector)
• Four 10/100/1000 BASE-TX Gigabit Ethernet Ports (RJ-45 Connector)
• Two VoIP FXS Ports (RJ-11 Connector)
• 802.11n WLAN (AP wireless connection to computers)
• Two USB 2.0 ports
• WPS button
• Factory reset button
• Power ON/OFF switch
LEDs
• Power
• Link (PON)
• ACT (PON)
• LAN (1-4)
• Wi-Fi
• WAN
• Phone (1-2)
• VoIP
• USB (1-2)
Dimensions
• 228 x 160 x 40.98mm
Weight
• 113.4g
Power
• Output: 12V/2A
Temperature
• Operating: 0 to 40°C
• Storage: -40 to 70°C
Humidity
• 0 to 95% non-condensing
Certifications
• CE
• FCC Class B
Informācija pasūtījumam
DPN-R5402 GPON ONT Wireless N Gigabit VoIP Gateway