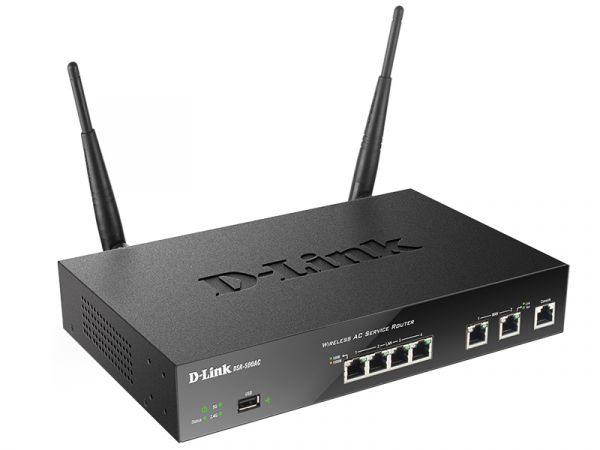 DSR-500AC
EOL
נתב עסקי אלחוטי בתקן AC עד 1300Mbps עם 2 כניסות WAN ו 4 כניסות LAN ג'יגהביט
היכן לקנות
תאור
Unified Services Routers D-Link DSR series are high-performance solutions that protect networks and designed to meet the growing needs of small and medium-sized businesses. Support latest standard IEEE 802.11ac, implemented in the router DSR-500AC, it achieves the same performance as in wired networks, but with fewer constraints. Through the use of bandwidths in the range of 5 GHz DSR-500AC provides a higher data rate for clients that support standard IEEE 802.11ac.
Features integrated management
Router DSR-500AC is equipped with two WAN-ports of Gigabit Ethernet. Application load balancing allows you to distribute outbound traffic between two WAN-interfaces and optimize system performance, thus providing, uninterrupted operation of the network. The second WAN-port can be configured as a DMZ-port that allows you to isolate servers on the LAN. Router DSR-500AC supports the possibility of accessing the Internet using a 3G USB-modem1 or 4G2. Load balancing can be carried out for the 3G / 4G-connections, providing an additional level of redundancy for mission-critical applications and data backup.
Web-based authentication
Adaptive portal makes it easy to pass authentication and authorization for both employees and guests. Users can be authenticated using the local database, RADIUS-server, LDAP, Microsoft Windows Active Directory, NT domain server and POP3. At the same time, you can set a maximum of four servers.
Advanced VPN functionality
A virtual private network (VPN) provides mobile users and branch offices a secure communications channel to connect to the corporate network. DSR-500AC supports tunnels Generic Routing Encapsulation (GRE), providing mobile users with remote access to a central corporate database. When you create a Site-to-site VPN-tunnels used protocols IP Security (IPSec), Point-to-Point Tunneling Protocol (PPTP) or Layer 2 Tunneling Protocol (L2TP), which simplifies the process of connecting remote users and branch offices through encrypted virtual links .
Web-content filtering
Web-content filtering helps administrators monitor, manage and control employee usage of and access to the Internet. Static Web-content filtering allows you to remove dangerous objects, such as Java-applets, objects, ActiveX, files cookie, or block the URL-address keyword. Stateful Web-content requires the purchase of a license allows administrators to filter the contents of the list of categories. DSR-500AC supports multiple global index servers with millions of URL-addresses and information in real time on the Web-site, allowing you to increase productivity and maximize service availability.
מאפיינים כללים
Interfaces
• Two WAN port 10/100 / 1000Base-T
• Four LAN ports 10/100 / 1000Base-T
• 802.11a / b / g / n / ac
• One USB 2.0 port
• Console port with RJ-45

Indicators
• Power / Status
• WLAN 2.4GHz / 5GHz
• USB
• LAN / WAN (Speed ​​/ Status)

Buttons
• Reset button

Antenna
• Two removable omnidirectional antenna with a gain of 2 dBi

Power connector
• Power connector (DC)

Performance
Bandwidth Firewall
• 950 Mbit / s
Bandwidth VPN
• 200 Mbit / s
Number of concurrent sessions
• 50,000
Number of new sessions per second
• 500
Firewall Policy
• 600

Wireless
Standards
• IEEE 802.11a / b / g / n / ac

Frequency Range
• 802.11b / g / n: from 2.4 GHz to 2.483 GHz
• 802.11a / n / ac: from 5.18 GHz to 5.825 GHz

Wireless Security
• Wired Equivalent Privacy (WEP)
• Wi-Fi Protected Setup (WPS)
• Wi-Fi Protected Access - Personal (WPA-PSK)
• Wi-Fi Protected Access - Enterprise (WPA-EAP)
• Wi-Fi Protected Access version 2 - Personal (WPA-PSK)
• Wi-Fi Protected Access version 2 - Enterprise (WPA-EAP)
• Multiple SSID of the wireless network (SSID)
• Service Set Identifier (SSID) to VLAN Mapping

Wireless speed
• IEEE 802.11a: 6, 9, 12, 18, 24, 36, 48 and 54 Mbit / s
• IEEE 802.11b: 1, 2, 5.5 and 11 Mbit / s
• IEEE 802.11g: 6, 9, 12, 18, 24, 36, 48 and 54 Mbit / s
• IEEE 802.11n (2,4 GHz) of 6.5 to 300 Mbit / s
• IEEE 802.11n (5 GHz): 6.5 to 150 Mbit / s
• IEEE 802.11ac: from 7.2 to 1300 Mbit / s

Transmitter output power
Maximum transmit power will vary according to the rules of radio frequency regulation in your country.
• IEEE 802.11a:
14 dBm at 6 ~ 54 Mbit / s
• IEEE 802.11b:
18 dBm at 1 ~ 11 Mbit / s
• IEEE 802.11g:
11 dBm at 6 ~ 54 Mbit / s
• IEEE 802.11n:
10 ~ 6 dBm at 300 Mbit / s (2.4 GHz)
14 ~ 6 dBm at 150 Mbit / s (5 GHz)
• IEEE 802.11ac:
11 dBm at 7.2 ~ 1300 Mbit / s

Receiver Sensitivity
• IEEE 802.11a:
-82 DBm at 6 Mbit / s
-81 DBm at 9 Mbit / s
-79 DBm at 12 Mbits / s
-77 DBm at 18 Mbit / s
-74 DBm at 24 Mbits / s
-70 DBm at 36 Mbit / s
-66 DBm at 48 Mbit / s
-65 DBm at 54 Mbit / s
• IEEE 802.11b:
-89 DBm at 2 Mbit / s
-83 DBm at 11 Mbit / s
• IEEE 802.11g:
-82 DBm at 6 Mbit / s
-81 DBm at 9 Mbit / s
-79 DBm at 12 Mbits / s
-77 DBm at 18 Mbit / s
-74 DBm at 24 Mbits / s
-70 DBm at 36 Mbit / s
-66 DBm at 48 Mbit / s
-65 DBm at 54 Mbit / s
• IEEE 802.11n:
2.4 GHz / HT-20:
-82 DBm at MCS0 / 8/16
-79 DBm at MCS1 / 9/17
-77 DBm at MCS2 / 10/18
-74 DBm at MCS3 / 11/19
MCS4 at -70 dBm / 12/20
-66 DBm at MCS5 / 13/21
-65 DBm at MCS6 / 14/22
-64 DBm at MCS7 / 15/23
2.4 GHz / HT-40:
-79 DBm at MCS0 / 8/16
-76 DBm at MCS1 / 9/17
-74 DBm at MCS2 / 10/18
-71 DBm at MCS3 / 11/19
MCS4 at -67 dBm / 12/20
-63 DBm at MCS5 / 13/21
-62 DBm at MCS6 / 14/22
-61 DBm at MCS7 / 15/23
5GHz / HT-20:
-82 DBm at MCS0
-79 DBm at MCS1
-77 DBm at MCS2
-74 DBm at MCS3
-70 DBm at MCS4
-66 DBm at MCS5
-65 DBm at MCS6
-64 DBm at MCS7
5GHz / HT-40:
-79 DBm at MCS0
-76 DBm at MCS1
-74 DBm at MCS2
-71 DBm at MCS3
-67 DBm at MCS4
-63 DBm at MCS5
-62 DBm at MCS6
-61 DBm at MCS7
• IEEE 802.11ac:
VHT-20:
-82 DBm at MCS0
-79 DBm at MCS1
-77 DBm at MCS2
-74 DBm at MCS3
-70 DBm at MCS4
-66 DBm at MCS5
-65 DBm at MCS6
-64 DBm at MCS7
-59 DBm at MCS8
-57 DBm at MCS9
VHT-40:
-79 DBm at MCS0
-76 DBm at MCS1
-74 DBm at MCS2
-71 DBm at MCS3
-67 DBm at MCS4
-63 DBm at MCS5
-62 DBm at MCS6
-61 DBm at MCS7
-56 DBm at MCS8
-54 DBm at MCS9
VHT-80:
-76 DBm at MCS0
-73 DBm at MCS1
-71 DBm at MCS2
-68 DBm at MCS3
-64 DBm at MCS4
-60 DBm at MCS5
-59 DBm at MCS6
-58 DBm at MCS7
-53 DBm at MCS8
-51 DBm at MCS9

Type of Internet connection
• Static / Dynamic IP-address
• PPPoE / L2TP / PPTP
• Multiple PPPoE
Firewall
• Static route
• Dynamic Route: RIP v1 / v2, OSPF, OSPFv3
• Dynamic DNS
• Inter-VLAN Routing
• NAT, PAT
• Web-content filtering, static URL-address, keywords, Dynamic WCF (license required)
• Intrusion Prevention System (IPS): package signatures, the supplied software
• Authentication: internal database, RADIUS, POP3, LDAP, AD, NT Domain

Network Features
• DHCP Server / Client
• DHCP Relay
• IEEE 802.11q VLAN
• VLAN (port-based)
• IP Multicast: IGMP Proxy, IGMP Snooping
• IPv6
• Auto switch between WAN-connections after a failure (Route Failover)
• Load Balancing (Outbound Load Balancing)
• Redundancy 3G / 4G2

Virtual Private Network (VPN)
• VPN-tunnels: 95
• IPSec-tunnel: 35
• PPTP / L2TP-tunnels: 25
• GRE-tunnels: 15
• Encryption methods: DES, NULL
• Server IPSec / PPTP / L2TP
• IPSec NAT Traversal
• Detection of non-performing nodes
• IP Encapsulating Security Payload (ESP)
• IP Authentication Header (AH)
• VPN Tunnel Keep Alive
• Hub and Spoke

Bandwidth Management
• Management of the maximum bandwidth
• Manage bandwidth priority:
- QoS Port-based
- Class 3

System Management
• Web-interface
• Command line
• SNMP v1, v2c, v3
נתונים פיזיים
Size
• 280 x 180 x 44 mm

Weight
• 1,728 kg (including 2 antennas)

Power
• External power supply:
- Output: 12V DC 2.5A

Max. power consumption
• 13,1 W

MTBF (hours)
• 360,000

Temperature
• Operating: 0 ° to 40 ° C
• Storage: -20 ° to 70 ° C

Humidity
• Operating: 5% to 95% non-condensing

Contents of delivery
• Wireless Services Router DSR-500AC
• Power adapter
• Power cable
• 2 mounting brackets for installation in 19-inch rack
• A set of screws (8 pcs.), And the rubber feet (4 pcs.)
• 2 detachable omnidirectional antennas
• Ethernet-Cable
• Cable with D-sub connectors
• CD
• Warranty Card

EMI
• FCC Class B, CE Class B, RCM, IC

Security
• cUL, LVD (EN60950-1)

Certificate
• IPv6 Ready, Wi-Fi, VPNC Basic Interop