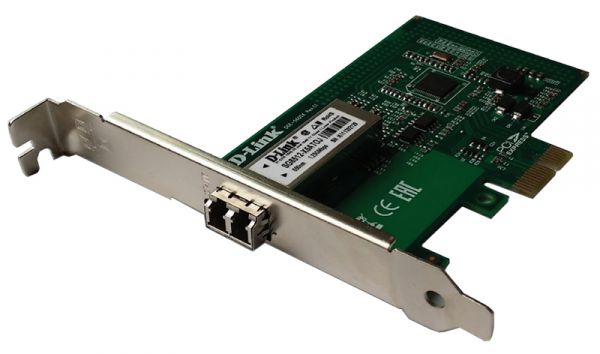 DGE-560SX
EOL
כרטיס רשת ג'יגהביט PCI Express עם יציאת LC
היכן לקנות
תאור
High-performance Gigabit Ethernet network adapter for the bus PCI Express D-Link DGE-560SX allows you to increase network performance with support for PCI Express (PCI-E) and optical connection.

PCI Express interface
In full-duplex adapter DGE-560SX supports data rates up to 2 Gbit / s, providing high bandwidth between the adapter and the server. With fault tolerance, reliability and performance, DGE-560SX is the perfect solution for connecting input and output devices to a wide range of storage servers. Having to replace a PCI and PCI-X, architecture PCI Express bus eliminates many of the drawbacks of architectures with parallel PCI buses and PCI-X. Due to fewer contacts and less power consumption, DGE-560SX adapter allows to reduce the power consumption of the entire system.

Advanced Features
DGE-560SX supports Jumbo-frames up to 9 KB, and the specification ACPI (Advanced Configuration and Power Management) to enable OSPM (configuration and power management controlled by the operating system). In addition, the adapter supports SNMP-agent management via SNMP.

VLAN and QoS support
Network Adapter DGE-560SX supports embedded filtering of tagged Ethernet-VLAN frame in accordance with standard IEEE 802.1Q. This allows the server to operate in a flexible and secure network, established in accordance with the standards. The adapter also supports priority queues, according to the protocol 802.1p, for the transmission of delay-sensitive data (eg, voice and video).

Fiber optic connection
Supporting data rates up to 2000 Mbit / s fiber-optic cable in full duplex mode, the adapter DGE-560SX provides enough bandwidth when connecting to the server. Hardware calculation headers and checksums IP-packets offloads the CPU of network nodes, and improve network performance.
מאפיינים כללים
Network cables and transmission distance
• 62.5 / 125 micron multimode optical fiber cable (275 m)
• 50/125 micron multimode fiber optic cable (up to 550 m)

Networking mode
• Full Duplex (2000 Mbit / s)

Data rate
• 1 Gb / s

Supported Features
• Support for Jumbo-frames 9 KB
• Supports 802.1p QoS priority queues
• Security VLAN 802.1Q, 64 groups
• Power management ACPI 2.0
• SNMP statistics
• Card Teaming
• Remote Boot

Supported Drivers
• Microsoft Windows 7 32/64-bit
• Microsoft Windows 8 32/64-bit
• Microsoft Windows 8.1 32/64-bit
• Microsoft Windows Vista 32/64-bit
• Windows Server 2008 R2,2012
• Windows Server
• Windows Server 2012 R2
• Linux Kernel 2.4.x, 2.6.x and 3.x
• FreeBSD 7.x or higher
• Novell ODI
נתונים פיזיים
LEDs
• Link / Activity

Sizes
• 68,5 x 68,9 mm
• 110 x 68 mm

Required voltage
• 3,3 In

Temperature
• Operating: 0 to 50 ° C
• Storage: -20 to 70 ° C

Humidity
• 5% to 90% non-condensing

Contents of delivery
• PCI Express Network Adapter DGE-560SX
• Bracket
• Warranty Card
• Quick Installation Guide
• CD-ROM

Certifications
• CE
• FCC Class B
• VCCI
• BSMI
• C-Tick