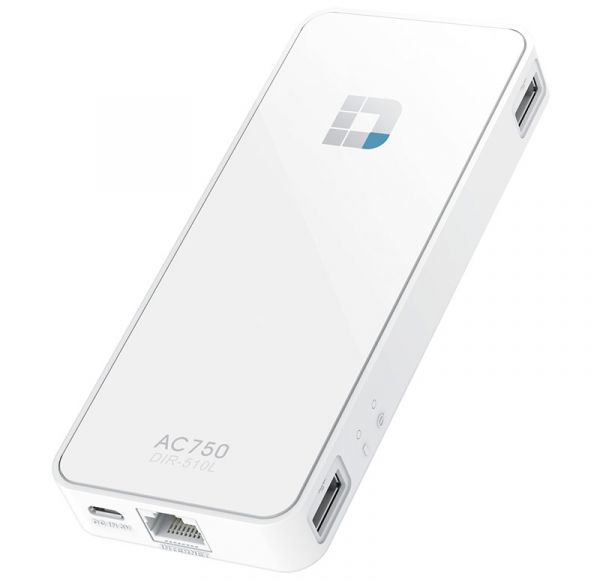 DIR-510L
EOL EOS
נתב אלחוטי נייד דואל-בנד בתקן AC-750 עם אפשרות טעינה ותמיכה ב - mydlink
היכן לקנות
תאור
Wireless Portable Router DIR-510L provides mobile devices connected to the Internet, file sharing and the ability to recharge at any time and in any place. Router DIR-510L supports the latest wireless standard 802.11as providing high-speed wireless connection, video streaming and viewing web-pages. To get started, simply connect a laptop, smartphone or tablet to a wireless router DIR-510L. Thanks to built-in rechargeable battery, the router can act as a portable charger used for charging your devices and ensuring their long-term work.
 
High level of performance with standard 802.11ac
Router DIR-510L supports the latest standard 802.11ac, which provides high speed data transfer with compatible wireless devices. Dual band 2.4 GHz and 5 GHz to avoid network congestion and interference. The simultaneous use of two ranges, the users can use the compounds of the general rate of 750 Mbit / s. Moreover, each separate working range of the wireless network that can be used in accordance with existing requirements and objectives. You can also configure the guest area («guest zone»), which customers will only have access to the Internet. Supports Universal Plug and Play (uPnP) and built-in DLNA-server provides media streaming without delay to other devices, including Smart TV, game consoles and kompyutery4.
 
Appendix mydlink SharePort ™ - file sharing anytime, anywhere
Router DIR-510L provides a simple sharing of audio, video and photos. With mydlink SharePort applications and SharePort Mobile can download, upload and transmit multimedia and documents to or from USB-drive connected to the router. To configure sharing media files to your family and friends just download the app for free, register an account and connect to the mydlink router DIR-510L.
 
Router as a portable charger
In Router DIR-510L integrated battery capacity of 4000 mA / h, which nourishes not only the router itself, but also can perform charging other devices. In addition, the router has two USB-ports, so you can simultaneously charge the device and provide shared access to files on a USB-drive. Now you can not worry about that your device runs out at the most inopportune moment. To recharge simply connect your smartphone or other enerogoemkie devices (eg, iPad) to the USB-port marshrutizatora6.
 
Easy to install, easy to use
In a convenient interface DIR-510L retains all connection settings, so only one input settings. No matter whether you are connecting to a Wi-Fi hotspot in your favorite cafe or via mobile connection via 3G/4G USB-modem, router DIR-510L automatically connects all your devices.
מאפיינים כללים
Device interfaces
• 802.11 a / b / g / n / ac (draft) Wireless LAN, up to 750 Mbit/s2
• WAN port 10/100 Ethernet
• WPS button
• Power Switch
• Reset Button
• USB 2.0 Type A (1 A) for compatible 3G/4G modems, USB-drive, or to charge other devices
• USB 2.0 Type A (0,5 A) for USB-stick or DCS-300
• Power (MicroUSB)
 
Indicators
• Power / Status
• The battery
 
Standards
• IEEE 802.11ac (draft)
• IEEE 802.11n
• IEEE 802.11b
• IEEE 802.11g
• IEEE 802.11a
• IEEE 802.3
• IEEE 802.3x
• IEEE 802.3u
• USB 2.0
 
Modes of Internet connection
• Broadband Router (Broadband Router)
• Mobile Router (Mobile Router)
• Wi-Fi Hotspot
 
Power modes
• On / Off / Charger (On / Off / Charge) 8
 
Frequency band
• IEEE 802.11a: 5150 MHz ~ 5850 MHz
• IEEE 802.11b: 2400 ~ 2497 MHz ISM band
• IEEE 802.11g: 2400 ~ 2483.5 MHz ISM band
• IEEE 802.11n (2,4 GHz): 2400 ~ 2483.5 MHz ISM band
• IEEE 802.11n (5 GHz): 5180 MHz ~ 5320 MHz, 5745 MHz ~ 5825 Hz
• IEEE 802.11ac (draft) (5 GHz): 5180 MHz ~ 5320 MHz, 5745 MHz ~ 5825 MHz
 
Speed ​​wireless
• IEEE 802.11a: 6, 9, 12, 18, 24, 36, 48 and 54 Mbit / s
• IEEE 802.11b: 1, 2, 5.5 and 11 Mbit / s
• IEEE 802.11g: 6, 9, 12, 18, 24, 36, 48 and 54 Mbit / s
• IEEE 802.11n (5 GHz): 6.5 ~ 150 Mbit / s
 
Transmitter output power
• IEEE 802.11a:
   17 dBm (+ /-1dB) at 6-18 Mbit / s
   16 dBm m (+ /-1dB) for 24-36 Mbit / s
   DBm 14 dBm (+ /-1dB) for 48-54 Mbit / s
• IEEE 802.11b: 17dBm at 1,2,5,5,11 Mbit / s
• IEEE 802.11g:
   18 dBm at 6-18 Mbit / s
   24-36 dBm at 16 Mbit / s
   48-54 dBm at 14 Mbit / s
• IEEE 802.11n (5 GHz)
  17 dBm (+ /-1dB) at MCS3 ~ MCS0
  16 dBm (+ /-1dB) at MCS5 ~ MCS4
  14 dBm (+ /-1dB) at MCS7 ~ MCS6
• IEEE 802.11n (2,4 GHz)
  18 dBm at MCS 3 ~ 0
  16 dBm at MCS 5 ~ 4
  14 dBm at MCS 7 ~ 6
  21 dBm at MCS 11 ~ 8
  19 dBm at MCS 13 ~ 12
  17 dBm at MCS 15 ~ 14
• IEEE 802.11ac (draft) (5 GHz)
  17 dBm at MCS3 ~ MCS0
  16 dBm at MCS5 ~ MCS4
  14 dBm at MCS7 ~ MCS6
  13 dBm at MCS9 ~ MCS
Antennas
• Internal antennas
 
Functionality
• Appendix mydlink SharePort
• For iPhone ®, iPad ®, iPod touch ® and Android ™
• The remote access: access files over a network Internet7
• The local access: Access your files from any device connected to the DIR-510L
• SharePort Web Access (access via Web-browser)
• Access your files from any device connected to the DIR-510L
• Application support SharePort Mobile devices based on Windows ® 8/RT
 
Security
• Wi-Fi Protected Access (WPA/WPA2)
• 64/128-bit WEP-shifrovanie5
• WPS 2.0 (PBC)
 
Advanced Features
• Support for Guest Zone
• IPv6
• Wi-Fi WMM Quality of Service (QoS)
• Supports UPnP
• Media Server DLNA4
 
Advanced Firewall Features
• Network Address Translation (NAT)
• MAC-address filtering
 
Device control
• Management via Web-interface with PC and mobile phone
נתונים פיזיים
Measurements
• 140 x 59 x 16 mm
 
Weight
• 154 grams
 
Power
• Built-in lithium-ion battery capacity of 4000 mA / h
• Input:  max 5 V DC / 1,8 A (standard adapter);
• Output:  5 V / 1 A   (USB-port Type A)
                 5 V / 0,5 A (USB-port Type A)
 
Temperature
• Operating: 0 to 40 ° C
• Storage: -10 to 45 ° C
 
Humidity
• Operating: 10 to 75% non-condensing
• Operating:   5 to 75% non-condensing
 
Certificates
• FCC
• CE
• IC
• C-Tick
• NCC
• cUL
• LVD
• BSMI