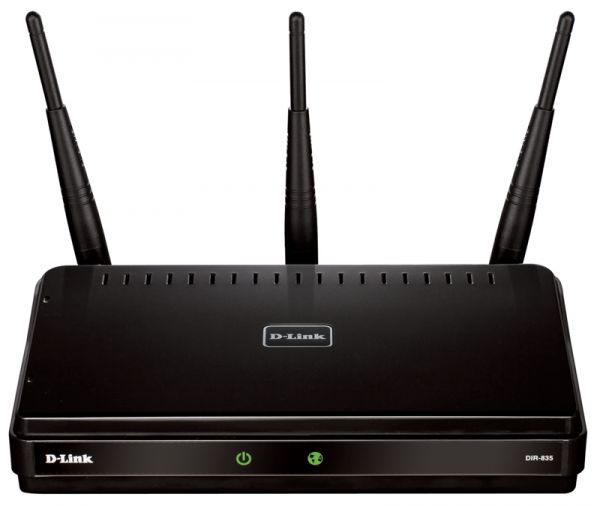 DIR-835
EOL EOS
נתב אלחוטי בתקן 802.11n עם 4 יציאות רשת קוויות Gigabit, במהירות אלחוטית עד 450Mbps
היכן לקנות
תאור
High work with dual-band 802.11N standard wireless network technology, and Gigabit
Dual-Band Wireless Router N750 D-Link DIR-835 enables users to check e-mail and search for information on the Internet, using a range of 2.4 GHz, while the 5 GHz frequency band can be used for streaming HD-video and other media content with a smooth, uninterrupted playback. Gigabit ports Router DIR-835 allows users to achieve a peak speed of connection, and dual-band technology supports a range of just two frequencies (2.4 GHz and 5 GHz), providing fast and reliable operation of network connections.
 
HD Fuel ™ technology and intelligent QoS technology
Support for HD Fuel ™ technology delivers superior quality video and gaming. The use of a relatively free band 5 GHz and an extended technology intellectual quality of service (QoS) provides high quality streaming media data. DIR-835 uses intelligent QoS prioritization for analyzing and sharing data streams into multiple traffic wireless and wired networks, resulting in a priority may be applications such as VoIP, streaming video and games online.
 
Share a multifunction device or usb-storage devices
With utility SharePort Plus Network USB, users can share print, scan and fax in the office or at home, simply connect the multi-function USB-device. In addition, users can connect a USB hard drive to create a shared space for computers and devices on the network, which allows to share photos, documents and media files at home or office.
 
IPv6 Ready
The DIR-835 supports standard IPv6 and provides compatibility with IPv6 from other manufacturers. This allows you to use 128-bit addressing system and connect directly to a user anywhere in the world with a unique IP-address. This router can simultaneously support routing for networks based on IPv4 and IPv6, which provides full compatibility and the device meets the requirements of today and tomorrow.
מאפיינים כללים
Standards
• IEEE 802.11n
• IEEE 802.11g
• IEEE 802.11a
• IEEE 802.11b
• IEEE 802.3
• IEEE 802.3u
• IEEE 802.3ab
 
WAN connection types
• Static IP
• Dynamic IP
• PPPoE
• PPTP
• L2TP
 
Device Interfaces
• 4-port LAN Gigabit 10/100/1000Base-T
• 1-port WAN Gigabit 10/100/1000Base-T
• 1 USB 2.0
 
Antennas
• Three detachable dual band antenna with SMA connectors
 
Speed ​​wireless
• IEEE 802.11b: 1, 2, 5.5, 11 Mbit / s
• IEEE 802.11g: 6, 9, 12, 18, 24, 36, 48, 54 Mbit / s
• IEEE 802.11n (2,4 GHz): 6.5 to 300 Mbit / s
• IEEE 802.11n (5 GHz): 6.5 to 450 Mbit / s
 
The transmitter power
802.11b
• 20 dBm for 1, 2, 5.5, 11 Mbit / s
802.11g
• 20 dBm for 6-36 Mbit / s
• 19 dBm for 48 Mbit / s
• 18 dBm for 54 Mbit / s
802.11n (2,4 GHz)
Mode HT20
• 20 dBm for MCS0-MCS4 and MCS8-MCS12
• 19 dBm for MCS5 and MCS13
• 18 dBm for MCS6 and MCS14
• 17 dBm for MCS7 and MCS15
Mode HT40
• 19 dBm for MCS0-MCS5 and MCS12-MCS13
• 18 dBm for MCS6 and MCS14
• 16 dBm for MCS7 and MCS15
802.11n (5GHz)
Mode HT20
• 19 dBm for MCS0-MCS3, and MCS8-MCS11, and MCS16-MCS19
• 18 dBm for MCS4-MCS6, and MCS12-MCS14, and MCS20-MCS21
• 17 dBm for MCS22
• 16 dBm for MCS7 and MCS15
• 14 dBm for MCS23
Mode HT40
• 19 dBm for MCS0-MCS3, and MCS8-MCS11, and MCS16-MCS19
• 18 dBm for MCS4-MCS5, and MCS12-MCS13, and MCS20-MCS21
• 17 dBm for MCS6 and MCS14
• 16 dBm for MCS7, and MCS15, and MCS22
• 13 dBm for MCS23
 
Receiver Sensitivity
802.11a
• -82 dBm for 6 Mb / s
• -81 dBm to 9 Mbit / s
• -79 dBm for 12 Mbit / s
• -77 dBm for 18 Mbit / s
• -74 dBm for 24 Mbit / s
• -70 dBm at 36 Mbit / s
• -66 dBm for 48 Mbit / s
• -65 dBm for 54 Mbit / s
802.11b
• -87 dBm at 1 Mb / s
• -87 dBm at 2 Mbit / s
• -85 dBm at 5,5 Mbit / s
• -82 dBm at 11 Mbit / s
802.11g
• -82 dBm for 6 Mb / s
•-81dBm for 9 Mbit / s
• -79 dBm for 12 Mbit / s
• -77 dBm for 18 Mbit / s
• -74 dBm for 24 Mbit / s
• -70 dBm at 36 Mbit / s
• -66 dBm for 48 Mbit / s
• -65 dBm for 54 Mbit / s
802.11n (2,4 GHz)
Mode HT20
• -82 dBm for MCS0 / 8
• -79 dBm for the MCS1 / 9
• -77 dBm for MCS2/10
• -74 dBm for MCS3/11
• -70 dBm for MCS4/12
• -66 dBm for MCS5/13
• -62 dBm for MCS6/14
• -64 dBm for MCS7/15
Mode HT40
• -79 dBm for MCS0 / 8
• -76 dBm for the MCS1 / 9
• -74 dBm for MCS2/10
• -74 dBm for MCS3/11
• -67 dBm for MCS4/12
• -63 dBm for MCS5/13
• -65 dBm for MCS6/14
• -61 dBm for MCS7/15
802.11n (5GHz)
Mode HT20
• -82 dBm for MCS0/8/16
• -79 dBm for MCS1/9/17
• -77 dBm for MCS2/10/18
• -74 dBm for MCS3/11/19
• -70 dBm for MCS4/12/20
• -66 dBm for MCS5/13/21
• -65 dBm for MCS6/14/22
• -64 dBm for MCS7/15/23
Mode HT40
• -79 dBm for MCS0/8/16
• -76 dBm for MCS1/9/17
• -74 dBm for MCS2/10/18
• -74 dBm for MCS3/11/19
• -67 dBm for MCS4/12/20
• -63 dBm for MCS5/13/21
• -62 dBm for MCS6/14/22
• -61 dBm for MCS7/15/23
 
Security
• WPA and WPA2 (Wi-Fi Protected Setup)
• 64/128-bit WEP-encryption
• Wi-Fi Protected Setup (WPS) - PIN and PBC
 
Device management and monitoring
• Microsoft Internet Explorer 6 + or Firefox 1.5 +, or other Java-enabled browsers
• D-Link Network Monitor Yahoo! Widget
• D-Link Internet Usage Meter Yahoo! Widget
• DLNA server for streaming media data to compatible media pleery6
 
Supports SharePort ™ Plus
• Ability to connect to the USB-port external hard drive or a multi-function device
• The ability to share hard disk drives, and print functions skanirovaniya5
 
QoS
• Technology D-Link Intelligent QoS
 
Advanced Firewall Features
• Network Address Translation (NAT)
• Stateful Packet Inspection (SPI)
• Filtering IP / MAC-addresses
• VPN pass-through / Multi-session PPTP / L2TP / IPSec
• DMZ-zone
 
Router
• Port Forwarding
• Port Triggering / Special Applications Support
• Support for static routes
• Supports WLAN Partition
• DHCP-server
• DNS Relay
 
Minimum System Requirements
• Windows ® 7/Vista3/XP SP3 or Mac OS ® X (v10.4) 4
• Microsoft Internet Explorer 6 or higher, or Firefox 1.5 or higher
• CD-ROM
• Ethernet network interface
• Cable or DSL-modem
• Subscribe to Internet service provider
נתונים פיזיים