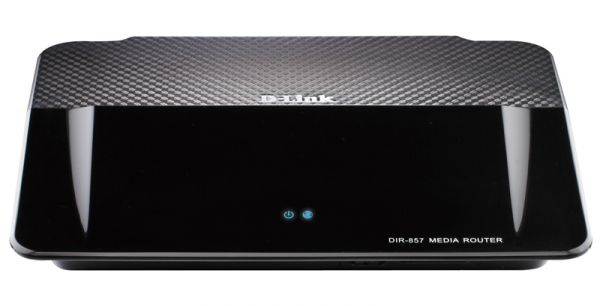 DIR-857
EOL EOS
נתב HD media אלחוטי בתקן 802.11n הפועל על 2 תדרים בעל 4 יציאות רשת קווית וכניסת USB3.0 עד 450Mbps
היכן לקנות
תאור
What it does
Experience the unprecedented wireless speeds of D-Link's HD Media Router 3000, which features concurrent dual-band wireless performance with 450 + 450 Mbps transfer speeds for flawless HD video streaming and quick file transfers. Built in Quality of Service (QoS) features optimize your network to ensure that your multimedia playback is smooth and your online gaming is lag free.

Instant file sharing with SharePort
It's easy to share your photos, music, and videos; with D-Link's SharePort™ Plus technology, you can connect a high-speed USB 3.0 storage drive to provide instant, simultaneous shared access to it for your network.1 You can also connect a multifunction USB printer to share printing, scanning, and faxing functions, allowing you to use a single printer for your entire home or office.
מאפיינים כללים
Standards
• IEEE 802.11n
• IEEE 802.11g
• IEEE 802.11b
• IEEE 802.3a
• IEEE 802.3
• IEEE 802.3u
• IEEE 802.3ab
• USB 3.0
 
Device Interfaces
• 802.11n/g/b/a wireless LAN
• 4-port 10/100/1000 BASE-T Gigabit LAN
• 1 USB 3.0 port
• Slot for SD-cards
 
Wireless Speed
Wireless connectivity at speeds of 450 + 450 Mbit / s using two diapazonov2
 
Security
• WPA and WPA2 (Wi-Fi Protected Access)
• 64/128-bit WEP-encryption
• WPS-connection
 
QoS
• QoS engine to prioritize traffic
• WMM for WLAN traffic
 
Technology Shareport
• Sharing an external hard drive or USB drive fash-through SAMBA file share
• Simultaneous multi-user access to the drive
• Share your multifunction USB-printer
 
Indicators
• Power / Status
• Internet
 
Device control
• Supports UPnP
• Supports DDNS
• Wireless Security Wizard and Wireless Protected Setup (WPS)
• Windows Connect Now (WCN)
• Web-based management interface of Internet Explorer 6 or later or other Java-enabled browser
• Check the software update online
• Notification by email about freelance events
• UPnPTM-server for streaming media content to compatible mediapleery4
• Support for multiple languages
 
Data transfer rate
• IEEE 802.11a: 54, 48, 36, 24, 18, 12, 9 and 6 Mbit / s
• IEEE 802.11b: 11, 5.5, 2 and 1 Mbit / s
• IEEE 802.11g: 54, 48, 36, 24, 18, 12, 9 and 6 Mbit / s
• IEEE 802.11n (2.4 / 5 GHz): 6.5 ~ 450 Mbit / s
 
Transmitter output power
• IEEE 802.11a
  +16 DBm at 6-18 Mbit / s
  +14 DBm at 24-36 Mbit / s.
  +11 DBm at 48-54 Mbit / s.
• IEEE 802.11b
  +17 DBm at 11, 5.5, 2 and 1 Mbit / s
• IEEE 802.11g
  +16 DBm at 6-36 Mbit / s
  +13 DBm at 48-54 Mbit / s.
• IEEE 802.11n (2.4 GHz)
  +16 DBm at MCS0-MCS2, MCS8-MCS10, MCS16-18
  +15 DBm at MCS3-MCS4, MCS11-MCS12, MCS19-20
  +15 DBm at MCS5-MCS7, MCS13-MCS15, MCS21-23
• IEEE 802.11n (5 GHz)
  +14 DBm at MCS0-MCS4, MCS8-MCS12, MCS16-20
  +11 DBm at MCS5-MCS7, MCS13-MCS15, MCS21-23
 
Package
• The DIR-857 HD Media Router 3000
• Installation CD-ROM with User Manual
• The power adapter 12 V DC / 2 A
• Ethernet-Cable - CAT 5
 
System Requirements
• Cable or DSL-modem with Ethernet-port
• AC adapter
• CD-ROM
• Windows 7/Vista/XP SP3 or High: 5
• Internet Explorer 6 or higher, Firefox 1.5 or higher
 
Additional devices
For maximum router performance HD Media Router 3000 use it in conjunction with the following D-Link:
• DSM-380: Boxee Box D-Link
  Browsing the Internet via a HD TV
• DWA-160 Wireless USB-adapter
  Connecting a computer to a wireless network using a USB-adapter
• DNS-325: networked hard drive
  Connecting to a network drive and storing it in the backup
נתונים פיזיים
Operating temperature
• From 0 ° to 40 ° C
 
Storage temperature
• -20 ° to 65 ° C
 
Operating humidity
• From 10% to 95% (no condensation)
 
Weight
• 341.5 g
 
Dimensions
• 212 x 160 x 34.4 mm
 
Relative humidity
• 5 to 95% (no condensation)
 
Certificates
• FCC Class B
• CE
• IC
• C-Tick
• IPv6 Ready
• Wi-Fi
• WMM
• The device supports Windows 7