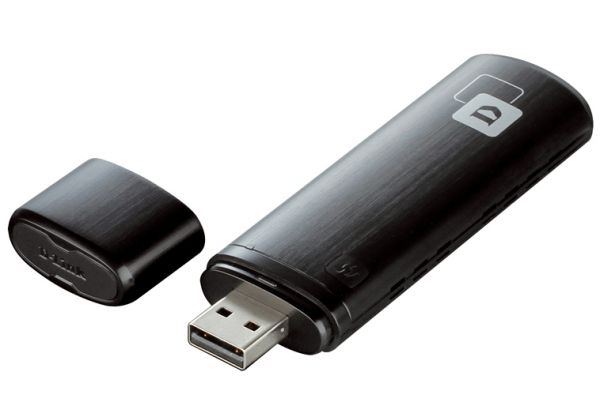 DWA-182
EOL EOS
מתאם אלחוטי USB3.0 בתקן אלחוטי AC1200
היכן לקנות
תאור
Wireless Dual Band USB-adapter AC1200 DWA-182 allows you to connect a desktop or notebook computer to a wireless network. Simply install the adapter into an available USB-port and connect to the wireless network to gain access to a secure high-speed Internet connection in the 2.4 GHz band (300 Mbit / s) or 5 GHz (up to 867 Mbit / s) 1. In addition, dual-band operation reduces noise Wi-Fi to increase capacity and, therefore, improve the speed of streaming data, run games and VoIP-telephony.
 
Bandwidth without interference
Adapter DWA-182 provides for a home network interference-free bandwidth through the use of technology in the two frequency bands. Check email and visit the Web-sites can be in the 2.4 GHz band, and playing online games, to call on Skype and watch streaming HD video - interference-free 5 GHz band.
 
Easy setup with one click
Support for Wireless Protected Setup (WPS) allows you to quickly and easily set up a secure connection to the wireless network. State of the art encryption technology ensures the safety of data transferred in the network and prevents unauthorized access. To connect the touch of a button.
 
Compatible with all wireless devices
Adapter DWA-182 supports the latest standard 802.11ac, is backward-compatible with all existing wireless devices. Therefore there is no need to perform updates or using additional adapters.
 
Standard 802.11ac
802.11ac - this is a new wireless standard for high speed data transmission in the 5 GHz band. Because of this, guaranteed no distortions or delays in the transmission of streaming HD video, video calling, VoIP-telephony work or play. The adapter DWA-182 is backward compatible with all existing wireless 802.11n/g/b devices.
מאפיינים כללים
LED diagnostics
• Activity
 
Safety
• Wi-Fi Protected Access (WPA ™ and WPA2 ™)
• Wi-Fi Protected Setup - PIN and PBC
 
Standards
• IEEE 802.11ac (Draft)
• IEEE 802.11n
• IEEE 802.11g
• IEEE 802.11b
• IEEE 802.11a
 
Type of antenna
flush antenna
 
Requirements
• Operating system: Windows 7/Vista/XP SP3
• Compatible Web-browsers: Internet Explorer ® v7 or Mozilla Firefox ® v3.0
• Interface: available USB-port
נתונים פיזיים
Measurements
• 97,3 x 29,1 x 13,5 mm
 
Weight
• 20.5 g
 
Power
• Operating Voltage: DC 5V ± 10%
• Power consumption: 500 mA
 
Temperature
• Operating: 0 to 40 C
• Storage: -20 to 75 C
 
Humidity
• Operating: 10% to 90% (non-condensing)
• Storage: 5% to 95% (non-condensing)
 
Certificates
• FCC Class B
• IC
• CE
• C-Tick
• Wi-Fi Certified
• Wi-Fi Protected Setup