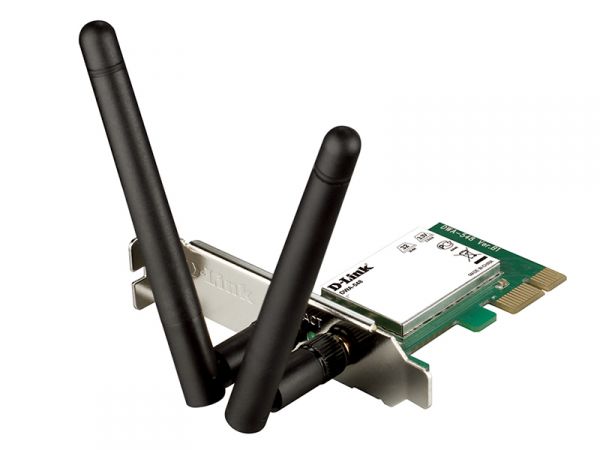 DWA-548
EOL
מתאם רשת אלחוטי PCI express בתקן 802.11N עד 300Mbps
היכן לקנות
תאור
The increased speed and extended range of the network
Wireless Adapter PCI Express Wireless N 300 DWA-548 allows you to connect to high-speed wireless network. Extended range and increased speed ensures fast and reliable connection anywhere in your home.

Advantages of PCI Express
PCI Express technology provide high throughput, increased performance and allows you to connect the adapter DWA-548 to any PCIe slot machine - x1, x4, x8, or x16.

Connecting to a network
This adapter is based on Wireless N technology delivers high performance wireless network. DWA-548 is designed for use in bigger homes and for users who require high speed data transmission for the network. The adapter can be connected to the wireless Wireless N router from anywhere in the house. Also, DWA-548 is backward compatible with 802.11g and 802.11b and supports encryption of WPA and WPA2, which provides wireless security.

Easy to install and use
Quick Setup Wizard provides step by step instructions for getting this adapter without the help of a specialist. The package includes a utility for managing your wireless connections (Wireless Manager), which allows you to keep track of the most frequently accessed networks. With its high performance, excellent reception and enhanced security, this adapter is the perfect choice to create or improve connectivity to the desktop wireless network.
מאפיינים כללים
OS Support
• Windows 7, Vista, XP SP3

Standards
• IEEE 802.11n
• IEEE 802.11g
• IEEE 802.11b

Frequency band
• 802.11b: 2400-2497 MHz
• 802.11g: 2400-2483,5 MHz
• 802.11n: 2400-2483,5 MHz

Interface
• PCI Express (PCIe)

Security
• Wi-Fi Protected Access (WPA ™ and WPA2 ™)
• 64/128-bit WEP-encryption
• Wi-Fi Protected Setup - PIN and PBC

Antenna
• Detachable dipole antenna, 2 dBi

LED diagnostics
• Activity

Wireless speed
• IEEE 802.11b: 1, 2, 5.5, 11 Mbit / s
• IEEE 802.11g: 6, 9, 12, 18, 24, 36, 48, 54 Mbit / s
• IEEE 802.11n: 6.5 to 300 Mbit / s

Transmitter power
• 802.11b
16 ± 2 dBm for 1, 2, 5.5, 11 Mbit / s
• 802.11g
17 ± 2 dBm for 6, 9, 12, 18, 24 Mbit / s
15 ± 2 dBm for 36, 48 Mbit / s
14 ± 2 dBm for 54 Mbit / s
• 802.11n (mode HT20)
14 ± 2 dBm for MCS0-MCS7
• 802.11n (mode HT40)
12 ± 2 dBm for MCS0-MCS7

Receiver sensitivity
• 802.11b
-76 DBm for 1 Mbit / s
-76 DBm for the 2 Mbit / s
-76 DBm for 5.5 Mbit / s
-76 DBm for 11 Mbit / s
• 802.11g
-82 DBm for 6 Mb / s
-81 DBm to 9 Mbit / s
-79 DBm for 12 Mbit / s
-77 DBm for 18 Mbit / s
-74 DBm for 24 Mbit / s
-70 DBm for 36 Mbit / s
-66 DBm for 48 Mbit / s
-65 DBm for 54 Mbit / s
• 802.11n (mode HT20)
-80 DBm for MCS0
-77 DBm for the MCS1
-75 DBm for MCS2
-72 DBm for MCS3
-68 DBm for MCS4
-64 DBm for MCS5
-63 DBm for MCS6
-62 DBm for MCS7
• 802.11n (mode HT40)
-77 DBm for MCS0
-74 DBm for the MCS1
-72 DBm for MCS2
-69 DBm for MCS3
-65 DBm for MCS4
-61 DBm for MCS5
-60 DBm for MCS6
-59 DBm for MCS7
נתונים פיזיים
Operating voltage
• 3.3 V DC + / - 10%

Operating temperature
• From 0 to 40 ° C

Storage temperature
• From -20 to 75 C

Operating humidity
• From 10% to 90% noncondensing

Storage humidity
• From 5% to 95% noncondensing

Size
• 63,5 x 55 x 11,42 mm

Weight
• 42.5 g of

Certificates
• CE Class B
• IC
• Wi-Fi
• Wi-Fi Protected Setup
• CE