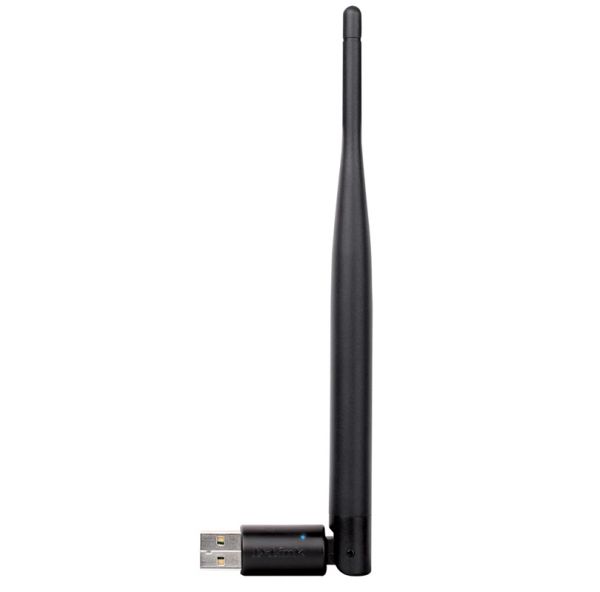 DWA-127
EOL EOS
מתאם רשת אלחוטי Wireless 150 עד 150Mbps
היכן לקנות
תאור
High-speed wireless network connection
When connected to a high-speed wireless network using a USB-adapter, the D-Link Wireless 150, you can browse web-pages, check e-mail, chat with friends and family online. Wireless Technology 150 offers increased wireless speed and range compared with the standard 802.11g/b, ensuring fast and reliable wireless connection.
Extended Range USB-adapter DWA-127 with an antenna having high gain, and improves signal reception, and it provides increased wireless coverage. Due to the possibility of rotation of the antenna can improve reception of the wireless signal with a fine-tuning the antenna.

Secure connection to a wireless network
To protect user data and confidential information while browsing web-pages, DWA-127 supports encryption protocols WEP, WPA and WPA2 to connect to protected wireless networks and ensure the safety of the traffic. This allows you to safely and confidently make purchases at online store and check mail.

Easy to install and use
Using the Quick Setup Wizard for a few minutes to install USB-adapter. Technology Wi-Fi Protected Setup (WPS) provides a secure wireless connection without requiring the user to complicated settings.
מאפיינים כללים
System Requirements
Computer with:
• Windows 7, Vista or XP SP3
• CD-ROM drive
• 20 MB of free hard disk space
• Available USB port

Standards
• IEEE 802.11n
• IEEE 802.11g
• IEEE 802.11b
• USB 2.0

Frequency band
• 2.4 - 2.4835GHz

Antenna
• Omni-directional dipole antenna with a gain 3dBi

Security
• WEP-Encryption 64/128-bit
• Wi-Fi Protected Access (WPA and WPA2)

Wireless Speed ​​*
• IEEE 802.11b: 11, 5.5, 2 and 1 Mbit / s
• IEEE 802.11g: 6,9,12,18,24,36,48,54 Mbps / sec
• IEEE 802.11 n: up to 150 Mbit / s

Transmitter output power
• IEEE 802.11b:
17 dBm (± 2dB) for 1,2,5.5,11 Mbit / s
• IEEE 802.11g:
16 dBm at 12 ~ 6 Mbit / s
15 dBm at 24.36 Mbit / s
14 dBm at 54.48 Mbit / s
• IEEE 802.11 n:
HT20
17 dBm at MCS0 / a
16 dBm at MCS2 / 3
15 dBm at MCS4 / 5
14 dBm at MCS6 / 7
HT40
17dBm at MCS0 / a
16 dBm at MCS2 / 3
15 dBm at MCS4 / 5
14 dBm at MCS6 / 7

Receiver Sensitivity
• IEEE 802.11b:
17 dBm at 1, 2, 5.5, 11 Mbit / s
• IEEE 802.11g:
-86 DBm at 6 Mbit / s
-85 DBm at 9 Mbit / s
-84 DBm at 12 Mbit / s
-84 DBm at 18 Mbit / s
-80 DBm at 24 Mbit / s
-77 DBm at 36 Mbit / s
-74 DBm at 48 Mbit / s
-68 DBm at 54 Mbit / s
• IEEE 802.11 n:
HT20
-86 DBm at MCS0
-84 DBm at MCS1
-82 DBm at MCS2
-79 DBm at MCS3
-76 DBm at MCS4
-74 DBm at MCS5
-72 DBm at MCS6
-68 DBm at MCS7
HT40
-83 DBm at MCS0
-81 DBm at MCS1
-79 DBm at MCS2
-77 DBm at MCS3
-74 DBm at MCS4
-70 DBm at MCS5
-68 DBm at MCS6
-62 DBm at MCS7