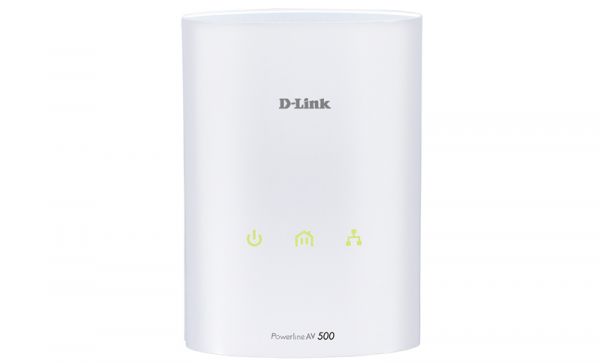 DHP-500AV
EOL EOS
מתאם Powerline HD עד 500Mbps
היכן לקנות
תאור
Data transmission over electrical wiring
AC adapter D-Link DHP-500AV Powerline lets you use existing electrical wiring to create a network or extend the range of the wireless network1. AC adapter included in the outlet, allows access to a variety of digital media devices, game consoles, print servers, computers and network storage devices. AC adapter D-Link DHP-500AV Powerline complies with IEEE 1901 and compatible with devices using the HomePlug.
 
The ideal solution for applications that require high bandwidth
Network Adapter DHP-500AV enables data transmission speeds of 500 Mbit/s2, making the device an ideal solution for applications that require high bandwidth, providing streaming HD-video, VoIP-telephony, online gaming, without delay. In addition, the adapter implements the function to prioritize Internet traffic, ensuring trouble-free operation of multimedia applications while viewing Web-pages and downloads. The device provides a high bandwidth, allowing users to choose the technology digital home, the ability to use existing wiring to transmit high-quality streaming media.
 
Easy Setup and Security
Network Adapter DHP-500AV plugs directly into an electrical outlet and requires no additional cables. Extend the range of your home network by connecting multiple devices from the most distant points of the house, or create additional connection by connecting a switch or wireless access point to the adapter. For ease of installation, you can create an encryption key with one click. The adapter supports 128-bit AES data encryption to protect your network from unauthorized connection to the line. Thanks to easy installation Plug-and-Play, Adapter DHP-500AV is an ideal solution to create a home network.
 
Power Saving Function
Network Adapter DHP-500AV supports energy conservation in accordance with the European Directive Energy Using Product (EuP). If within a period of time not being transmitted or received, the adapter automatically switches to standby mode for energy conservation.
מאפיינים כללים
Standards
• IEEE 802.3
• IEEE 802.3U
• IEEE 1901
 
Powerline interface
• Power connector (depending on country)
 
Ethernet interface
• Port 10/100/1000BASE-T Ethernet with auto-crossover MDI / MDIX
• RJ-45 connector
 
Modulation scheme powerline
• OFDM Symbol Modulation
 
Frequency range powerline
• From 2 MHz to 70 MHz
 
Transfer rate
• Powerline: up to 500 Mbit / s (PHY rate)
• Ethernet: 10/100/1000 Mbit / s (automatic speed change)
 
QoS
• Built-in QoS to prioritize traffic
 
Safety
• 128-bit AES encryption
 
Minimum System Requirements
(For computer utilities)
• PC with a 200 MHz
• Memory 64 MB
• Windows 7, Vista, XP SP2 or 2000 SP4
• Ethernet (1000 Mbit / s)
 
Indicators
• Power
• Powerline
• Ethernet
 
Input Power
• From 100 to 240 VAC, 50/60 Hz
 
Power Save
• Support for the power save
• Meets the requirements of the EU Directive on Energy Efficiency Technology
נתונים פיזיים
Measurements
• 100 x 70 x 53 mm
 
Weight
• 150 g
 
Operating temperature
• 0 to 40 º C
 
Operating humidity
• From 10% to 90% (non-condensing)
 
Certificates
• FCC Part 15 Class B
• CE EMC Class B
• UL
• CE LVD
• K21