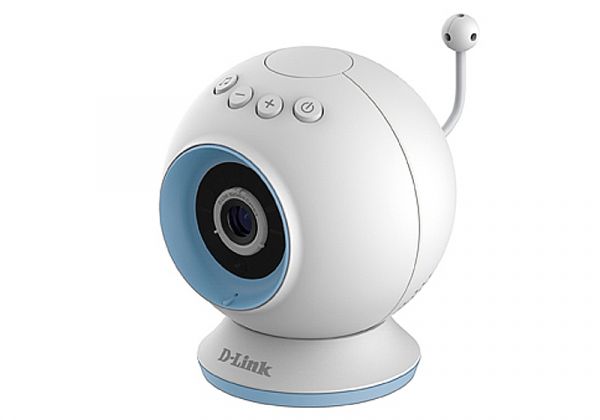 DCS-825L
EOL
מצלמת מעקב להשגחה על תינוקות באיכות HD
היכן לקנות
תאור
Video Camera DCS-825L provides round the clock monitoring of your child. With this portable camera, you can easily convert your mobile device surveillance. By connecting the camera to a wireless network or the Internet, you can watch the baby no matter where you are. The camcorder supports a wide range of functions, caring for the baby, including motion detection, sound, temperature sensors, and night vision function, automatic creation of snapshots and video recording. In addition, the camcorder playback melodic lullabies help your child sleep.

Child Safety - the key to peace of mind of parents
Video Camera DCS-825L is designed specifically for video surveillance of the child. The camera is equipped with a megapixel sensor lets you record video with resolution up to 720p. In addition, DCS-825L supports night vision mode, which is activated automatically when it is dark, so you can be monitored both in the daytime and at night. Watch a child can not only at home but also abroad: mydlink app would allow for remote monitoring via the Internet.

Integrated Information System
Video Camera DCS-825L supports notification of certain events. Temperature sensor allows you to monitor the temperature in the room and informs about increasing or decreasing temperature, providing comfort and protection to the child. In addition, the camera supports motion detection and sound like a baby crying. After the detection of motion or sound is recording snapshots and video clips that you can view later.

Portable monitoring solution anywhere
Going on a family trip, you can take a video camera, even where there is no access to the Internet. For local CCTV simply connect the mobile device to the wireless network video camera. Video Camera DCS-825L is the perfect solution for a family holiday, and when you go to visit friends. You can also connect an external USB-battery1 that provides even greater portability of the device.

Ease of use
Running camcorder is instant; free app mydlink Baby for iPhone, iPad and Android contains step by step instructions for installation and combines a user-friendly interface and advanced functionality. The camcorder allows you to monitor the child, zoom in or out, as well as any of the five plays soothing lullabies. You can also record video and snapshots and save them directly to your mobile device.
מאפיינים כללים
Hardware profile camera
• 1/4-inch megapixel CMOS-sensor with progressive scan
• IR illumination distance: 5 m
• Minimum illumination: 0 lux with IR lighting
• Built-in microphone and speaker
• Digital Zoom
• Screw to the tripod
• Focal length: 3.3 mm
• Aperture: F2.2
• Angles:
• 66,18 (horizontal)
• 35,9 (vertical)
• 76,22 (diagonal)

Interfaces for external devices
• Wireless 802.11n
• Card slot Micro SDHC2
• Reset button
• Buttons Lullaby melody, increase / decrease volume, Food
• Micro-USB Port

Image details
• Adjusting the image size
• Timestamps and pasting temperature

Video Compression
• Compression H.264 video
• JPEG for still pictures

Video Resolution
• 1280x720
• 640x360

Audio Compression
• AAC

Function baby monitor
• Detection of the sound with adjustable sensitivity
• Motion detection with adjustable sensitivity
• Record snapshots and video to Micro SD card on motion detection or sound
• Determination of the temperature with a customizable "wake" range
• E-mail notification when it detects sound / motion / temperature changes
• Two-way audio, allowing a child to hear and respond to it

Mobile Apps
• Appendix mydlink Baby Camera Monitor, available on the App Store ® and Google Play ™
• Compatible with iPhone and iPad, using iOS version 5.1.1 or higher
• Compatible with Android smartphones and tablet PCs using Android version 4.1 or higher

Network Protocols
• IPv4
• ARP
• TCP / IP
• UDP
• ICMP
• DHCP-client
• HTTP
• HTTPS (for configuration)
• UPnP Port Forwarding
• RTP / RTSP / RTCP

Security
• Protection Administrator
• Password authentication
• Authentication HTTP and RTSP

System requirements for the web-interface
• Operating System: Microsoft Windows XP, Vista, 7, 8
• Web-Browser: Internet Explorer version 7 or higher, Firefox, Chrome, Safari
נתונים פיזיים
Measurements
• 137,1 x 92 x 105,5 mm fully extended temperature sensor

Weight
• Device: 139.6 g

Power Input
• 5 VDC 1.5 A, 50/60 Hz via AC adapter
• an external power supply from a USB-battery output current, at least 2 A

Power consumption
7.5 W max.

Temperature
• Operating: 0 to 40 C
• Storage: -20 to 70 C

Humidity
• Operating: 20% to 80% (non-condensing)
• Storage: 5% to 95% (non-condensing)

Certificates
• CE
• CE LVD
• FCC
• C-Tick