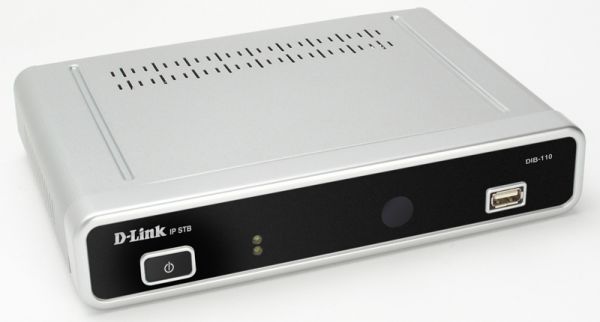 DIB-110
EOL
ממיר IP לטלויזיה- עבור שידורים על גבי הרשת (IPTV)
היכן לקנות
תאור
The DIB-110 is designed for broadband service providers to deliver high-quality, triple-play services.  With highly flexible architecture and advanced codec, the DIB-110 is a hybrid set-top box (STB) for IP-based and DVB-x (Digital Video Broadcast) applications.  With an Ethernet port linked to the broadband CPE, the DIB-110serves as a home entertainment portal for consumers to enjoy interactive multimedia services together with the television and stereo system via a variety of interfaces.
Using the remote controller by following the user-friendly on-screen TV user interface, it is easy to install and setup the DIB-110. With streaming contents from service providers, the DIB-110 is able to work with leading IPTV Middlewares and other head-end systems. With the powerful system-on-chip (SoC), the DIB-110 supports various audio/video streaming formats such as MP3, WMA, AAC, MPEG-2, MPEG-4, VC-1, and H.264 (H.264). 
In addition to video/audio streaming from content provider, the embedded web browser provided by DIB-110 allows users to easily select their VOD/IPTV titles/channels and surf selected internet web sites. Beyond that, the powerful DIB-110 architecture also allows service providers to integrate more value-added features such as PVR, VoIP, video phone, online gaming and e-commerce.
The DIB-110 is designed with a compact, stylish form factor, which can fit elegantly into the living room environment and is cost effective to enable service providers to maximize their ARPUs
מאפיינים כללים
Main Features:
Support VOD and multicast IPTV
Extensive A/V media format support: ( Standard definition )
n MPEG-1 Laye r 1/2/3
n PCM
n AC-3 Dolby Digital
n AAC, AAC+
n MPEG-2
n MPEG-4 Part 10 (H.264)
n VC-1
Embedded browser for web surfing and on-screen function navigation, Flash and Java support is optional.
Flexible audio and video output via cable options:
n Composite
n S-Video
n Component
n SCART (for Europe)
n Stereo Audio
n Digital Audio via S/PDIF
n HDMI ( Optional )
Support a variety of middleware and head-end equipments
USB interface to connect with external storage or peripherals
DRM/CA
Optional features
n DVB-T/S/C
n IR Keyboard
n Smart Card Reader
n DVB-CI
n PVR
n VoIP, Video Phone
נתונים פיזיים