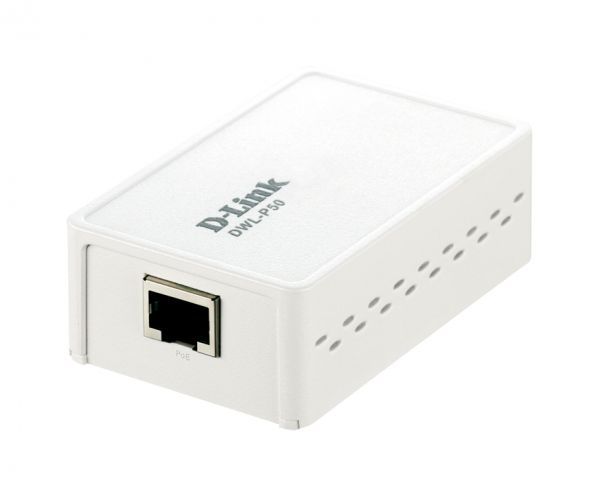 DWL-P50
EOL EOS
מתאם חשמל על הרשת (PoE). מאפשר לחבר התקנים שאינם תומכי PoE לרשת המבוססת PoE
היכן לקנות
תאור
D-Link, an industry leader in networking, introduces the DWL-P50 Power over Ethernet (PoE) Adapter. By using the DWL-P50, both data and electrical power can be delivered to a non-PoE Ethernet-enabled device from a single CAT5 Ethernet cable.
The DWL-P50 is simple to install and requires no tools or software. Multiple DWL-P50 terminal units complement any PoE injector unit or midspan switch to provide small to medium business settings a complete end-to-end PoE solution. In addition, this unit supports 802.3af ensuring compatibility with other 802.3af PoE compliant injector units or midspan switches.
Its compact size makes implementation extremely easy. During setup, this terminal unit can be set to power up any compatible 5V or 12V Ethernet-enabled device** via the volt selector located on the back.
Using the convenience of Power over Ethernet, you eliminate the need to place an Ethernet-enabled device, such as a wireless access point or an Internet camera near a power outlet. Having to manage only an Ethernet cable simplifies the physical installation of the device. You can now mount these devices on a ceiling or outside, up to 328 feet (100m)* from a power source.
With PoE, both power and data can be transmitted using standard Ethernet cabling with virtually no reduction in data throughput. Use the DWL-P50 with Ethernet-enabled devices where power outlets are not readily available and with any compatible PoE power source.
מאפיינים כללים
Operating voltage
• Input: 48V DC 400mA
• Output: 5V DC (11.5Vt) or 12V DC (12W)
• (select from the switch)

Ethernet Cable
• TIA / EIA 568 Category 5
• Connector: RJ-45

Indicator
• Power
נתונים פיזיים
Dimensions
• 80.9 x 52 x 28mm (adapter only)

Weight
• 80 grams (adapter only)

Operating temperature
• From 0oC to 40oC

Storage temperature
• From-40oC to 70oC

Operating humidity
• From 10% to 80% relative humidity

Storage humidity
• From 5% to 90% relative humidity

EMI Certifications
• FCC Part 15 Class B
• CE Class B

Security
• UL
• TUV

Delivery
• Adapter PoE DWL-P50
• Quick Installation Guide
• Ethernet Cable
• DC power cable to the connector "Mom"