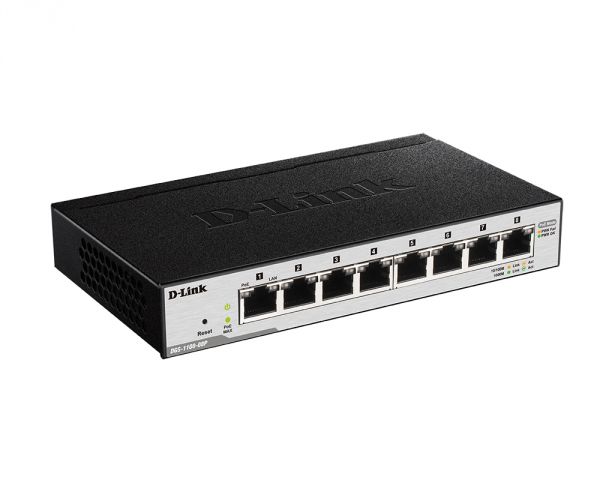 DGS-1100-08P
EOL
מתג מנוהל WEB עם 8 פורטים במהירות ג'יגהביט ותמיכה ב PoE
היכן לקנות
תאור
Switch DGS-1100 series is a cost-effective solution for a class SOHO and small and medium-sized businesses, as well as for networking companies, such as branch offices and a meeting room, where a simple operation. Each model comes in a compact desktop metal case and is equipped with 5, 8, 16 or 24 Gigabit ports.

Energy-saving technology D-Link Green
Switches DGS-1100 to meet the standard IEEE802.3az Energy Efficient Ethernet, consuming less electricity with a small amount of traffic. Installation of EEE provides small and medium-sized businesses save money by reducing the costs associated with the purchase of cooling equipment. Switches DGS-1100 series support the technology D-Link Green, provides automatic reduction of energy consumption. If the automatically determined by the length of cable connected less than 20 meters, the switch reduces power consumption. In addition, the switch detects the connection status of each port and provides automatically powers down ports.

Simple operation
Switches EasySmart support management via SmartConsole utility or Web-based. SmartConsole easily allows customers to discover switches line D-Link Smart in the same network segment L2. Using this tool eliminates the need to change the IP-address and provides easy initial installation switches Series Smart. The screen displays the switches belonging to the same network segment and connected to the local computer user, with the possibility of immediate access. The user is available for extended configuration and the basic settings of discovered devices such as password changes and software updates. Easy to use graphical Web-based interface provides network administrators the ability to remotely manage the network at the port level.

Surveillance VLAN and bandwidth management
Switches DGS-1100 series support the technology Surveillance VLAN for the video. Surveillance VLAN assigns video traffic a high priority and a separate VLAN, ensuring a high-quality surveillance and data through a single switch DGS-1100, thereby reducing costs associated with the acquisition of additional equipment. In addition, bandwidth management feature allows you to reserve bandwidth for a variety of applications that require high bandwidth, or to provide them with the highest priority.

Simple Troubleshooting
The switches support the Loopback Detection and diagnosis of the cable, which allows network administrators to quickly and easily find and fix network problems. Loopback Detection is used to detect loops, and automatic shut-off port that detected the loop. Cable Diagnostics is designed to determine the types of copper cabling, as well as the type of cable fault.

Advanced functionality
The series switches DGS-1100 supports advanced security features such as Static MAC, protection from the storm and IGMP Snooping. Static MAC function allows you to create a "white list" MAC-addresses, allowing access to only authorized devices. Storm protection functions needed to limit to a predetermined threshold of the broadcast, multicast or unknown unicast traffic. The switch blocks or drops packets that fall under the scope of this limitation, as a large number of such traffic can cause network congestion. IGMP Snooping feature can reduce the number of multicast traffic and increase network performance.
מאפיינים כללים
Size
• Table size

Number of Ports
• 8-port 10/100 / 1000BaseT PoE

Options on ports
• IEEE 802.3
• IEEE 802.3u
• Supports full / half duplex (for half-duplex 10/100 Mbit / s for full duplex 1000 Mbit / s)
• Auto-negotiation
• Auto MDI / MDIX
• IEEE 802.3x flow control in full duplex mode
• IEEE 802.3az

Performance
• Capacity of the switch 16 Gbit / c
• Maximum speed packet forwarding: 11.9 Mpps
• MAC-address table: 8K entries per device
• packet buffer: 2 MB
• Flash-memory: 2 MB

Standard PoE
• 802.3af

Ports PoE
• Ports 1-8: 15.4 W
• Max. 15.4W for 4 ports of 10/100/1000 Mbit / s
• Max. 8 W at 8 ports 10/100/1000 Mb / s

PoE power budget
• 64 W

Indicators
• Power (per device)
• Max. PoE
• Link / Activity / Speed ​​(per port)

VLAN
• On the basis of the port
• 802.1Q tagged VLAN
• Surveillance VLAN
• Management VLAN
• VLAN Groups
- Max. 32 static VLAN
- Max. 4094 VIDs

L2 Features
• MAC address table: 8K
• Flow Control
- 802.3x Flow Control
- HOL blocking prevention
• Jumbo-frames up to 9216 bytes
• IGMP Snooping
- IGMP v1 / v2 Snooping
- Supports up to 32 IGMP-groups
• Static aggregation 2 groups, 2-4 ports per group
• The Loopback Detection
• Diagnosis cable
• Port Mirroring
- One-to-One
• Statistics
- Tx Ok
- Tx Error
- Rx Ok
- Rx Error

Quality of service (QoS)
• 802.1p
• 4 queues per port
• Mechanisms queuing
- Strict
- Weighted Round Robin (WRR)
• Bandwidth Management
- Based on the port (incoming / outgoing, selected from a list with a minimum of 8 kbit / s)

Security
• Static MAC-address: 32 records
• Protection from the broadcast / multicast / unicast storm

Management
• Web-interface GUI (Supports IPv4)
• The SmartConsole

Technology D-Link Green
• Reduce energy consumption depending on:
- Connection status
- Cable length
• IEEE 802.3az Energy Efficient Ethernet
• RoHS 6

List of standards RFC
• RFC 768 UDP
• RFC 791 IP
• RFC 792 ICMP
• RFC 793 TCP
• RFC 826 ARP
• RFC 951 BootP-client
• RFC 1542 BootP / DHCP client
• RFC 1945 HTTP / 1.0
• RFC 2647 802.1p
נתונים פיזיים
• Mode Standby: 2,0 W
• Maximum: 78,8 W

Input supply
• External universal power supply from 100 to 240 VAC, 50/60 Hz

MTBF (hours)
• 708.219 h

Noise level
• 0 dB

Heat release
• 268,87 BTU / hour

Weight
• 0.706 kg

Dimensions
• 190 x 120 x 38 mm

Fans
• no

Operating Temperature
• From 0 to 50 C.

Storage temperature
• From -10 to 70 C.

Working Humidity
• From 10 to 95% (non-condensing)

Electromagnetic compatibility
• FCC Class A, CE Class A, VCCI Class A, ICES-003, C-Tick

Security
• cUL, CE LVD